Where do you go if you fancy a slap-up Mrs Miggin's breakfast in the Lake District?
Fell walkers seeking to fuel themselves before tackling a full day's hiking might want to take a little detour to The Wild Boar Inn to experience arguably the most sumptuous and varied breakfast in Windermere.
Those who have braved the night camping or glamping may decide to eschew the embers of the previous night's barbecue and head out to Crook to tuck into a big breakfast fry up at the hotel too.
And local residents, families and friends in the South Lakes may choose on a whim to pop out for a breakfast get together, working up (or walking off) an appetite with a stroll around the 72 acres of woodland in the hotel's grounds.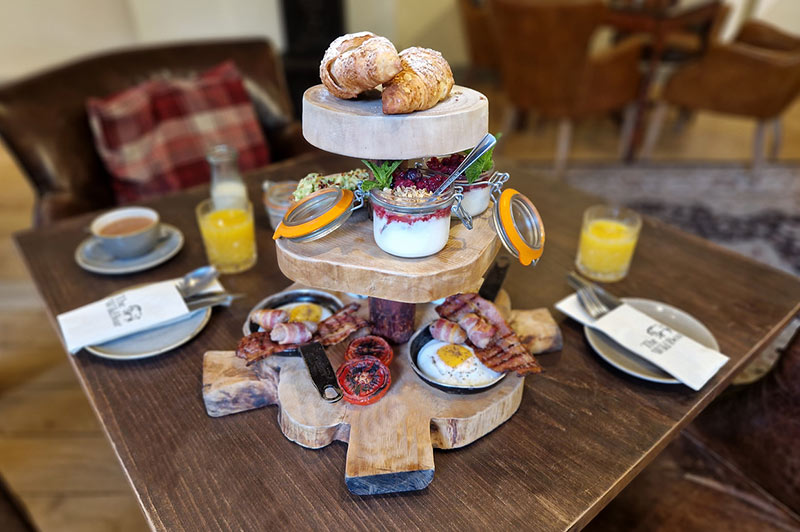 The breakfast menu at The Wild Boar caters for everyone's palate, from a traditional full English through to a varied platter offering delicious sweet and savoury mouthfuls.
From 8:00am each weekday morning, The Wild Boar Inn's culinary team is up, ready and waiting so serve not only our guests but also non-residents seeking a bit of breakfast adventure.
Could The Wild Boar Inn be your favourite breakfast stop in the Lake District?
The centrepiece of The Wild Boar Inn's popular Lake District breakfast offering includes everything you would expect: Cumberland sausage, locally sourced back bacon, slow cooked tomatoes, grilled flat cap mushrooms, Bury black pudding, baked beans and a choice of eggs, plus the option of the less than traditional hash browns – an influence perhaps from the US.
For the more adventurous looking for a meaty start to the day, there's steak and eggs featuring an in-house smoked medallion of beef fillet with duck egg and wild mushrooms and hollandaise.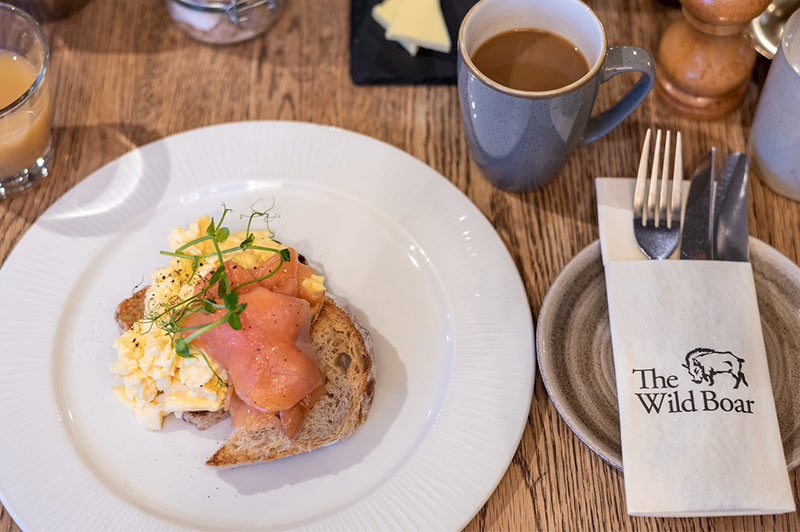 There are menu options for the more discerning eye too, such as treacle cured salmon with wholegrain rye bread and scrambled eggs or Mrs Kirkham's Lancashire Cheese Rarebit with smoked streaky bacon and fried duck egg.
From lemon curd French toast with vanilla bean mascarpone and toasted hazelnuts through to wild mushrooms, spinach and poached eggs on sourdough, there's something for everyone to savour.
Many of the hotel's breakfast servings are gluten free dishes, with vegetarian options including a Potato Rosti with wild mushrooms, baby spinach, poached egg and hollandaise sauce. There is also a delicious selection of artisan breads and croissants.
A Windermere trip out for breakfast – what will you choose?
The full English breakfast can mean slightly different variations depending on the diner and indeed the chef. To this writer, it's sausage, bacon and eggs as the staple, with the side addition of mushrooms, grilled tomato and fried bread. The coffee needs to be served hot when the breakfast arrives, but the real key is that the eggs are still warm when served.
Others will demand the inclusion of black pudding of course, and perhaps a side ramekin of baked beans to boot.
Historically, the tradition of the full English breakfast anecdotally goes as far back as the 1400s, with the country's gentry maintaining the idea of hospitable Anglo-Saxon cuisine and practices. They developed a reputation for tremendous breakfast feasts for family, friends and visitors passing through.
Those foundations were fortified on the country estates and the concept of a hearty morning meal before the landed gentry went off to hunt.  The Victorians made the idea into a more formal affair, and a chance to display their social status and wealth, before the Edwardians established the main constituents of the full English fry up.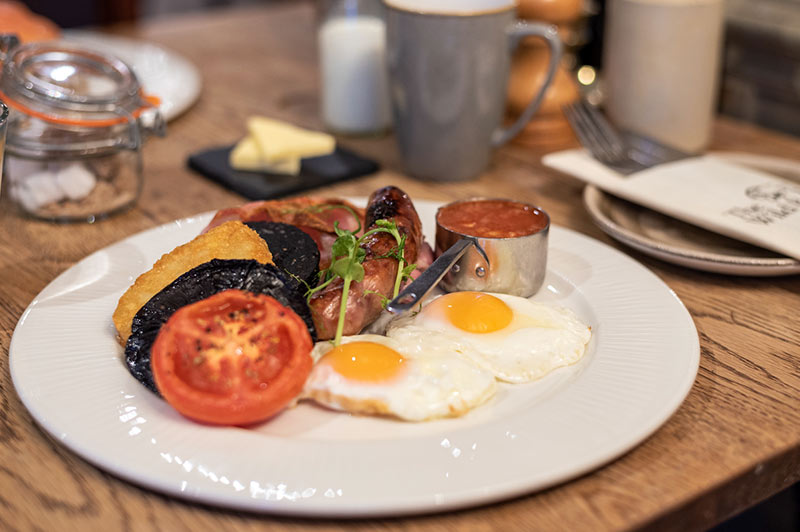 It was in the early decades of the 20th century that the nuts and bolts of the English breakfast fry up we know today started to become the standard across the country. This is around the period where the idea was no longer exclusive to the wealthier in society. Indeed the full English breakfast was rapidly embraced as a wholesome, filling way to start the working day. By the 1950s, it was commonplace across all areas and walks of life.
Today at The Wild Boar Inn, it's fell walkers, hikers, ravenous campers and glampers and local residents who seek us out on a casual weekday morning for a hearty breakfast trip out from Windermere.
And breakfast here does not always have to be a social occasion – indeed it's part of our cultural fabric to sit with family, friend or partner and perhaps not utter a single word as you scan the newspaper (or the ubiquitous mobile phone!) as you ready yourself for the serious business of the day ahead.
The Wild Boar's intimate, cosy & relaxed atmosphere ensures everyone feels an integral part of your wedding celebrations.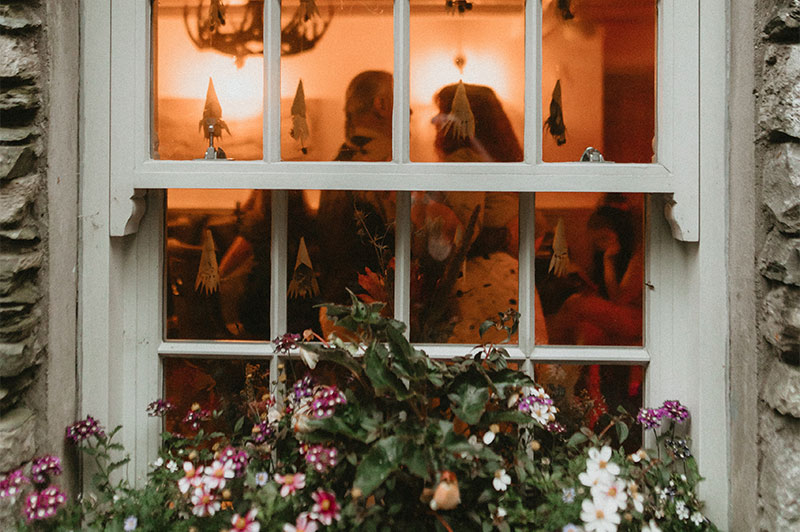 Jodie & Jesna's Wedding
As a wedding venue in the Lake District, The Wild Boar Inn near Windermere is establishing an international reputation. And why not? Set in the leafy woodlands of the Gilpin Valley with 72 acres of private grounds for newlywed couples and their guests to enjoy, the venue gives you an intimate, cosy and relaxed atmosphere to ensure everyone feels an integral part of your wedding celebrations.
Recently married couple Jodie and Jesna from Bali certainly enjoyed their nuptials at our traditional Lakeland inn.
The couple first met at a mural event in Bali. Jesna is an artist and was painting a huge mural. Jenna was on holiday and had gone along to photograph the event. Jesna spoke little English but with some charades and the help of Google Translate, they quickly overcame the language barrier and the rest, as they say, is history!
Finding the Ideal Wedding Venue
Jodie and Jesna hadn't been able to find a UK wedding venue that suited, but a chance internet search for an Easter weekend family meal alerted them to The Wild Boar's wedding offering.
We'd almost booked somewhere else, but when we looked around, it didn't really fit," explains Jodie. "I was then just looking for somewhere to go out for a meal with my family and Google brought up The Wild Boar. The food looked delectable and I was incredibly intrigued by the photos of the dining room, bar, decoration and bedrooms. And then I saw The Wild Boar did weddings!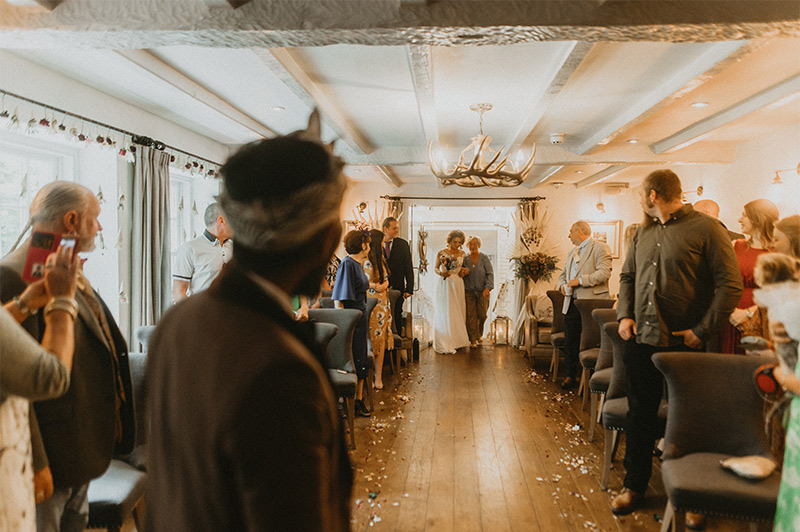 The couple quickly arranged a visit to have a look around and Jodie says that as soon as they walked through the door, they both knew it was the right place for them.
The inn's traditional soul can still be felt and the mixture of old beams, the stove, the slabs on the floor and the thick walls were perfect. We needed somewhere which could give us an intimate, relaxed, soulful environment, and also had rooms close enough to our guests. It was also really important that the venue could accommodate all our guests overnight. We wanted to prolong the time that we all had together by being able to have breakfast the next day.

Jodie
The Wedding Day
The couple put a lot of planning and hard work into their ceremony with the help of the wedding co-ordinators at The Wild Boar.
Jesna's suit was custom-made in Bali, whilst Jenna undertook the challenge of designing and embroidering her own wedding bodice and skirt. Jesna designed Jodie's shoes as per her request with a blue eye on one to match her own and a brown eye on the other to match his.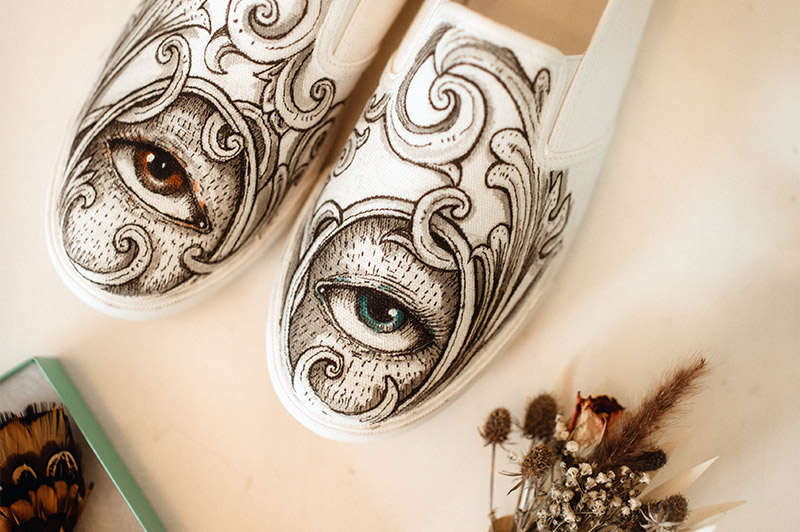 The couple also made all the decorations for the wedding themselves and have set up their own business as a result. You can see examples of their creative event decorations, murals and art installations on Instagram @ coconut_queen_x
They brought some traditional Indonesian ceremonial decorations to incorporate the Balinese culture into their wedding. Fresh flowers were used for the table centrepiece and the arrangement placed in front of the fire.
There were other special touches too. Table settings featured dried flowers wrapped in a paper bio-degradable name card with flower seeds in it so all of the guests could plant them and grow wildflowers.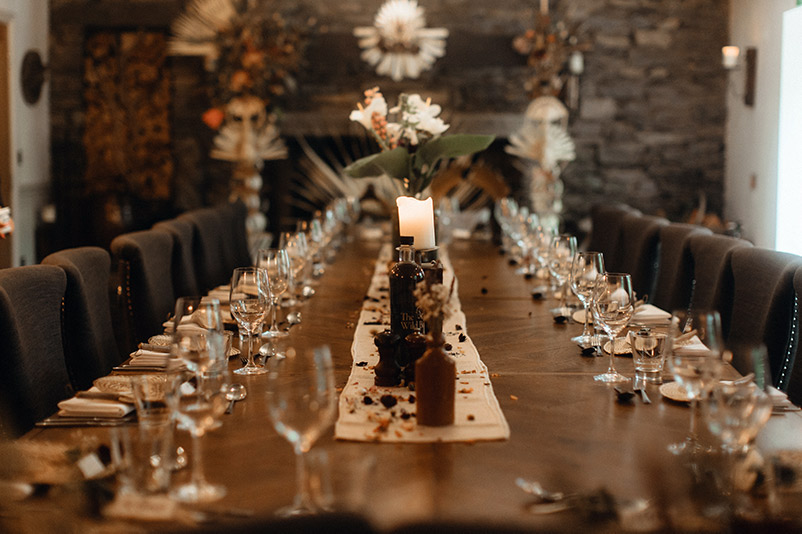 The newlyweds wanted to give everyone something from Indonesia that they could keep, presenting gifts in bamboo baskets which they had decorated with a traditional Balinese embroidery motif. Inside was an incense stick, a wooden 'bottle stopper' carved into the shape of the Balinese god Garuda, and a small wall hanging made from palm leaves and bamboo with traditional Balinese images and the date of the wedding etched on them.
Guests enjoyed a three course wedding breakfast using the most popular choices of their guests who had seen the Wild Boar's full menu. And a specially designed, delicious wedding cake was provided by the incredibly talented Derrienne at The Cat's Meow in Ulverston.
Jesna says the highlight for him was seeing everyone sitting together in the Undermill Beck room ready for the ceremony:
They were smiling and chatting before Jodie came down and it was obvious that everyone was happy to be there. It made all our decorations come to life and made me realise all of our hard work had paid off.

Jesna
Planning Your Wedding at The Wild Boar
So if you're planning your wedding and looking for a venue with a spacious bridal suite, flavoursome food, individually designed rooms, a host of outdoor activities and a cosy atmosphere, The Wild Boar fits the bill.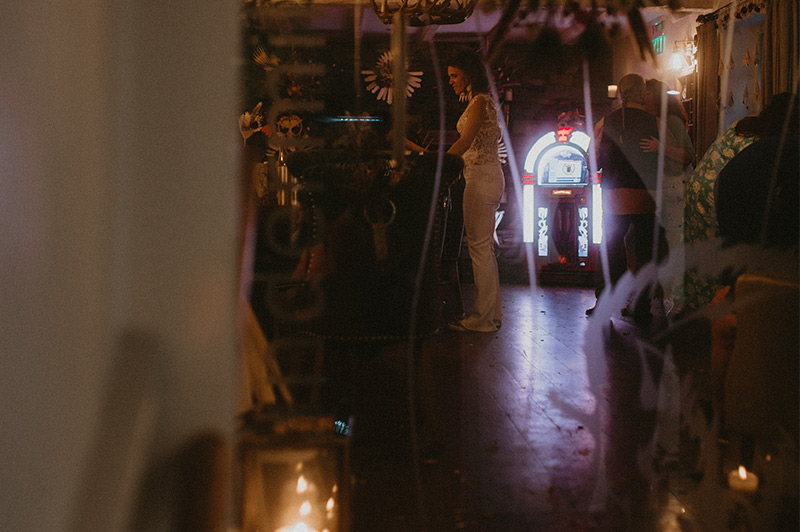 From smaller, more intimate ceremonies to larger weddings and exclusive use of the venue, we can cater for up to 90 guests for wedding breakfast and up to 130 for evening buffets.
Everything clicked into place for us at The Wild Boar. The grounds were beautiful, the energy and feeling was right, the staff were brilliant, and the Land Rover was a massive bonus!

Jodie
 We love to celebrate with our Wild Boar wedding couples and are delighted to share a little bit of Jodie and Mark's journey with you, culminating in a glorious celebration at The Wild Boar Inn. What a fantastic day was had by all ... (more…)
At English Lakes, we enjoy recommending local activities and events to visitors from around the world. For those wanting to explore the heritage of the Lake District, we've put together a list of five of our favourite heritage days out.
(more…)
Looking for suggestions for family activities in the Lake District over the Easter holidays. Here's a few we've selected for you ...
(more…)
A special day in the English Lakes calendar, 24th March was when we announced the winners of our 2016 Employees of the Year. Directors and nominees attended a beautiful lunch at Lancaster House, eager to have the winners of seven different categories, including the prestigious MRWB Award, announced. A short citation taken from the nominations was read, and the winners received certificates and champagne.

(more…)
On Mother's Day, Mums are presented with flowers, choccies, perfume or sometimes a thoughtful personalised gift. Don't get me wrong, any and every gift is cherished, especially the glitter-laden home-made card. However, research has shown, and I can testify to most of these in various seasons of life, that the most-wanted list is really quite simple ...
Children, fathers, take note! (more…)
Photographer, Lisa Aldersley, tells moving stories through her camera lens and has a gift of capturing intimate moments of connection between family and friends. Weddings are something of a speciality for Lisa and she loves the opportunity to express in an image, the natural, spontaneous and tangible emotions that are the hallmark of every couple's big day.
Here, Lisa gives us a little peak at one of her memorable Wild Boar weddings.
(more…)
We love to share the stories of The Wild Boar's Brides and Grooms. Nicky and Gareth's wedding brought together so many elements to ensure that their day was truly unique, making the most of all that the Inn has to offer. Here they write poignantly about how they met and about their big day. (more…)
Spring is nature's way of waking up from sleepy hibernation, and don't we all need to shake ourselves awake from cosy winter repose? Colour-bursts of new life in the Lake District and Lancashire showcase the vibrant hue of deep-pile carpets of bluebells, Wordsworth's beloved sun-glow daffodils and fresh green of woodlands putting on their new clothes.

(more…)