We all know that there are some wonderful things to do in the Lake District National Park. It is after all, an exceptional example of nature's playground, with the fells to hike, valleys to explore and the shores of the lakes inviting you to take to the water for a swim or boating trip.
At Low Wood Bay, you'll find that we've gone that extra mile in terms of outdoor activities. As well as the outdoor spa facilities for those who want a bit of R&R whilst taking in the spectacular views of the Langdales, there's also the Watersports Centre which offers pretty much all you can think of in terms of boating, paddleboarding or even wake surfing.
Many of our guests yearn for something more to bring them closer to the natural world, and that's why we've teamed up with Lake District Falconry to offer intimate hawk walks in the Lake District, allowing participants to get up close to birds of prey and even have them fly to their outstretched gloved hand.
How to get into Hawk Walks in the Lake District
We first started working with the falconers and their birds at The Wild Boar Inn, where our 72 acres of woodlands make the perfect tree canopy cover to see the raptors fly, swoop and dive in a natural environment.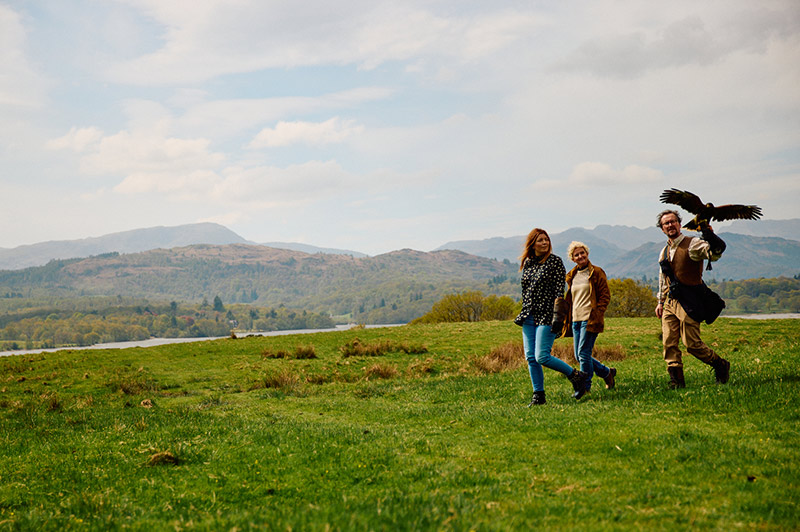 And so we decided to help create a falconry centre here on the shores of Windermere, using Low Wood Bay's extensive grounds and the backdrop of spectacular Lake District scenery to offer 'hawk walks' for guests and visitors.
What is a Hawk Walk?
Sessions start with the experienced falconers introducing one of the raptors, allowing participants to wear a falconry glove and have the bird of prey perch on their fist. This is followed by the opportunity to fly the hawk to and from the glove with expert guidance from an experienced falconer.
A bird's eye view of Windermere and the fells
General manager at the spa Mark Needham says: "We're very lucky to be able to offer our guests some of the best views across Windermere here at Low Wood Bay. So what better place to allow them an even closer step to nature by trying their hand at falconry.
"During the hawk walks, there's a chance to take on the role of the falconer, donning the gauntlet and calling the birds to you. It's a great way to experience the unique bond between these birds and humans. We have a number of hawk walk packages to choose from, including options to make a day of it with spa usage and a two-course lunch or afternoon tea."
As an integral part of the sessions, participants also learn about the behavioural habits of the birds and watch one of the hawks perform a simulated hunt using artificial prey.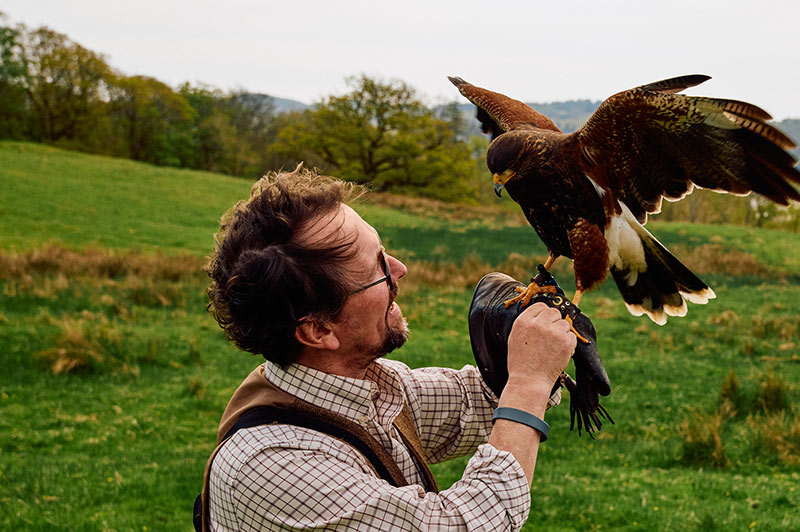 Stephen Lea from Lake District Falconry says: "It's great to add such a spectacular venue for our exclusive hawk walk experiences. Low Wood Bay guests can get to know our beautiful hawks and immerse themselves in their world against the spectacular backdrop of Windermere and the Lakeland Fells." Find out more book your falconry experience.
Low Wood Bay Resort & Spa is on the shortlist for the 2023 Cumbria Tourism awards as a leading wedding venue in the Lake District.
The venue first ventured into the mainstream wedding industry over 30 years ago.
With panoramic views of Windermere and the Langdale Pikes as a spectacular backdrop for unrivalled wedding photographs, and event capacity for up to 280 guests, its reputation as a wedding venue continues to grow.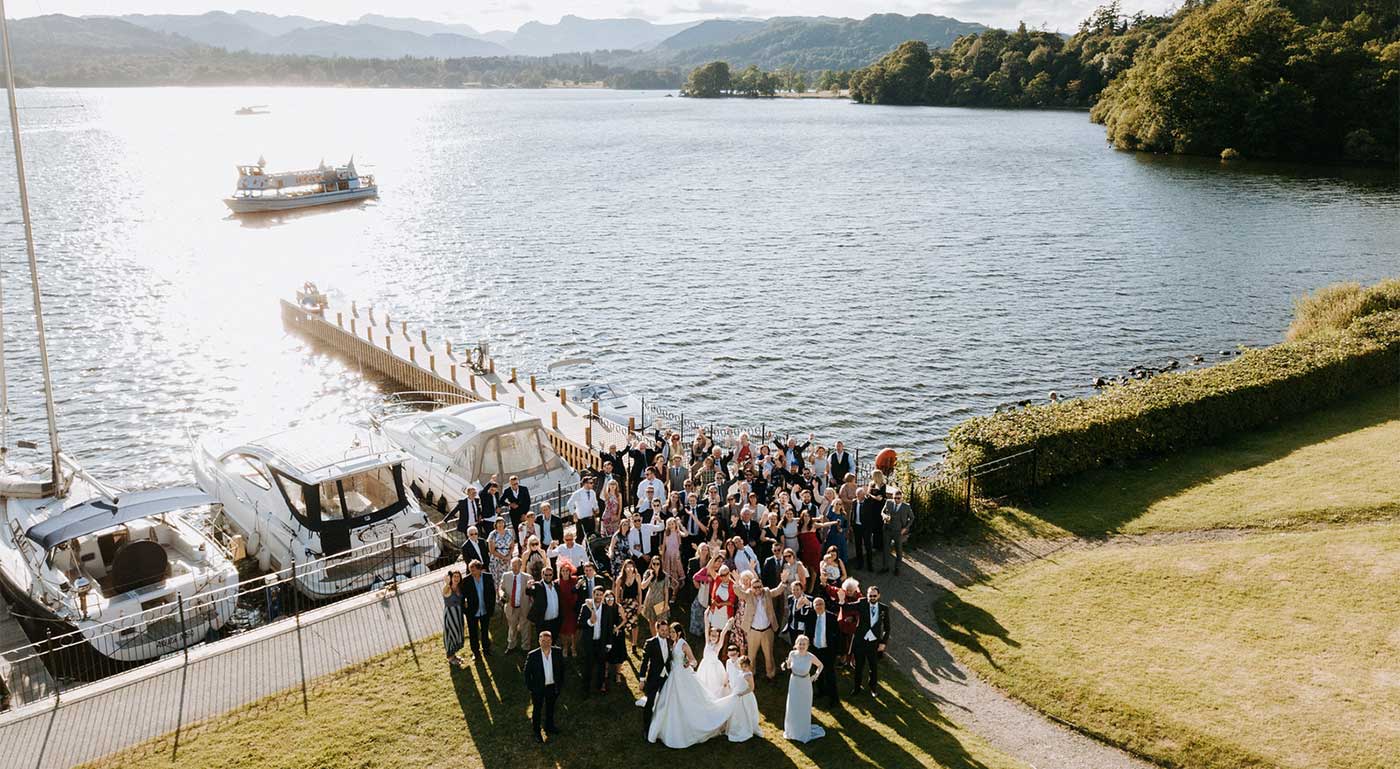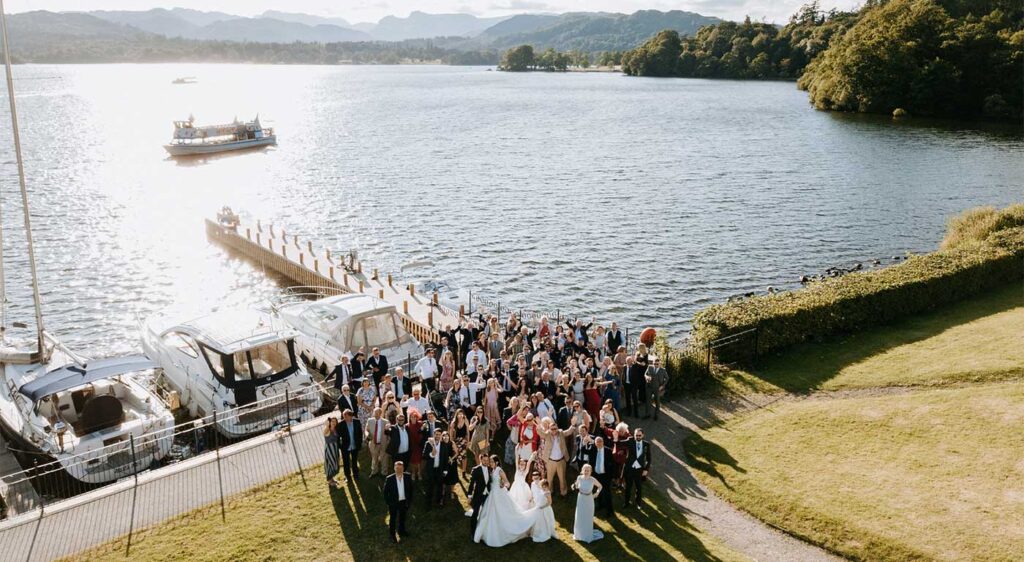 "The hotel service is fantastic, the views of the lake are absolutely stunning and there is a really relaxed, laid-back vibe about the place that instantly puts you at ease."

Lorna & Matthew
The secret of our success
The wedding co-ordination team at Low Wood Bay is always looking for ways to improve the big day experience for a couple getting married, and the time they spend with us either side of that.
We maintain strong, sustainable working relationships with a host of high-quality local suppliers to ensure couples have access to a wide-ranging choice in food selection, florists, photography and entertainment.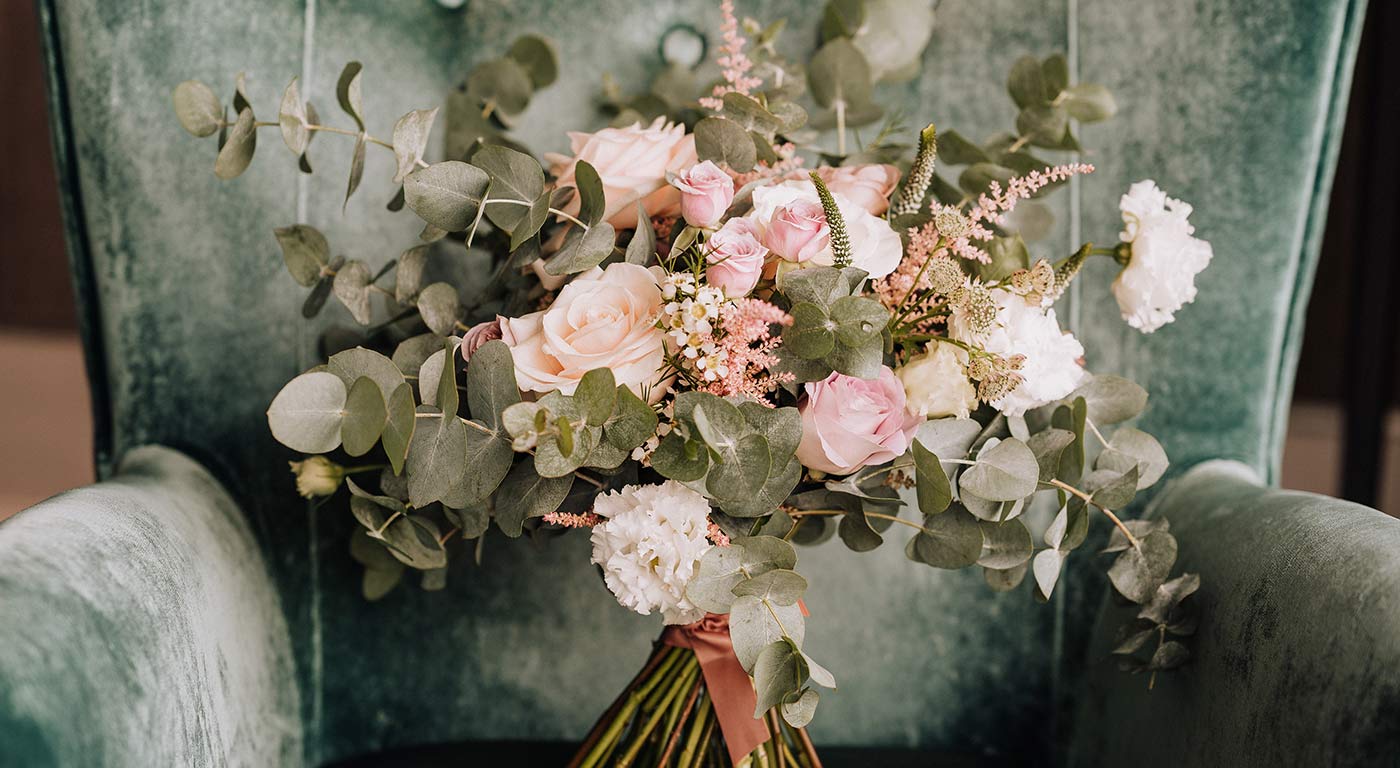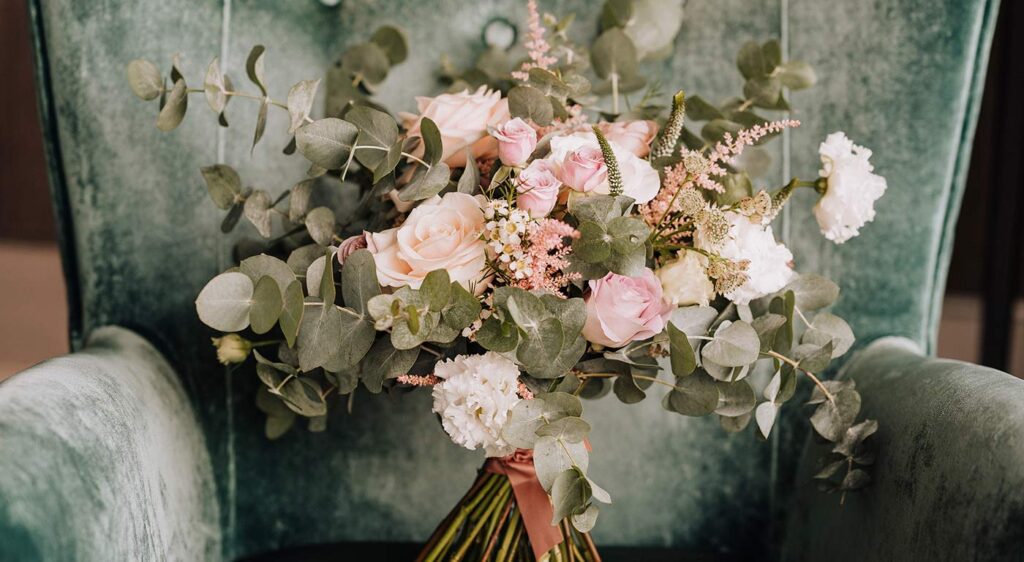 Bespoke, customised options include menu choices at no extra cost, 4-tier wedding cakes, our novelty beer boat and Lazy Susans fashioned for woodland themed celebrations.
"Couples state that when booking their wedding, it is about their interactions with the team and the wedding coordinator assigned for the planning process and wedding day itself. We thrive on the chance to offer our couples a range of optional extras and finer details to ensure their big day is unique."

Rachel Baines
What does Low Wood Bay offer as a wedding venue?
The venue has a private wedding area managed within the resort so couples and families do not need to pay for total exclusivity of the hotel.
We also have over 10 different room types to fit all the diverse requirements of our wedding guests.  Options include The Winander Club, lake and fell views, balconies and roof terrace access.  Our wedding co-ordinators work closely with couples to organise inclusive packages and keep prices competitive.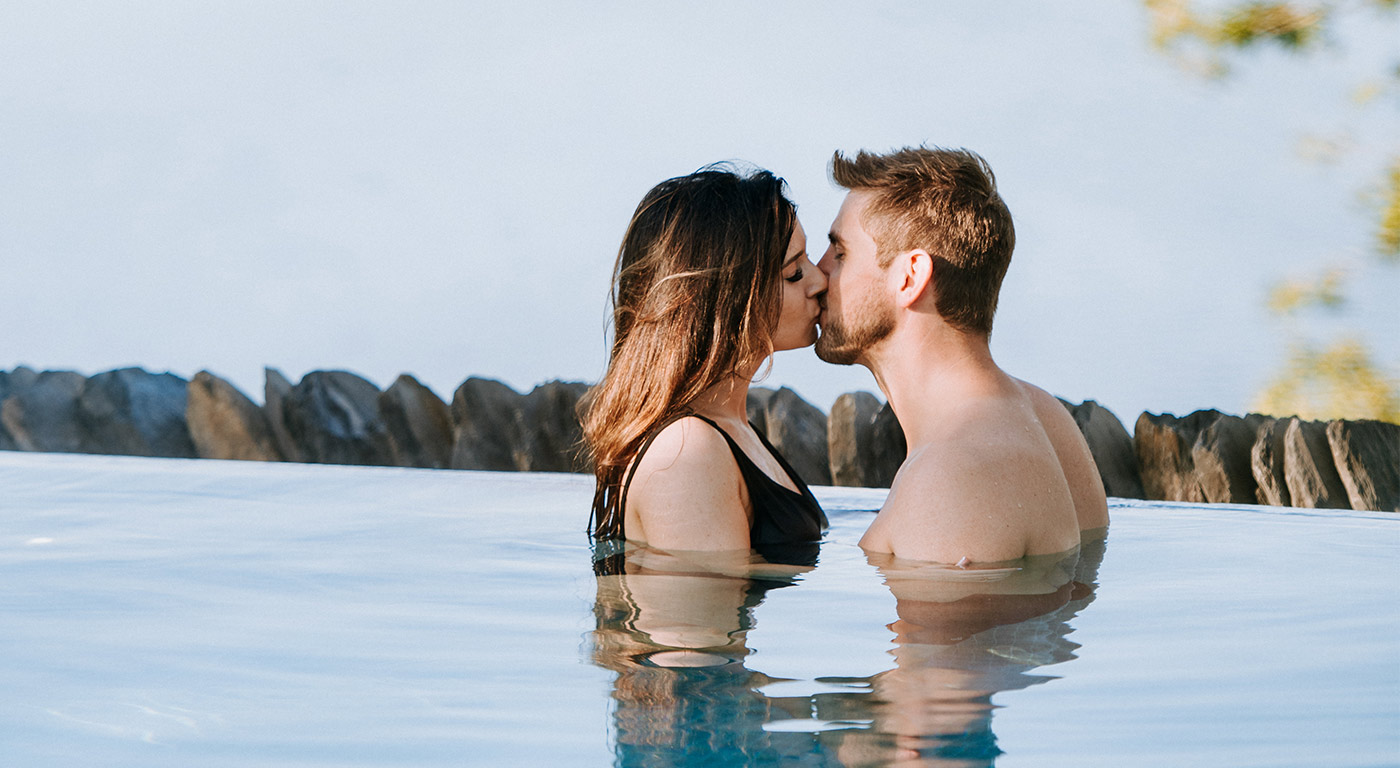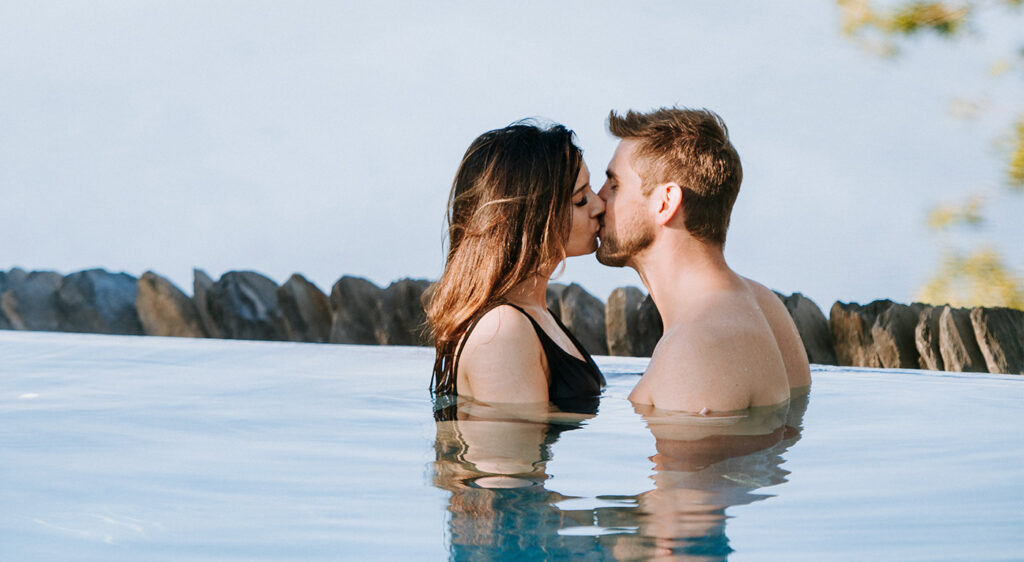 The spa facilities and thermal journeys at Low Wood Bay are another key benefit for wedding couples, their friends and families to enjoy during their stay.  Our indoor and outdoor thermal facilities and invigorating spa packages are designed around relaxation and rejuvenation to allow that little extra luxury to mark the big occasion.
What about the wedding breakfast food and drink?
Wedding breakfast menus and options include additional creations from our in-house executive resort chef, including a full 3 course wedding breakfast menu featuring over a dozen different types of canapés, 11 starter options, 17 main courses and 11 desserts from which to choose.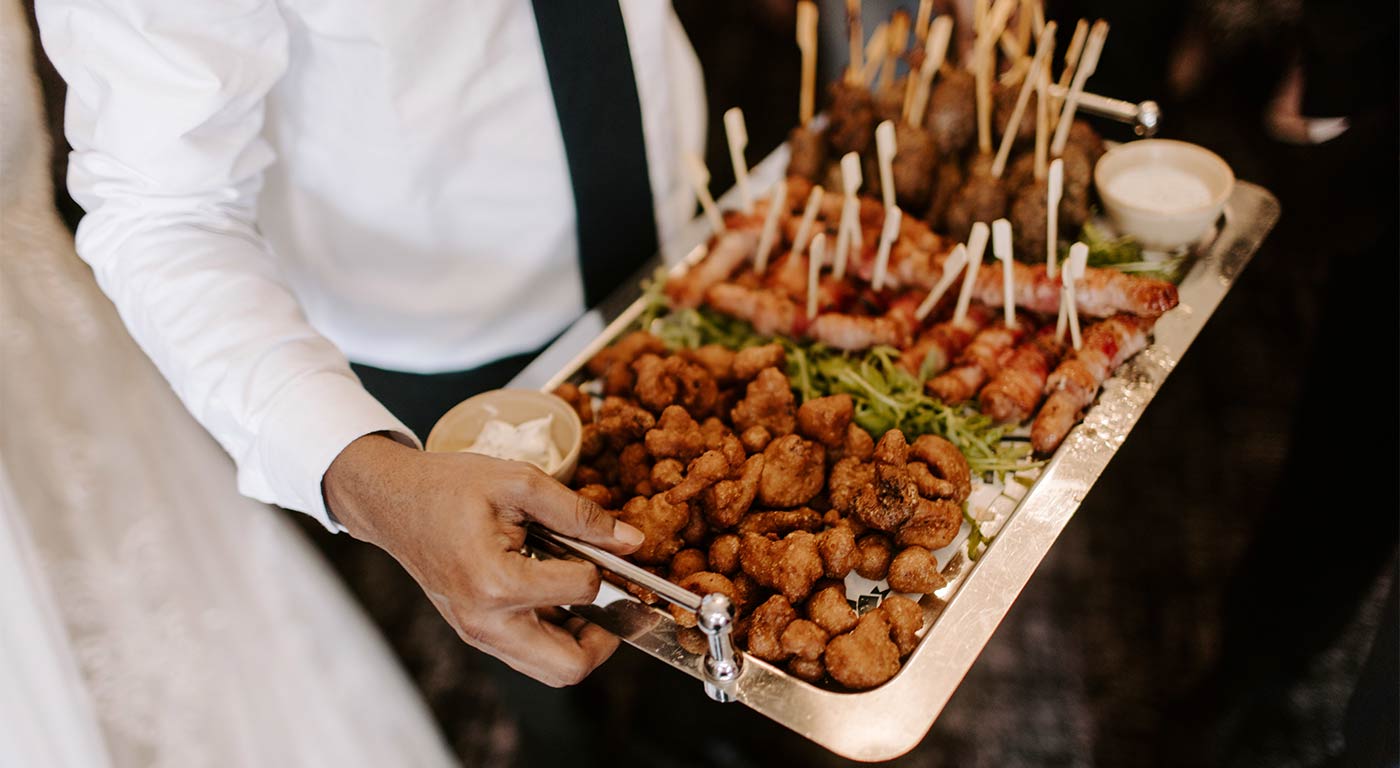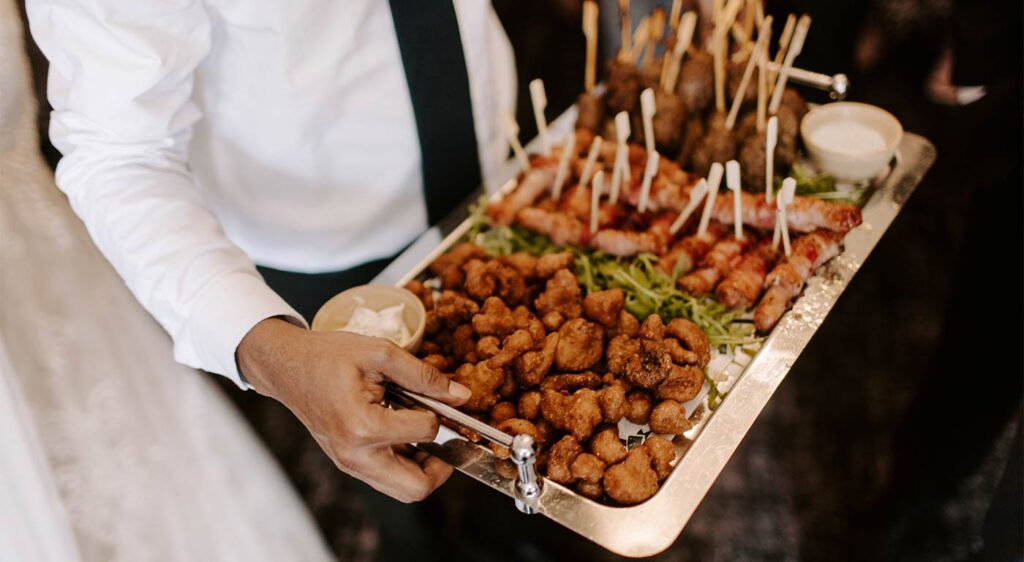 We do not charge any extra for offering a choice of 3 different options per course for guests to select.  From pan fried fillet of seabass to a slow cooked shank of Lakeland lamb, the result is the curation of a high-end, appealing, wide-ranging and gluten free menu which offers both traditional and alternative dishes, including vegan and vegetarian options.
"A special shout out to the chef and his team, I have never had so many people comment on how good the food was at a wedding before."

Bride and Groom, Victoria & Joe
Our novelty 'beer boat' has become a real talking point as an alternative way to serve drinks during the wedding day celebrations.  The boat is hired and filled with the couple's choice of drinks from which guests can then help themselves – a modern alternative to a free bar. This is available throughout the wedding breakfast and evening reception.
What's it like to organise a big wedding in the Lake District?
One of our biggest wedding events was in 2022 when we catered for 250 guests, including a pre-wedding dinner for 70. The wedding breakfast itself saw over 500 individual canapés initially served, followed by 680 separate dishes moved from kitchen to table over a 2.5 hour period – 45 of which were adapted so suit individual guests' dietary requirements. From breakfast to evening buffet, over 230 staff hours were worked by the team.
The summer months of course are always busy and in August 2022 we broke our record for the most weddings in a single month – 15!
We are continually reviewing the scope and value of our wedding package offers. Another key consideration is the cost of living and rising prices which everybody is facing. We want to make Low Wood Bay more accessible for lower budgets so as many people as possible can have the venue firmly in their sights as the place to celebrate their big day.
From an environmental and sustainability point of view, wedding parties can choose a venue in Low Wood Bay that uses hydropower as a source of electricity and wherever possible sources goods from local producers.
"The wedding team was an absolute joy to deal with. They helped make our memorable day even more special."

Bride and groom, Stephanie & Chris
Call our wedding co-ordinators team today on 015394 39479 and find out how they can make your wedding day a little extra special.
Meet the Low Wood Bay wedding co-ordinators team
As a Lake District wedding venue, Low Wood Bay Resort & Spa has become a highly popular choice, and perhaps the biggest driver behind its success is the endeavour and attention to detail of our wedding co-ordinators Rachel Baines, Lucy Newton and Ewelina Jozwik.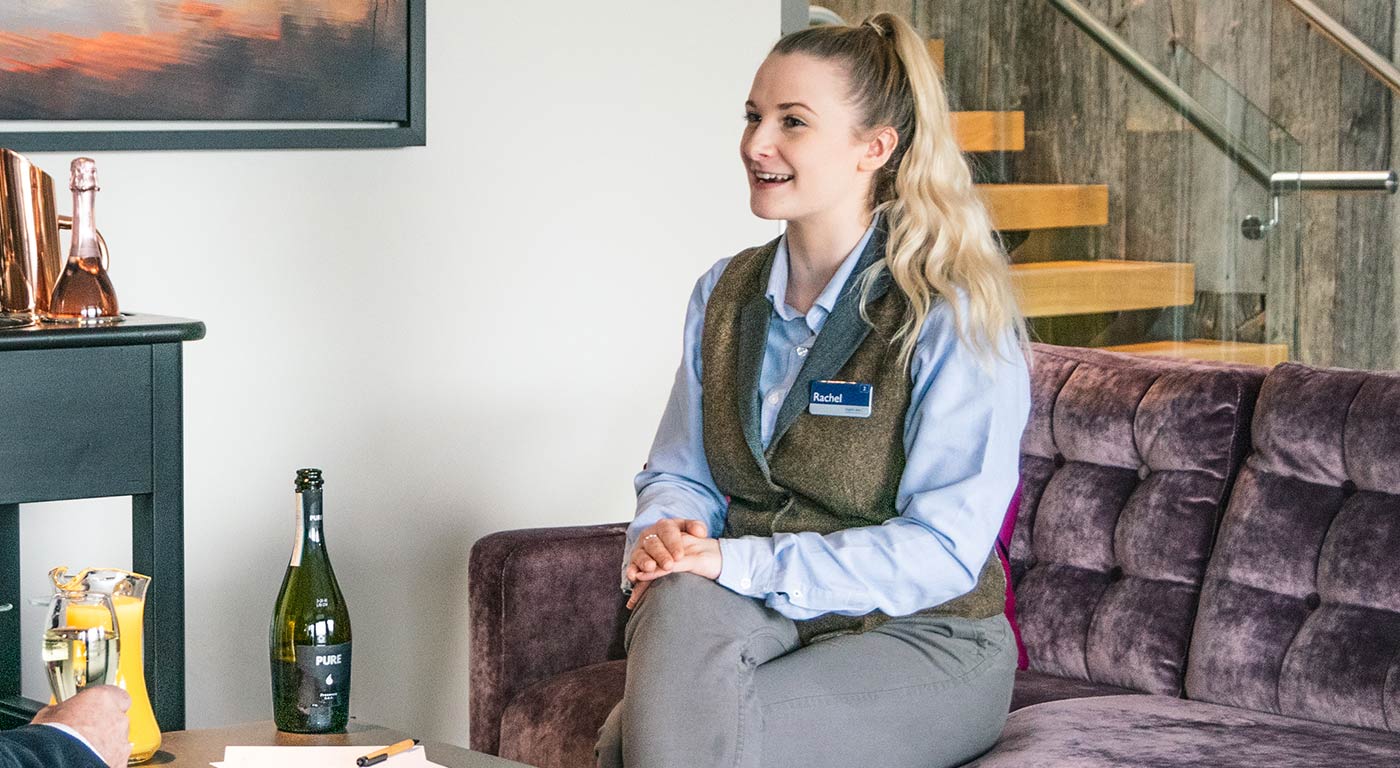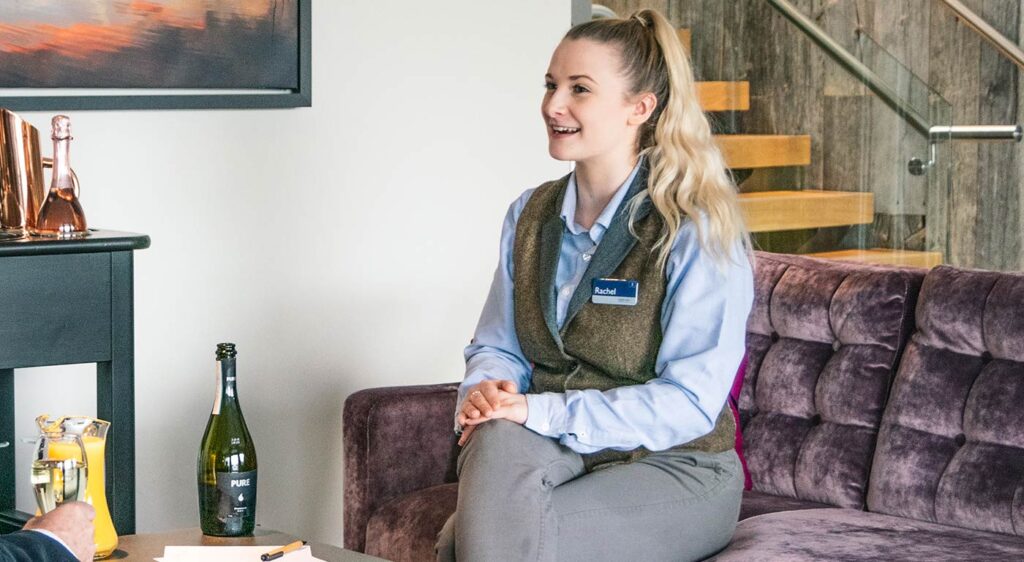 The venue's wedding team helps couples from all over the world to plan their big day, tie the knot and start their married lives with unforgettable memories.  We have looked after brides and grooms from a host of international backgrounds, couples from nearby Ambleside, from London, and from far flung countries including India, China, America and Australia.
Flexibility is the key, with the team able to prepare and dress the venue to cater for wedding parties of 20 or large-scale ceremonies for nearly 300. 
"We have the experience to create intimate wedding days for a couple's nearest and dearest, or larger ceremonies with hundreds of guests. We give couples the flexibility to plan their big day, mapping it out precisely as they wish."

Rachel Baines
"Your team were faultless, helping with any queries and questions without hesitation. They were all on hand whenever we needed them, even the day after the wedding."

Bride and groom, Victoria & Joe
What is the best part of your job as a wedding organiser in the Lake District?
"I really enjoy putting all the stationery, décor and final details together in the run up to and on the wedding day. When working together with our couples, I love the planning process and being able to use my creativity to ensure their day is exactly what they imagine it to be.  It's so rewarding to the see our couple's faces light up when they view the room before their guests come in and see that their vision has come to life."

Lucy

"Personally, I love standing at the top of the Gallery with the bride before her music starts and she walks down the aisle. There's nothing left to plan and the last 18-24 months of organising have built up to this 10 minutes of nerves and excitement and trust that her dream day is about to begin. Building up a relationship with our couples is so important and I love that moment when they look to me to guide them to their first step down the aisle. No matter how many times I do it, it always makes me feel proud of them."

Rachel Baines
"The best part of my job is the satisfaction of helping couples create their dream wedding. I get to witness the joy and happiness of the couple and their families on the wedding day. Seeing all the planning and hard work come together to create beautiful and memorable events is incredibly rewarding."

Ewelina
How did you get your job as a wedding co-ordinator at Low Wood Bay?
Lucy graduated from university with a degree in Business & Tourism management and was looking to start a career in weddings or events.
"I saw an advert on the website for a wedding & events assistant and knew this would be perfect for me. Following a great interview with the weddings manager, the role was offered to me and I quickly worked my way up to a wedding & events co-ordinator position – I haven't looked back since!"

Lucy
After attending a friend's wedding when she was 18, Rachel knew that she wanted to be a wedding co-ordinator so got in touch with the weddings manager here at Low Wood Bay for some advice.
"She told me to start from the bottom, work my way up and get as much experience as possible, so after shadowing her on a couple of wedding days I bagged myself a job on the hotel reception. Six months later I was planning small scale events and it all snowballed from there. I have been co-ordinating weddings now for over 7 years and it's seen me through getting engaged, getting married and having a baby. Low Wood Bay has really become my second home."

Rachel
"I previously worked as a wedding planner in a small hotel and I sought the opportunity to work for a busy, larger wedding venue. The position at Low Wood Bay gave me the opportunity to develop the role with the facilities that are offered here, and I am really glad they did!"

Ewelina
For more information about holding your wedding at Low Wood Bay Resort & Spa, please feel free to give one of our wedding co-ordinators an introductory call on 015394 39479.
All in a day's work – A range of different careers in hospitality.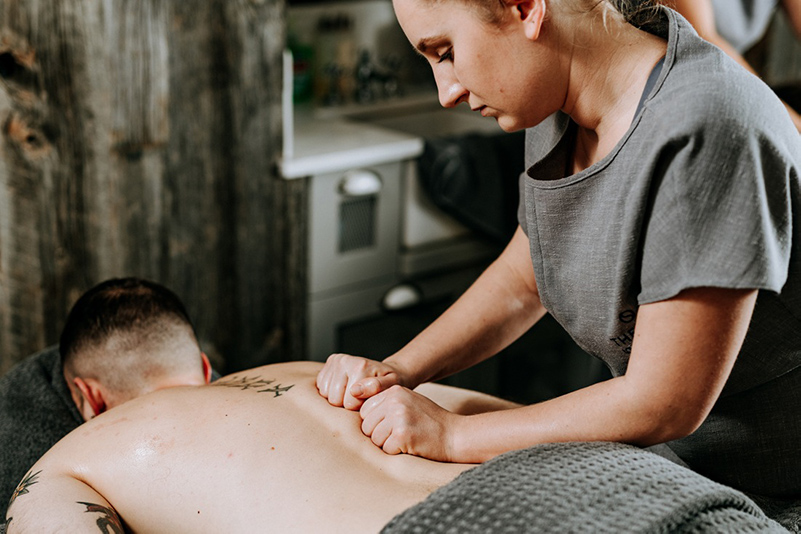 A Career In Hospitality
At English Lakes Hotels, Resorts & Venues, we have some great jobs available. It's not just the obviously crucial positions, from a restaurant assistant or reservationist to a breakfast chef or customer service supervisor.
Hospitality roles are by nature highly varied with team members working in a range of diverse environments, whether it's in food and beverage services or housekeeping, concierge and reservations.
And then of course there is a highly professional, qualified team of people to ensure our spa services run like clockwork.
Kiera Carrick, Spa Training & Development Manager
Here we talk to Kiera Carrick, Spa Training and Development Manager at Low Wood Bay Resort & Spa.
How did you start your career?
I've worked in hotels since I was in my early teens, after school and at weekends. I originally did housekeeping and turn down service and then progressed on to front of house and then worked as a head waitress. That was the springboard to a career in hospitality.
I'd always been passionate about the beauty industry and decided to take on a course in facials and skincare. I loved it so much I ended up staying at college to do NVQ Level 2 and 3 in beauty therapy.
Was it always the dream to work in the spa industry?
Honestly no, not at first. It was never something I had even considered possible as a career until I started the college course and realised it was something I could see myself doing and enjoying.
What training have you had to complete?
Initially I did my Level 2 and 3 NVQ in beauty therapy. Once I got established in the industry, I've followed up by completing a range of courses with different brands over the years, including ESPA, Decleor, Elemis, St Tropez, CND Shellac.
When I became head therapist at Low Wood Bay, I did a 'train the trainer' ESPA course which has allowed me to be able to deliver ESPA training to our therapists in the spa.
Is there a typical day in the life of a training and development manager?
Every day is different, there's a lot of organisation and planning involved for training and ensuring I have all the equipment required and I cover everything I need to in the training session. I also try to make training enjoyable and fun whilst learning.
Tell us about your involvement with Kendal College and training for new spa therapists?
It's very exciting to be assisting Kendal College in training students in ESPA with a pathway for them to come out with a qualification and employment at Low Wood Bay Resort & Spa.
When I first qualified, I found it initially challenging to get into the industry straight from college, so I would have jumped at this opportunity that we are able to offer now.
This initiative is designed to ensure that newly qualified therapists have an earlier opportunity to gain experience and earn a professional wage.
I can oversee the therapists and see at first-hand how they are getting on with their ESPA training, ensuring they have all the tools and knowledge they need to go into the industry with confidence and excitement.
We've also started to specialise in certain treatments, with spa therapists completing Oncology massage qualifications through the accredited Jennifer Young Training School. Their training has included Level 1 and advanced cancer awareness, as well as holistic facial, hand, nail and foot treatments.
Any tips on how to complete the studies?
Everyone learns differently but I think the main thing is to not overwhelm yourself and come up with a way that helps you remember what you need to learn.
It might be something completely random and trivial, but it doesn't matter if it helps you remember. Being a therapist is quite a practical role, and so gaining as much practical, 'hands-on' experience as possible is a key factor in ensuring that you feel confident and make guests feel comfortable.
Describe the atmosphere at Low Wood Bay Resort & Spa.
We have a great atmosphere here – we all work well as a team to help each other and deliver the best possible service to our guests.
Why would you recommend working at Low Wood Bay?
The venue and the hotel group as a whole has given me so many amazing opportunities to learn and develop my skills to get to where I am now. They invest in the staff and want you to excel and enjoy coming to work.
Working for English Lakes Hotels, Resorts & Venues
As a family business, the hotel group prides itself on flexibility, professional development and providing progressive, diverse career opportunities for staff, equipping them with the skills they need to succeed.
Our commitment to workforce development includes support not only to help embed strong customer service and team working skills, but English Lakes also seeks to provide additional benefits to make a difference in terms of working hours, travel to work and offering accommodation where we can.
Jobs & Careers at English Lakes
If you're interested in working for us, take a look at the current jobs at English Lakes we have on offer.
"We have a great atmosphere here – we all work well as a team to help each other and deliver the best possible service to our guests."

Keira Carrick | Spa Training & Development Manager
When you take a hotel break in the Lake District, have you ever considered who might have visited or even stayed at the venue before you? Would you know if any historic figures or famous faces from the past have been in the very same room as you?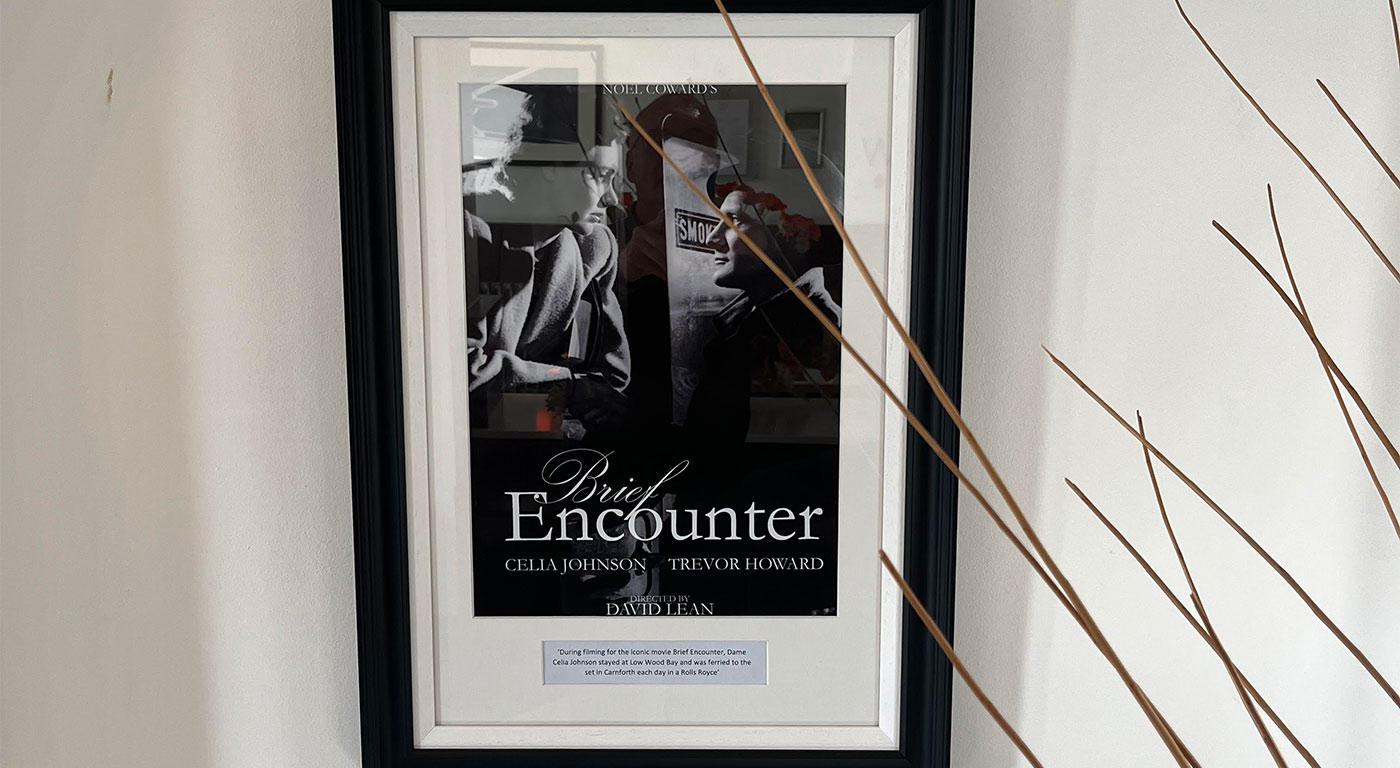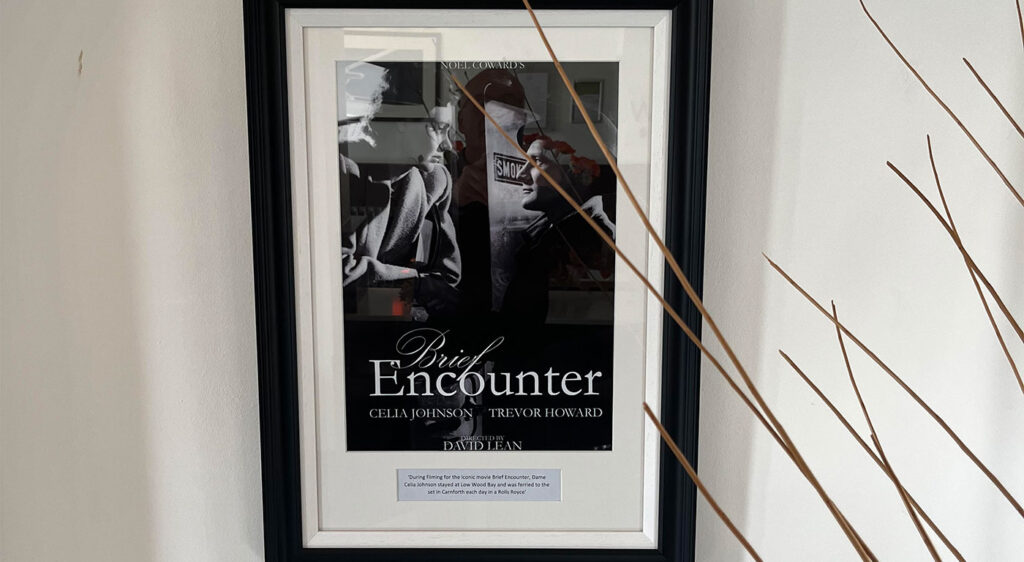 Lake District Stays With Celebrities Past & Present
From royal visitors to filmstars, our venues have hosted a number of illustrious names over the years, including Her Royal Highness The Princess Royal, the late King Hussein of Jordan, The Earl of Wessex and the current King Charles III when he was Prince of Wales.
And Hollywood royalty amongst our guests include household names such as Tom Cruise, Nicole Kidman, Joan Collins and Henry Cavill.
Further back, renowned poets, writers and artists including William Wordsworth, JMW Turner, John Ruskin and John Constable were regulars at Low Wood Bay.
Celebrating Low Wood Bay's Movie Connections
So, the recent stay of Lucy Fleming was an opportunity to celebrate the venue's historic movie connections, notably with that truly iconic film from the 1940s, Brief Encounter.
Lucy is the daughter of Dame Celia Johnson, who was resident at Low Wood Bay Resort & Spa during the filming of Brief Encounter in 1945. We were thrilled to host Lucy and her husband Simon Williams, with the hotel as a staging post for their play, 'Posting Letters to the Moon', which was shown at The Theatre by the Lake in Keswick.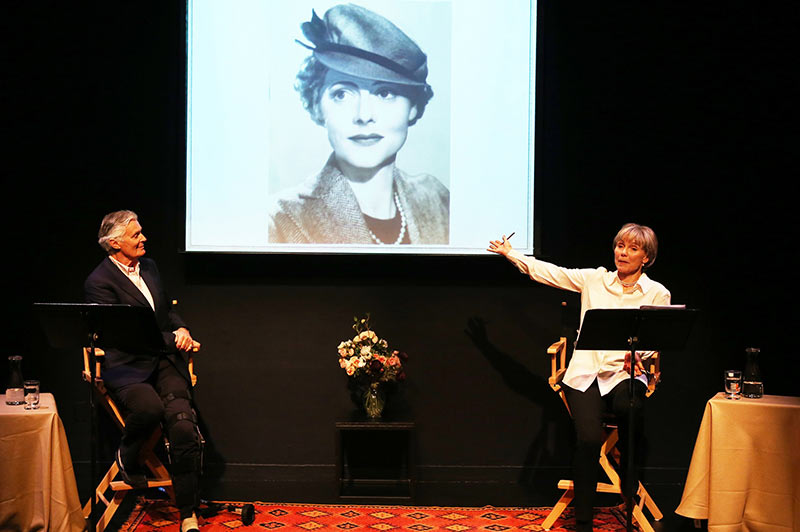 The play is a touching portrayal of life during the Second World War through the correspondence between the Oscar-nominated actress and her explorer and writer husband Peter Fleming, the brother of James Bond creator Ian.
It includes Celia's experiences of working with Noël Coward which led to her starring role in the film. Peter Fleming was away for most of the war, and in his letters, he writes about his adventures working on deception in India and the Far East.
To mark Lucy's stay over 75 years later, a framed and inscribed copy of a Brief Encounter movie poster was presented to her, and the picture has been mounted in the hotel as a permanent reminder of her mother's residence here.
Brief Encounter Filming At Carnforth & The Langdale Valley
Celia Johnson was rumoured to have stayed in room 19 but to this day, no-one can quite be sure. She described the hotel and recalls a warming fire being made up in her room and the provision of a late breakfast after filming throughout the night.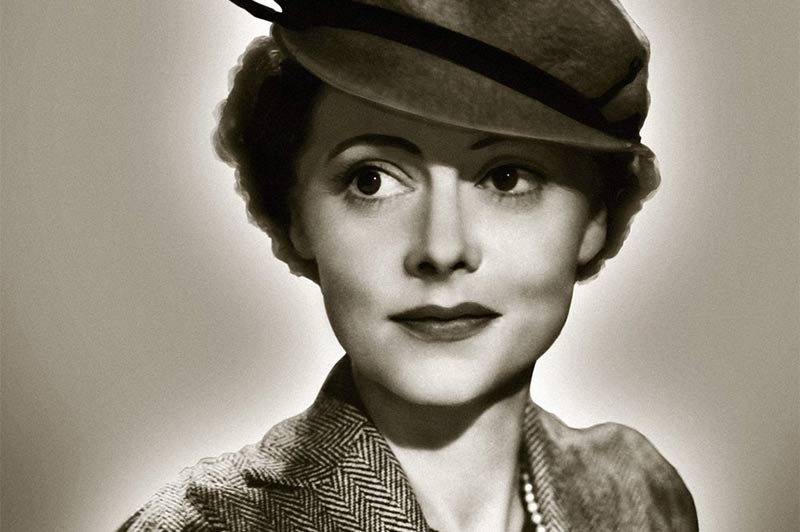 In an excerpt of a letter written by Celia to her husband during filming, she writes:
"We are living out at Windermere in a frightfully comfortable hotel where we have fires in our bedroom, breakfast in bed, in fact every mod con."

Celia Johnson
She was chauffeur driven each day by Rolls Royce to Carnforth station and also for a day's filming up in the Langdale Valley for one of the most famous scenes in the movie at Middle Fell Bridge, Dungeon Ghyll.
In her letter, Celia explains:
"Today being Sunday we went out to look for little bridges for the little scene on the bridge and went all round the lakes and up and down the hills and it was simply lovely. I didn't know this part of the country was so beautiful."

Celia Johnson
Hosting Film Crews at Low Wood Bay Resort & Spa
Our former chairman Michael Berry mentions the film crew's stay in his book on Lakeland history thus:
"Brief Encounter is one of Britain's best loved films. Film crews bring an added buzz to all directly involved and indeed bring additional business to the hotel from the locals who are curious to know what is going on."

Michael Berry
Other films with which our venues have been involved include The French Lieutenant's Woman from 1981 starring Meryl Streep and Jeremy Irons, Killing Me Softly, the 2002 thriller starring Heather Graham and Joseph Fiennes, and Snow White and the Huntsman which starred Kristen Stewart, Chris Hemsworth and Charlize Theron.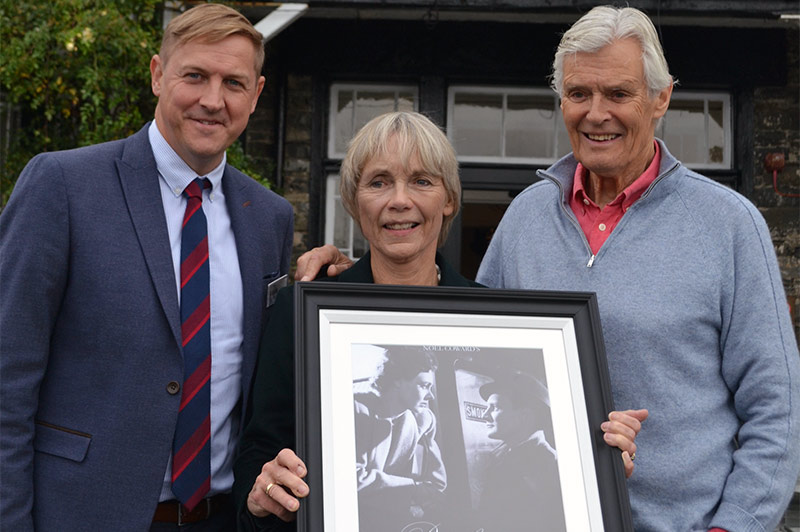 Lucy Fleming said:
"It's been lovely for Low Wood Bay to be involved in our plans to bring our production, 'Posting Letters to the Moon', to Cumbria, and to explore the venue's connections with Brief Encounter.

My mother, Celia Johnson, very much enjoyed staying at the hotel during the filming of the movie and travelling to Carnforth each day in a Rolls Royce, so it's a joy to follow in her footsteps."

Lucy Fleming
In his book, Michael Berry adds:
"These brief encounters are all great fun and add an extra dimension to the life and work of the hotel team."

Michael Berry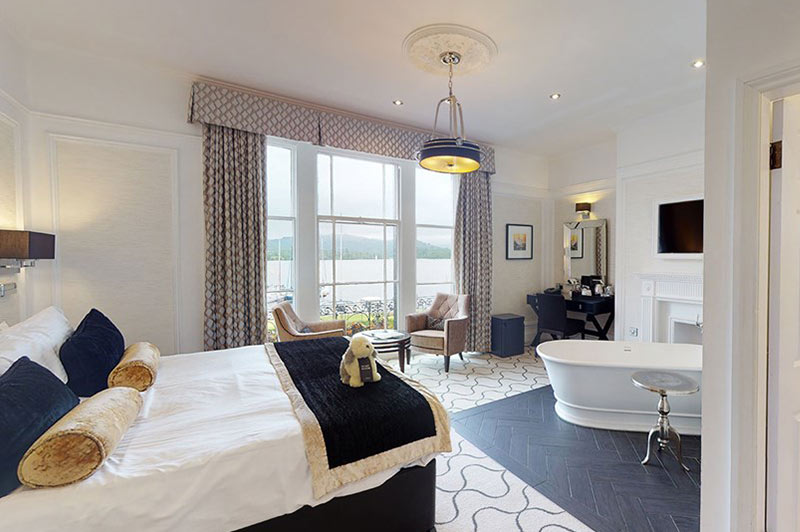 So, if you're settling in for your stay here at Low Wood Bay, especially if it happens that you're booked into room 19, take a moment to seek out the picture on the wall in the reception lounge and think about life as a film star in residence back in an altogether different time.
"We are living out at Windermere in a frightfully comfortable hotel where we have fires in our bedroom, breakfast in bed, in fact every mod con"

Celia Johnson
We celebrate with Keith Everson, English Lakes Purchasing Manager, as he turns Septuagenarian, or 70 years old to you and me. Keith has been with English Lakes for 46 years and is one of the company's longest serving, and loyal, team members. At a recent Chef's Meeting, Douglas Dale presented Keith with a bottle of Pol Roger and birthday wishes from us all.  (more…)
At English Lakes, we enjoy recommending local activities and events to visitors from around the world. For those wanting to explore the heritage of the Lake District, we've put together a list of five of our favourite heritage days out.
(more…)
Tony Cunliffe started his career at English Lakes on Monday, 27th April 1987 and since then he has been an integral part of the team here at Low Wood Bay. During a presentation to celebrate this work anniversary, his colleagues reminded him of a few interesting facts relating to his tireless service for the company over the years.  (more…)
Looking for suggestions for family activities in the Lake District over the Easter holidays. Here's a few we've selected for you …
(more…)
Recruitment for the newly refurbished Low Wood Bay has gathered pace, but we thought you'd be interested to meet some of the team responsible for taking our customer care standards to the next level.
Nevil Jeffery, General Manager of Low Wood Bay tells us about his career in hospitality. (more…)
A special day in the English Lakes calendar, 24th March was when we announced the winners of our 2016 Employees of the Year. Directors and nominees attended a beautiful lunch at Lancaster House, eager to have the winners of seven different categories, including the prestigious MRWB Award, announced. A short citation taken from the nominations was read, and the winners received certificates and champagne.

(more…)