One of our most popular rural wedding venues near Windermere has appointed a new specialist to organise its weddings and events for couples getting married. Amy Smethurst has joined the team at English Lakes Hotels Resorts & Venues as The Wild Boar wedding co-ordinator.
Having worked in the hospitality sector in a front-of-house customer service role for over 5 years, starting in waitering and latterly as a duty manager, Amy was itching for change and new challenges.
She had always been fascinated by the wedding scene and so when her brother announced he was getting married, Amy immediately volunteered to organise his big day. Little did she know that this would result in a change in career direction.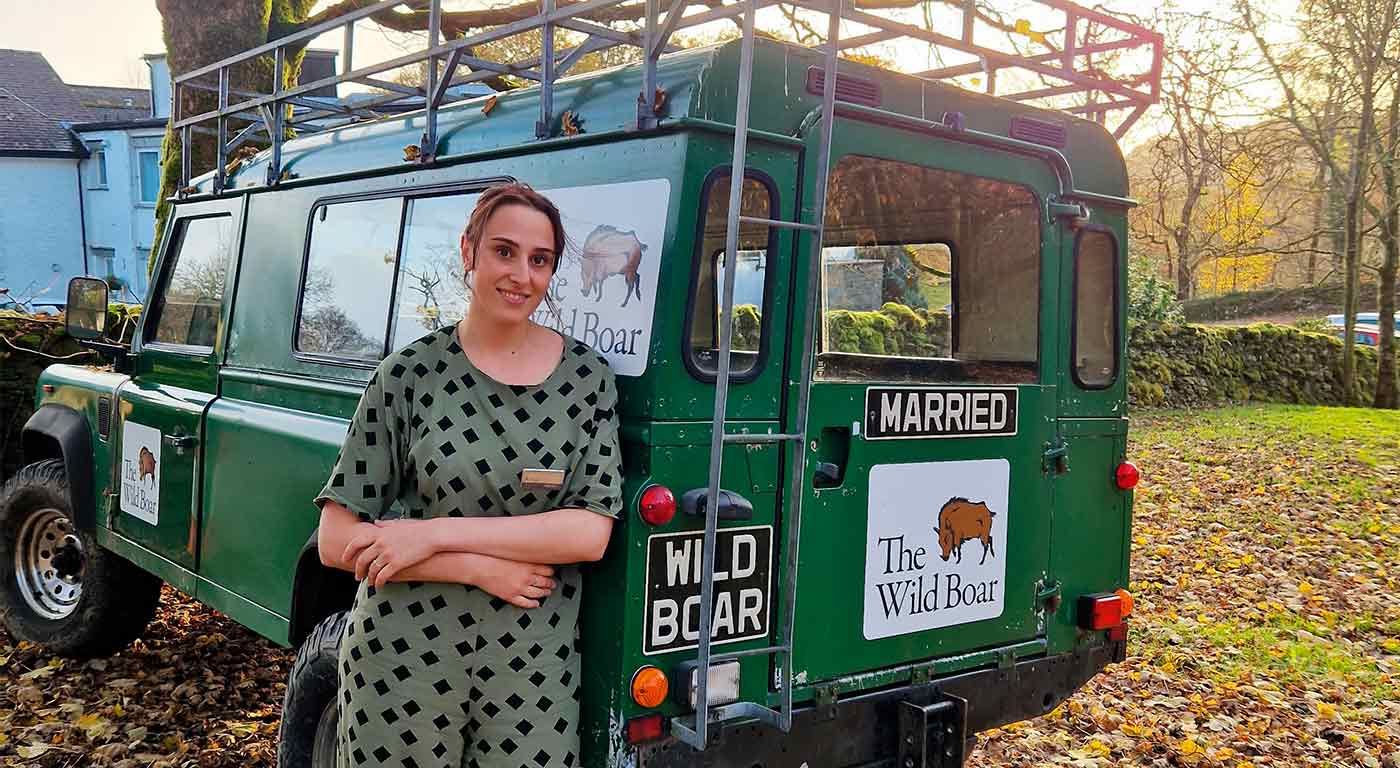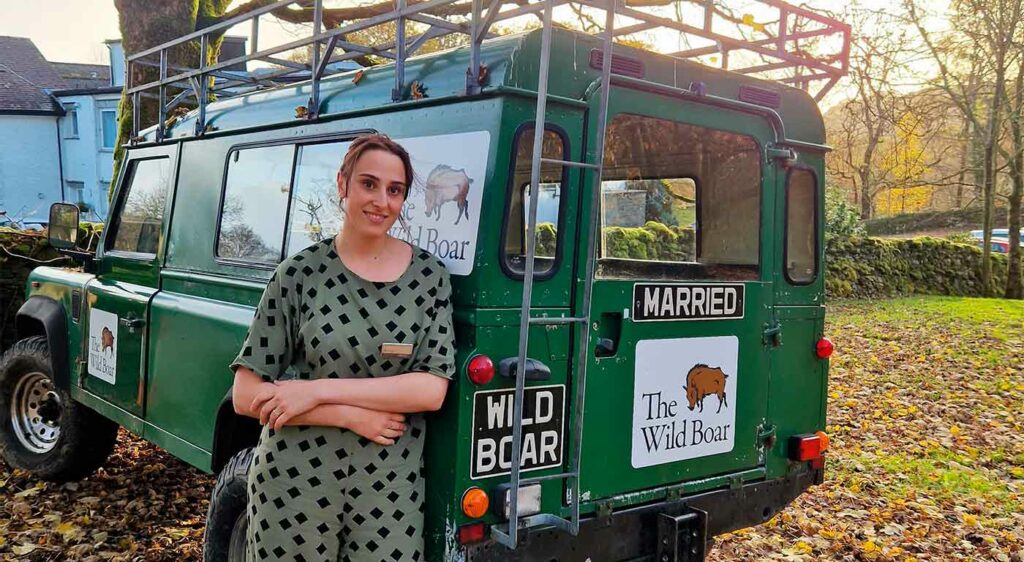 Thankfully, Amy did a great job – the siblings are still talking to each other at any rate! - and the experience inspired her to apply for the role of The Wild Boar weddings co-ordinator when she noticed the job advert online.
"I was a bit hesitant to apply at first," she explains. "But I knew I had strong customer service skills and the ability to build a rapport with clients, plus the experience of organising my brother's wedding was genuinely exhilarating, especially when the caterer pulled out at the last minute due to a freak injury!"
Amy's first job was to get up to speed with all the weddings at The Wild Boar for the 2023 season, some of which were already in advanced stages, whilst others needed to be accelerated to ensure everything was ready in time.
One of the most important aspects of her initial induction and training for the role was to work in partnership with the wedding team at nearby sister hotel Low Wood Bay Resort & Spa.
She has organised around a dozen weddings in the 2023 season thus far, with the biggest event catering for 130 guests and the smallest, an intimate family wedding for a small group of 11.
Better still has been Amy's response to the ongoing challenge of spreading the word about what The Wild Boar has to offer for wedding parties and couples.
Organising Lake District weddings with a difference
She recently attended the Lakes Weddings showcase event, sharing a stall with her wedding co-ordinator colleagues from Lancaster House and Low Wood Bay Resort & Spa. And has also been heavily involved in the planning and delivery of a 'Wild Wedding Suppliers Brunch' at the venue.
Amy's ability to communicate clearly what the venue is all about has resulted in the booking of an increasing number of 'show arounds' for couples seeking out the best place in the Lake District to get married. A complimentary Wild Boar afternoon tea may just have been a factor!
"We're not in competition with each other though," explains Amy. "Each of our venues cater for very different demographics and clientele in terms of wedding planning. At The Wild Boar, we very much embrace the 'wild' theme and a certain inclination for the more quirky, informal and outdoorsy elements of what couples are looking for as part of their nuptials.

In fact the success we've had this year has been very much to do with teamwork and the support I've had, especially from the team at Low Wood Bay who gave me the chance to train with them and help out with some of their events to pick up handy tips and experience.
The new job was perfect for Amy's home life too. Whilst trying to break into the wedding organising side of hospitality, she was also looking to move to Kendal with her girlfriend. The new job has allowed her to do so and she passed her driving test in the nick of time the week before starting the job.
Great wedding experiences at The Wild Boar
Amy is already receiving some heart-warming feedback from couples who have recently tied the knot at the venue:
Where do you go if you fancy a slap-up Mrs Miggin's breakfast in the Lake District?
Fell walkers seeking to fuel themselves before tackling a full day's hiking might want to take a little detour to The Wild Boar Inn to experience arguably the most sumptuous and varied breakfast in Windermere.
Those who have braved the night camping or glamping may decide to eschew the embers of the previous night's barbecue and head out to Crook to tuck into a big breakfast fry up at the hotel too.
And local residents, families and friends in the South Lakes may choose on a whim to pop out for a breakfast get together, working up (or walking off) an appetite with a stroll around the 72 acres of woodland in the hotel's grounds.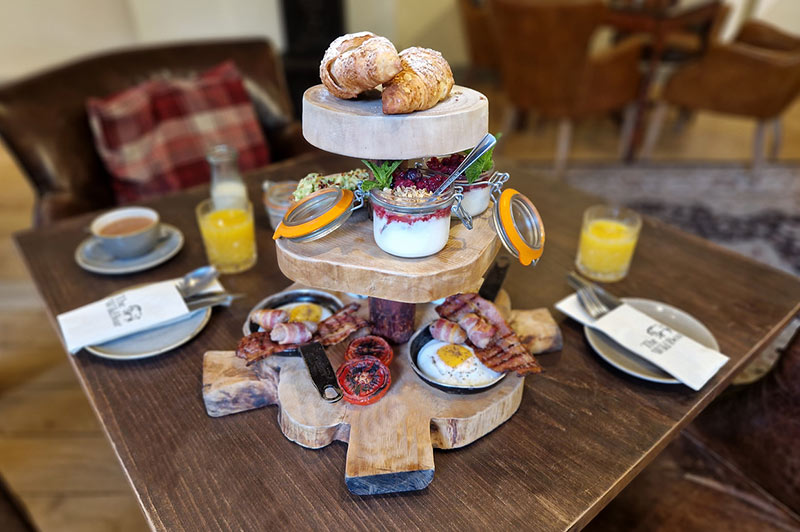 The breakfast menu at The Wild Boar caters for everyone's palate, from a traditional full English through to a varied platter offering delicious sweet and savoury mouthfuls.
From 8:00am each weekday morning, The Wild Boar Inn's culinary team is up, ready and waiting so serve not only our guests but also non-residents seeking a bit of breakfast adventure.
Could The Wild Boar Inn be your favourite breakfast stop in the Lake District?
The centrepiece of The Wild Boar Inn's popular Lake District breakfast offering includes everything you would expect: Cumberland sausage, locally sourced back bacon, slow cooked tomatoes, grilled flat cap mushrooms, Bury black pudding, baked beans and a choice of eggs, plus the option of the less than traditional hash browns – an influence perhaps from the US.
For the more adventurous looking for a meaty start to the day, there's steak and eggs featuring an in-house smoked medallion of beef fillet with duck egg and wild mushrooms and hollandaise.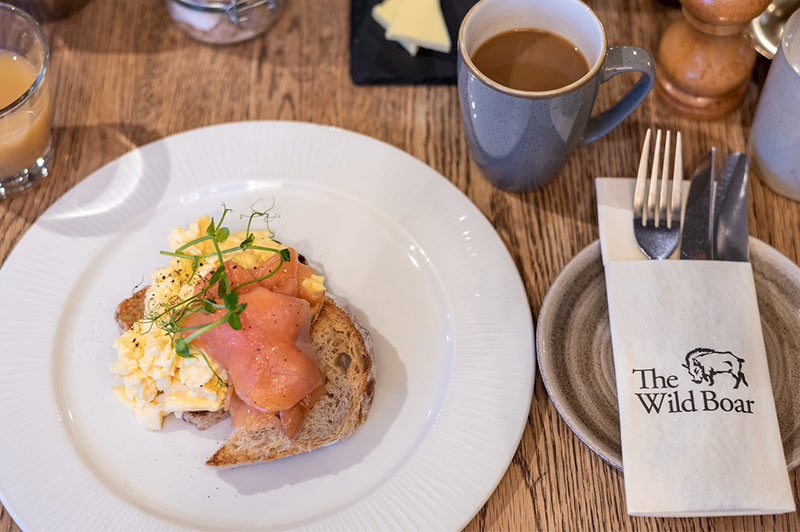 There are menu options for the more discerning eye too, such as treacle cured salmon with wholegrain rye bread and scrambled eggs or Mrs Kirkham's Lancashire Cheese Rarebit with smoked streaky bacon and fried duck egg.
From lemon curd French toast with vanilla bean mascarpone and toasted hazelnuts through to wild mushrooms, spinach and poached eggs on sourdough, there's something for everyone to savour.
Many of the hotel's breakfast servings are gluten free dishes, with vegetarian options including a Potato Rosti with wild mushrooms, baby spinach, poached egg and hollandaise sauce. There is also a delicious selection of artisan breads and croissants.
A Windermere trip out for breakfast – what will you choose?
The full English breakfast can mean slightly different variations depending on the diner and indeed the chef. To this writer, it's sausage, bacon and eggs as the staple, with the side addition of mushrooms, grilled tomato and fried bread. The coffee needs to be served hot when the breakfast arrives, but the real key is that the eggs are still warm when served.
Others will demand the inclusion of black pudding of course, and perhaps a side ramekin of baked beans to boot.
Historically, the tradition of the full English breakfast anecdotally goes as far back as the 1400s, with the country's gentry maintaining the idea of hospitable Anglo-Saxon cuisine and practices. They developed a reputation for tremendous breakfast feasts for family, friends and visitors passing through.
Those foundations were fortified on the country estates and the concept of a hearty morning meal before the landed gentry went off to hunt.  The Victorians made the idea into a more formal affair, and a chance to display their social status and wealth, before the Edwardians established the main constituents of the full English fry up.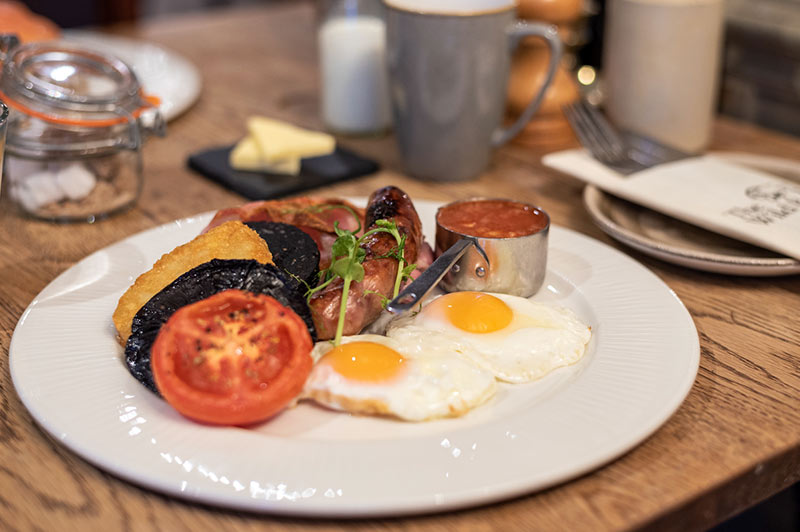 It was in the early decades of the 20th century that the nuts and bolts of the English breakfast fry up we know today started to become the standard across the country. This is around the period where the idea was no longer exclusive to the wealthier in society. Indeed the full English breakfast was rapidly embraced as a wholesome, filling way to start the working day. By the 1950s, it was commonplace across all areas and walks of life.
Today at The Wild Boar Inn, it's fell walkers, hikers, ravenous campers and glampers and local residents who seek us out on a casual weekday morning for a hearty breakfast trip out from Windermere.
And breakfast here does not always have to be a social occasion – indeed it's part of our cultural fabric to sit with family, friend or partner and perhaps not utter a single word as you scan the newspaper (or the ubiquitous mobile phone!) as you ready yourself for the serious business of the day ahead.
We all know that there are some wonderful things to do in the Lake District National Park. It is after all, an exceptional example of nature's playground, with the fells to hike, valleys to explore and the shores of the lakes inviting you to take to the water for a swim or boating trip.
At Low Wood Bay, you'll find that we've gone that extra mile in terms of outdoor activities. As well as the outdoor spa facilities for those who want a bit of R&R whilst taking in the spectacular views of the Langdales, there's also the Watersports Centre which offers pretty much all you can think of in terms of boating, paddleboarding or even wake surfing.
Many of our guests yearn for something more to bring them closer to the natural world, and that's why we've teamed up with Lake District Falconry to offer intimate hawk walks in the Lake District, allowing participants to get up close to birds of prey and even have them fly to their outstretched gloved hand.
How to get into Hawk Walks in the Lake District
We first started working with the falconers and their birds at The Wild Boar Inn, where our 72 acres of woodlands make the perfect tree canopy cover to see the raptors fly, swoop and dive in a natural environment.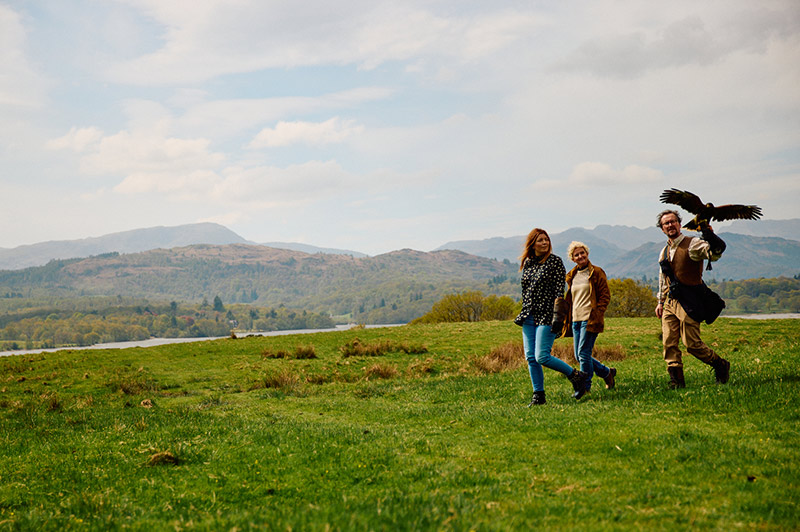 And so we decided to help create a falconry centre here on the shores of Windermere, using Low Wood Bay's extensive grounds and the backdrop of spectacular Lake District scenery to offer 'hawk walks' for guests and visitors.
What is a Hawk Walk?
Sessions start with the experienced falconers introducing one of the raptors, allowing participants to wear a falconry glove and have the bird of prey perch on their fist. This is followed by the opportunity to fly the hawk to and from the glove with expert guidance from an experienced falconer.
A bird's eye view of Windermere and the fells
General manager at the spa Mark Needham says: "We're very lucky to be able to offer our guests some of the best views across Windermere here at Low Wood Bay. So what better place to allow them an even closer step to nature by trying their hand at falconry.
"During the hawk walks, there's a chance to take on the role of the falconer, donning the gauntlet and calling the birds to you. It's a great way to experience the unique bond between these birds and humans. We have a number of hawk walk packages to choose from, including options to make a day of it with spa usage and a two-course lunch or afternoon tea."
As an integral part of the sessions, participants also learn about the behavioural habits of the birds and watch one of the hawks perform a simulated hunt using artificial prey.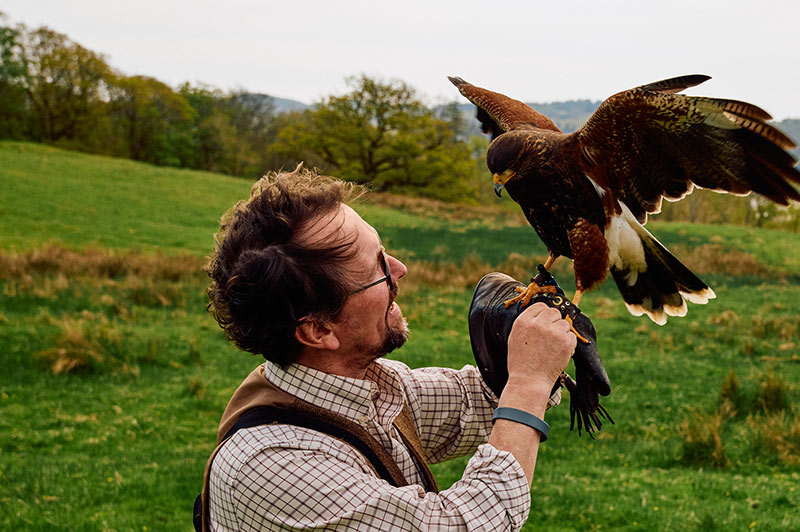 Stephen Lea from Lake District Falconry says: "It's great to add such a spectacular venue for our exclusive hawk walk experiences. Low Wood Bay guests can get to know our beautiful hawks and immerse themselves in their world against the spectacular backdrop of Windermere and the Lakeland Fells." Find out more book your falconry experience.
If culture and heritage are you thing, why not combine your stay in North Lancashire with a day trip from Lancaster House Hotel to Leighton Hall?
Set within the Arnside & Silverdale Area of Outstanding Natural Beauty near Carnforth, the history of the hall goes back nearly 800 years and there is plenty to explore. Our receptionist Carolyn paid a visit on a 'big day out':
I'd always thought Leighton Hall with its gardens, tearooms and activities would be well worth a visit, and I wasn't disappointed.
Nestled in wide expanses of picturesque rural land, the history of the hall goes back to 1246 but the welcome and tour of the beautiful manor is by no means dated.
The hall is still home to the current owners, Lucy Gillow Arthurs and Daniel Arthurs, whose ancestors have lived there across many generations. They have been kind enough to open their home to the public to share their history and vast collection of art and furniture.
From the warm welcome at the gate, the customer friendly tour of the hall and its grounds and the delicious home-made cakes and drinks in the café, we immediately felt relaxed.
Unlike so many other country estates and rural houses open to the public, Leighton Hall has 'no ropes or boundaries' in it rooms. Guests are encouraged to sit down in the Gillow dining chairs and to feel the quality of the bird's eye maple wood in the bedroom furniture of Lady Reynold's bedroom.
From the luxury of a modern Lancashire hotel to the grandeur of a country house
The tour starts in the grand entrance hall, and you immediately see the magical 'flying staircase' beneath which nestles a beautiful Daisy table. The guide tells the history of some of the paintings and the clock displayed here and talks about the mystery of the Daisy table.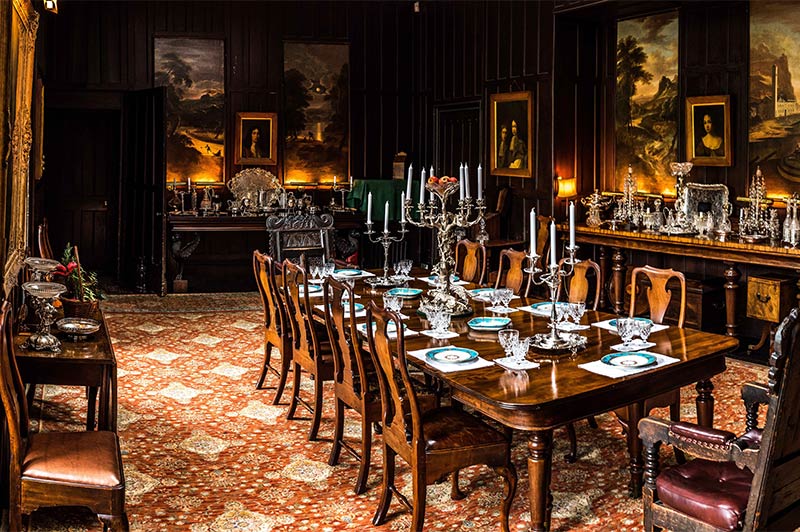 The tour talk was delivered in a friendly, chatty manner and we had the opportunity to ask questions as we went along.
There's plenty of time too to admire the antique pieces of furniture positioned around the rooms, with explanations as to whence some of the pieces were sourced, or what they were used for.
Drawers and cupboards doors are opened to reveal the insides of many curious pieces collected over many years. Many are Gillow manufactured but there are some contrasting French pieces showing marked differences in their design.
Some were highly practical in their use and would have been used on a daily basis. Others were used to house intriguing collections that family members acquired on their travels and showed off to visitors in days gone by.
In the music room, we were encouraged to relax and take a seat whilst discovering the history of the room and renowned performers who have entertained the family and their guests in the past. The cosy drawing room and its bay window extension allow for a moment to enjoy the countryside views too.
A visit upstairs to the principal bedroom of Sir James and Lady Reynolds reveals a very different style of furniture which was not made by the Gillows. The highly ornate bed, matching wardrobes and drawers give a contrasting vibe to the furnishings of other rooms.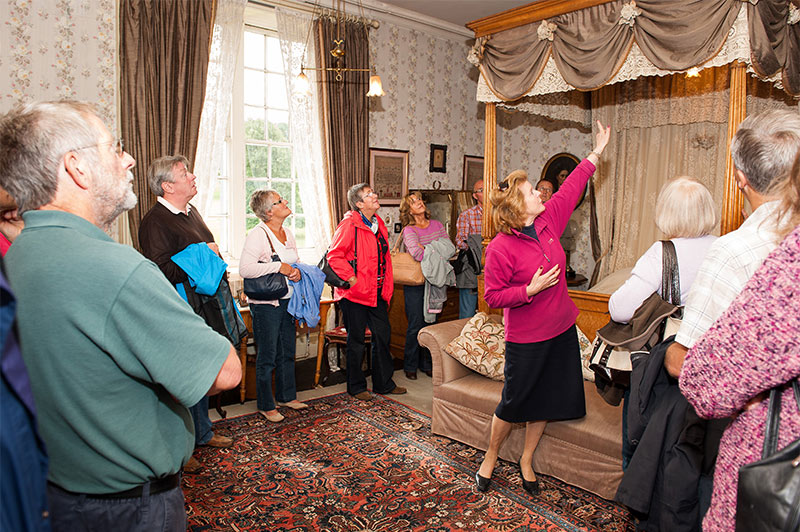 There is small, intimate chapel in the hall where the family used to go to pray and attend services in the privacy of their own home.
We also got a peek at the servants' quarters downstairs: seeing all the bells to summon staff to the many different rooms around the house was quite an eye opener. Learning each bell's individual tone to respond to the correct room must have been a nightmare.
Lots to see and do during your North Lancashire hotel stay
Following the very informative and entertaining tour of the hall, we were treated to a highly skilled falconry display. The recall demonstrated by one of the birds would make any dog owner envious, instantly responding to the trainer and returning to the ground on command.
Our day was brought to a satisfying conclusion with a trip to the tearooms where you can enjoy a drink and snack on the homemade cakes, either sitting inside or outside in the sheltered courtyard area.
The hall also has a lot to offer children with its Teddy Bear Hunt competition in the summer, a play area and a maze. There's a trail to find tree faces, an area to indulge in brass rubbings, an insect hotel and bee corner too, or you and your family can simply take a gentle stroll through the beautiful woodland area or take some time to admire the walled garden.
For further information or to organise a visit during your stay at Lancaster House Hotel, go to www.leightonhall.co.uk
Front of House Operations Manager at Lancaster House Lynn Porter took her children for a big day out in Lancaster at the Williamson Park's Butterfly house and mini zoo.
It's not always easy to find interactive activities which are fun, immersive and educational for your children, especially during the school holidays.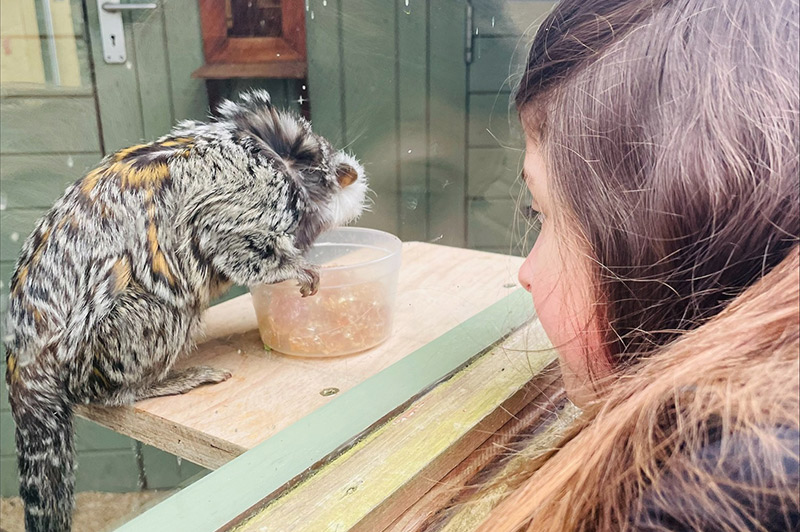 But there's a little treat in store for kids of all ages at Williamson Park in Lancaster, where they can extend their science and biology knowledge in a little oasis of wildlife, thanks to the Butterfly House and mini zoo.
Once an Edwardian tropical palm house, families can now explore the building which is a maze of different habitats for a diverse range of butterfly species.  And children can quickly learn about the life cycles of the butterflies, caterpillars and pupae, as well as catching a glimpse of exotic animals such as a marmoset, Koi carp or a tortoise.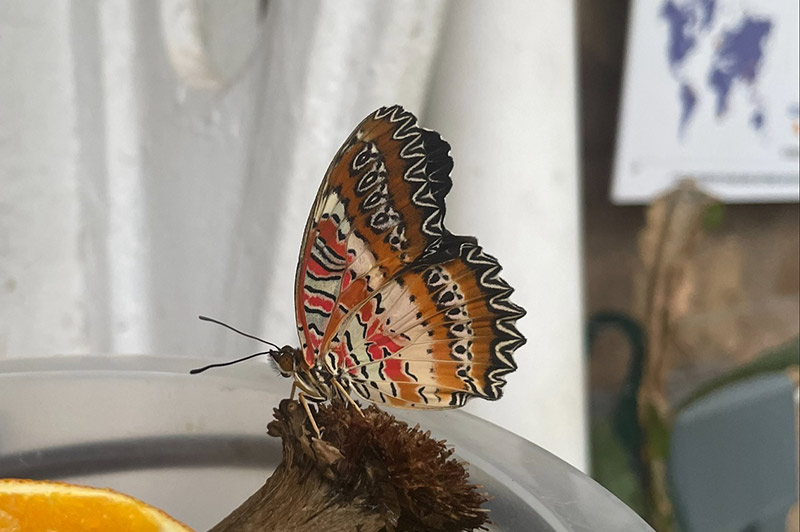 "One of the most challenging things we found was trying to photograph the butterflies – it's pretty tricky trying to get them to pose or be still for very long!  But the kids were thrilled with the experience and it's a great environment for them to explore and find out more about nature.  All in all, they had a great time, and loved the mini beasts as well, although Arlo wasn't that keen when a butterfly landed on him."

Lynn Porter
Read the story behind Christmas Wreaths and find out how you too can join in the fun at Lancaster House with one of our workshops.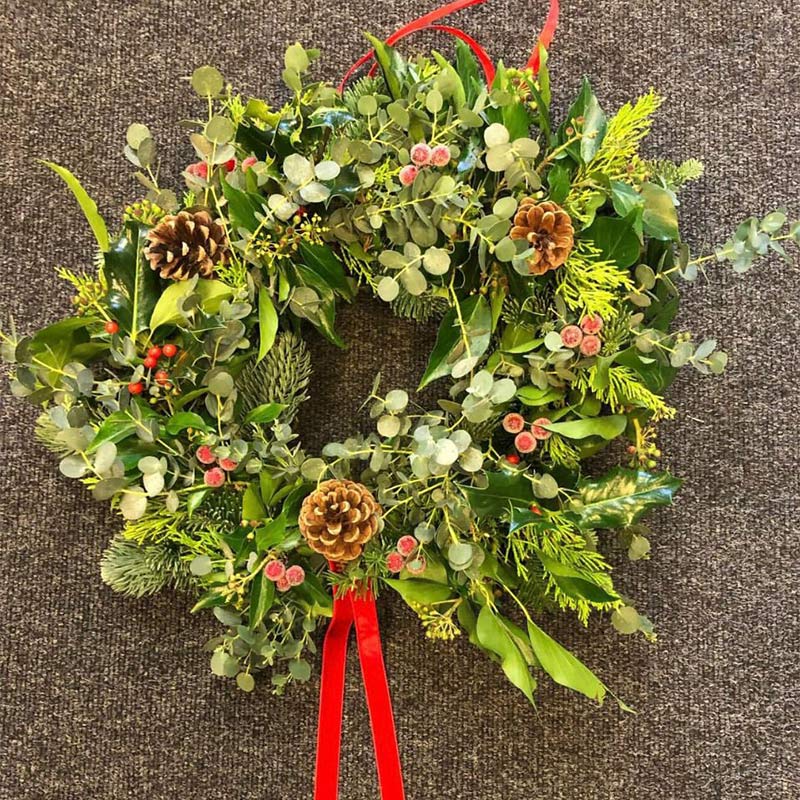 You probably wouldn't associate learning about Christmas craftwork with a stay at a North Lancashire hotel.
But that's a possibility now in the lead up to the festive season as the Lancaster House Hotel is offering guests and members of the local community the chance to try their hand at designing and making their own Christmas wreaths.
How much more rewarding would it feel when you hang your Christmas wreath up in the hallway or at the front door to welcome festive visitors, knowing that you created it yourself?
Well now you have the chance, learning from expert wreath designer and creator Alison Beacham from Lune Valley Home & Garden Florist.
Take a wreath making workshop whilst enjoying a spot of afternoon tea
The team at Lancaster House have organised the wreath making workshops with afternoon tea and a glass of mulled wine, so that participants can get into the Christmas spirit, share ideas and enjoy a creative, interactive afternoon together.
The hands-on, interactive sessions commence at 11am with tea and coffee as an easy introduction and ice breaker. Then our instructor Alison will lead you through the process of making your very own Christmas wreath.
The activity starts with a simple golden decorated ring as a base from which to build the wreath. Key plant materials in the step-by-step manufacture include spruce, conifer, holly and ivy, with the addition of cones, berries, eucalyptus and an ornamental Christmas bow.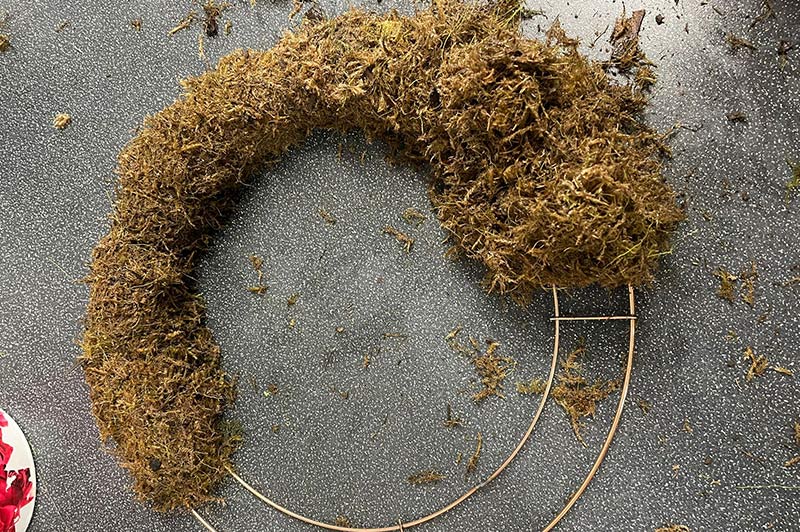 Alison has over 35 years of experience of designing and creating these beautiful festive wreaths. She will demonstrate each stage of the process and be on hand to help participants get the best possible results.
You will come away not only with your own wreath to mark the day and make this Christmas a bit more special, but you will also have learned all the skills and techniques you need to make a different wreath every year – or for other special occasions.
These fun sessions conclude with Lancaster House's own festive afternoon tea, and a warming glass of mulled wine to get the Christmas season off to a memorable start.
The history behind wreath making and what it means
Christmas wreaths have long been a tradition in households up and down the country. Whilst serving as decorative and welcoming additions to household Christmas decorations, not many people know of their origins, meanings and purposes.
According to historians, you can trace the social importance of wreaths back to classical times as a status symbol. The Greeks used wreaths to crown the first Olympic Games winners. The Romans ensured that generals and soldiers returning from battle were garlanded with them in thanks for their military prowess and success.
Wreaths were typically made from laurel or olive cuts and they were often exchanged at certain times of year, notably at Kalends, the New Year festival celebrated by the Romans.
The tradition of making and hanging wreaths at Christmas time may have its origins from sixteenth century Germany, with the Lutheran custom becoming ever more popular by the mid-1800s. By that time, wreaths were pinned to the front door of homes as a 'welcome ring', often constructed from holly, ivy, pine cones and ribbons.
In that Germanic culture, the wreath was also a reminder of renewal and the unbroken cycle of the seasons, that although cold winter had come, it would soon be back to spring again.
The Wild Boar's intimate, cosy & relaxed atmosphere ensures everyone feels an integral part of your wedding celebrations.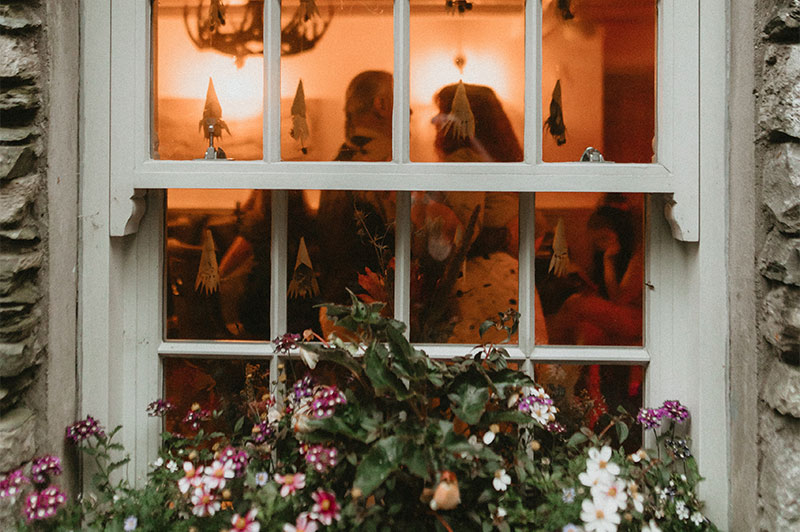 Jodie & Jesna's Wedding
As a wedding venue in the Lake District, The Wild Boar Inn near Windermere is establishing an international reputation. And why not? Set in the leafy woodlands of the Gilpin Valley with 72 acres of private grounds for newlywed couples and their guests to enjoy, the venue gives you an intimate, cosy and relaxed atmosphere to ensure everyone feels an integral part of your wedding celebrations.
Recently married couple Jodie and Jesna from Bali certainly enjoyed their nuptials at our traditional Lakeland inn.
The couple first met at a mural event in Bali. Jesna is an artist and was painting a huge mural. Jenna was on holiday and had gone along to photograph the event. Jesna spoke little English but with some charades and the help of Google Translate, they quickly overcame the language barrier and the rest, as they say, is history!
Finding the Ideal Wedding Venue
Jodie and Jesna hadn't been able to find a UK wedding venue that suited, but a chance internet search for an Easter weekend family meal alerted them to The Wild Boar's wedding offering.
We'd almost booked somewhere else, but when we looked around, it didn't really fit," explains Jodie. "I was then just looking for somewhere to go out for a meal with my family and Google brought up The Wild Boar. The food looked delectable and I was incredibly intrigued by the photos of the dining room, bar, decoration and bedrooms. And then I saw The Wild Boar did weddings!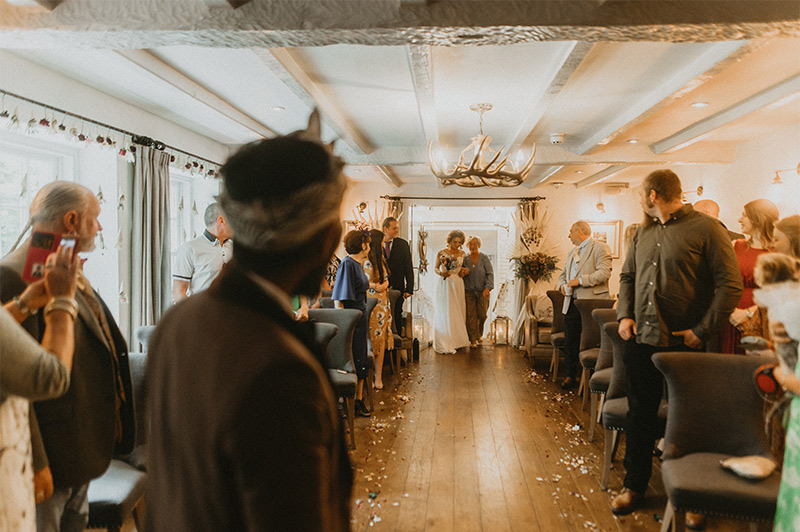 The couple quickly arranged a visit to have a look around and Jodie says that as soon as they walked through the door, they both knew it was the right place for them.
The inn's traditional soul can still be felt and the mixture of old beams, the stove, the slabs on the floor and the thick walls were perfect. We needed somewhere which could give us an intimate, relaxed, soulful environment, and also had rooms close enough to our guests. It was also really important that the venue could accommodate all our guests overnight. We wanted to prolong the time that we all had together by being able to have breakfast the next day.

Jodie
The Wedding Day
The couple put a lot of planning and hard work into their ceremony with the help of the wedding co-ordinators at The Wild Boar.
Jesna's suit was custom-made in Bali, whilst Jenna undertook the challenge of designing and embroidering her own wedding bodice and skirt. Jesna designed Jodie's shoes as per her request with a blue eye on one to match her own and a brown eye on the other to match his.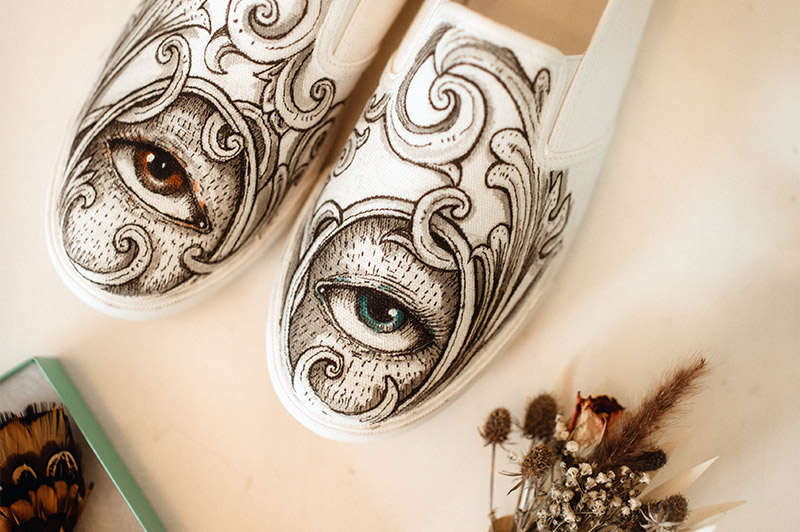 The couple also made all the decorations for the wedding themselves and have set up their own business as a result. You can see examples of their creative event decorations, murals and art installations on Instagram @ coconut_queen_x
They brought some traditional Indonesian ceremonial decorations to incorporate the Balinese culture into their wedding. Fresh flowers were used for the table centrepiece and the arrangement placed in front of the fire.
There were other special touches too. Table settings featured dried flowers wrapped in a paper bio-degradable name card with flower seeds in it so all of the guests could plant them and grow wildflowers.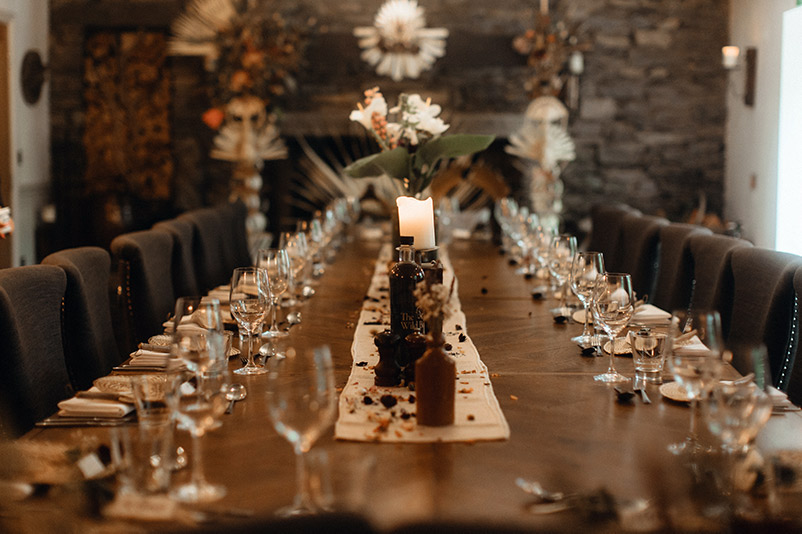 The newlyweds wanted to give everyone something from Indonesia that they could keep, presenting gifts in bamboo baskets which they had decorated with a traditional Balinese embroidery motif. Inside was an incense stick, a wooden 'bottle stopper' carved into the shape of the Balinese god Garuda, and a small wall hanging made from palm leaves and bamboo with traditional Balinese images and the date of the wedding etched on them.
Guests enjoyed a three course wedding breakfast using the most popular choices of their guests who had seen the Wild Boar's full menu. And a specially designed, delicious wedding cake was provided by the incredibly talented Derrienne at The Cat's Meow in Ulverston.
Jesna says the highlight for him was seeing everyone sitting together in the Undermill Beck room ready for the ceremony:
They were smiling and chatting before Jodie came down and it was obvious that everyone was happy to be there. It made all our decorations come to life and made me realise all of our hard work had paid off.

Jesna
Planning Your Wedding at The Wild Boar
So if you're planning your wedding and looking for a venue with a spacious bridal suite, flavoursome food, individually designed rooms, a host of outdoor activities and a cosy atmosphere, The Wild Boar fits the bill.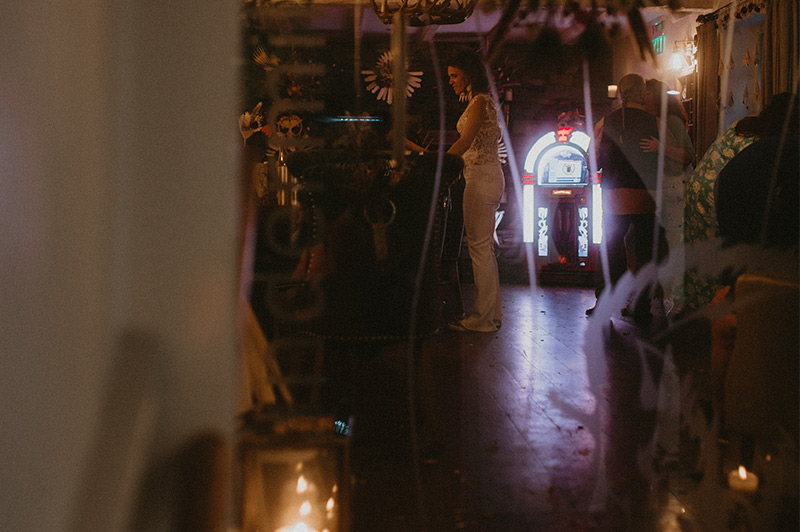 From smaller, more intimate ceremonies to larger weddings and exclusive use of the venue, we can cater for up to 90 guests for wedding breakfast and up to 130 for evening buffets.
Everything clicked into place for us at The Wild Boar. The grounds were beautiful, the energy and feeling was right, the staff were brilliant, and the Land Rover was a massive bonus!

Jodie
English Lakes re-started their quarterly service awards lunch in July 2022. It's a fantastic opportunity for the Directors to say 'thank you' to employees of English Lakes Hotels Resorts & Venues for their dedication and loyalty.
English Lakes Annual Service Awards Lunch
During the Covid pandemic, reluctantly we had to suspend our quarterly Service Awards lunches (usually held in January, April, July and October). It was, therefore, even more of a celebration than usual when they restarted this month. All those in attendance at The Wild Boar enjoyed a sumptuous three course dinner, and the all-important award ceremony.
After each year of service, every employee of English Lakes Hotels is invited to an Service Award lunch. This is a great opportunity to meet colleagues from your hotel, or any of the other hotels in the English Lakes Group. The atmosphere is informal and friendly. It is an event that the Directors of English Lakes take very seriously as it is their chance to show appreciation to their teams and reward them for their previous year's hard work.
New Benefits for All English Lakes Employees
English Lakes Managing Director, Ben Berry, hosted the recent Awards Lunch and presented English Lakes vouchers and +1 Awards to those in attendance. He also launched a new package of benefits to be enjoyed by the employees of English Lakes Hotels.
English Lakes Loyalty Rewarded
Every full year of service with English Lakes is rewarded with English Lakes Vouchers, worth between £100 and £350 for full-time employees, depending on length of service. These are presented at a Service Award lunch.
Free Bed & Breakfast Stay for Two People
This is a fantastic opportunity for every employee to be on the receiving end of English Lakes service. What a great way to discover what it is like for our guests. After a full year of service, and every year thereafter, the employee can book a night's bed and breakfast accommodation. They are invited to bring their partner, or a friend or family member and stay in an English Lakes hotel overnight, and enjoy breakfast the next morning.
Enjoy a Thermal Spa Experience on Us
A little cosy treat that can be enjoyed as part of working for English Lakes Hotels. Each year, employees can enjoy the benefit of a three-hour Thermal Journey at The Spa at Low Wood Bay. A spa experience voucher for two people becomes part of the benefits of working for the hotel group.
+ 1 Awards
Every month team members are nominated for activities or performance that exceeds guest or colleague expectations. Successful +1 nominees are awarded a certificate and first-time winners also receive a +1 lapel pin.
Special Silver and Gold and Champions awards are made for those team members who achieve 10, 25 and 50 +1s respectively.
Prizes for Creativity
Creativity is what we do at English Lakes. If an employee has a great idea that has the potential to transform the way we do things, we invite their ideas! We call these people our 'Imaginators'! When these ideas become a reality within the business, the employee is invited to an Awards lunch and receives a VIP treat.
Be Our Guest
After successful completion of six-week review, new employees are invited to enjoy a Bed and Breakfast stay as our guest at the Hotel where they work. We include the employee's partner and children, or a friend.
Twice yearly we will also run a 'Flash Sale' for employees only so that you can treat your family and close friends.
And Lots More Benefits…
There are also extra holidays each year of continuous service, up to an extra 5 days. Employees can recommend a friend and receive £250 English Lakes Vouchers and there is a Personal Development Fund that workers at English Lakes Hotels can apply for.


A very popular benefit is the complimentary access to English Lakes Health Clubs and Spas at specific times of the day, as well as significant discounts off spa treatments, guest fees, watersports equipment hire and dining in our restaurants.
Find A Job at English Lakes Hotels
Take a look at English Lakes Jobs page to find out what opportunities there are available in the different hotels and departments. A job at English Lakes opens the door to lots of additional benefits.
We are delighted to introduce Emma Underwood as the first female General Manager of Lancaster House. Emma brings a wealth of experience to the role, including almost fourteen years working for English Lakes Hotels. She tells us a bit about herself.
Thoroughly Lancashire Lass
Home for me is Lancaster and I've lived all my life here. My home is close to the beautiful Williamson Park. Even when I worked in the city of Manchester, I would commute so that I would get home to my beloved Red Rose county.
When I'm not working, I enjoy going to the theatre, and travelling to experience new cultures. I am a regular at Sandpiper Club exercise classes.
I spend a lot of time with my family and friends, and socialising is a big part of any downtime I have. In particular, I love to be around my Mum, my sister and Holly, my niece. Holly is definitely a mini me, and she thinks she is the little boss of Lancaster House! She is certainly full of character and is lots of fun to be around.
"Work Hard, and Be Kind"
Emma and Holly
In terms of hobbies, when conditions are right, I do very much enjoy a spot of open water swimming.
A Career in Hospitality
Working backwards in my career, I've spent almost fourteen years at English Lakes Hotels as Deputy Manager of Lancaster House. I'm thrilled to be taking the reigns as General Manager and it feels very apt as I know the hotel and the team inside out.
Other roles include a time in a large conference and banqueting hotel in Manchester. It would be quite normal for us to do three to four weddings each week, and host conferences for up to 250 people. The hotel also had a Spa which brought in different clientele and lots of day visitors. Prior to that, I worked as Reservations Manager for Holiday Inn, and then took a position as Operations Manager. I thought that moving to operations was a great idea at the time, but I missed the revenue side of the business. Now, as General Manager, I get the best of both worlds!
I started my hospitality career as a waitress. It didn't take me long to realise that although it was great fun and enjoyable, it was also extremely hard work. I treasure my Dad's words of wisdom when he told me to 'Work hard, be kind, and you will reap the rewards!'
Favourite Lancaster House Moments
Some of my favourite parts of the job have been working with a great team, and in particular interviewing many different people for roles in the hotel. I've learned to go through the recruitment process but also to trust my gut as to whether the person will be a good fit in the Lancaster House team.
I've also enjoyed getting involved in the creative decisions around refurbishments and upgrades – choosing wallpaper and carpets for the Dalton suite was an enjoyable experience. Other stand out moments are when we host the Lancaster Food and Drinks Festivals.#
Looking After our Guests and our Team
I love the English Lakes + 1 culture which is about going the extra mile to deliver the best standards in every aspect of the business. It is also about caring for our guests and looking after our team. I believe it is this culture that makes us stand out from the competition, and I truly hope that everybody that walks through the doors of Lancaster House experiences this type of welcome and service that goes above and beyond expectations.
Top Priorities
I've got to say, 'ensuring Lancaster House is the best hotel in Lancashire'. That is my passion and I hope to do this through creating leisure and corporate packages that people love, as well as delivering the best customer service. Continuing to develop the Lancaster House team is also key for me, and I'm happy to pass on any wisdom I've accumulated through my career to date. I like to be approachable and transparent about the direction I am taking the hotel. We can all achieve the vision if the vision is clearly defined and communicated to the whole team.
My first objective is to look again at our offering. Does it need to change? There is the old adage, if it ain't broke, don't fix it! But like everything, adjustments and improvements can always be made and found. I want to develop relationships further with local suppliers and to ensure that when it comes to weddings, events and functions, Lancaster House is always at the forefront of the minds of those in our local community. I believe that everyone in the county should try which I believe to be Lancashire's finest Afternoon Tea!
Lancashire Afternoon Tea
A Great Team
Emma Celebrating 25 years of Lancaster House with the team
Lancaster House is a great place to work, not just because I work there!! We are a family. Most of the team are happy to get involved in other areas of the operation as and when required. I believe this gives us an appreciation of different jobs, and the challenges as well as the joys that each role presents. We only recruit people with the right attitude, and it is very much the case that the people make Lancaster House tick! Guests are always remarking about the way the team interacts and comment about the friendly camaraderie between us. My hope is that every team member will continue to feel value and have a good and positive work life balance.
Looking for a New Opportunity?
Perhaps it's time for a new challenge and to be part of a great team. Take a look at the hospitality job opportunities at Lancaster House and our three other English Lakes hotels.
The Midland has played host to several automobile events over the years - often adding style and grandeur to the line up in the car park. We were delighted when Norman Verona contacted us again as part of his Coast to Coast MG owners' car club event which was due to happen in August 2020. Postponed due to Covid-19, we finally welcomed them a whole year later. Norman tells us a little more about the event...
Norman Verona and his wife, Lynne
Our Coast to Coast Colossal Car Count!
I organised the first MG Classic Car run in 2018 and chose The Midland in Morecambe for the start point as we all drove across the country to Scarborough. I expected about 30 cars for the event but ended up with 98. We started with a banquet on the Friday night. So impressed with the hotel and the staff, I decided to use English Lakes hotels for the 2019 event. We stayed at Lancaster House that year and the service was superb, as was the food.
So, for 2020 I planned a coast to coast from The Midland in Morecambe to Seaburn near Sunderland, driving north through the lakes and then across the North Pennines to Sunderland.
Stress-Free Customer Service
Only one problem… Covid struck. I had 70 people signed up in March 2020 for a mid-August date, but it had to be postponed. The team at English Lakes worked above and beyond any call of duty to rearrange things for 2021. I suspect that due to the fear of Covid - remember most of the classic car owners who do this type of weekend are retired - I ended up with only 43 cars. The girls at the hotel dealt with all the cancellations and finding rooms for the late entrants with no fuss, they just did it.
A Good Hotel is more than Just the Building
You may know The Midland. It's the semi-circular white art deco building on Morecambe Bay with huge spiral staircase, freeze behind the reception and, not forgetting, two sea horses on the front. You may even have seen it on the TV drama, Poirot as the hotel is often used in the programme due to its art deco design. However, a good hotel is much more than a building, it's the staff that make a good hotel and we cannot praise the team at the Midland highly enough for all their help in a very trying period. In the end the run went off exactly as planned, even with changes being made 48 hours before the start of the event.
Seventy-one people sat down to a superb meal on Friday night and then we all had breakfast from 07:30 am and the first cars left at 08:30 am. Our Porter, Kev, who looks after the car park, did a superb job in arranging space for the 8 very old cars and the space for the more modern (although most are about 50 years old) in a line opposite the older cars. The oldest is a four seater MG NB with was made in 1934, three TA's which date to circa 1946, one TC from 19349 and 3 TDs from between 1950 and 1955. The more modern cars date from post 1956 with one MGA and 13 MGBs plus a few non-MGs as well.
This years run has been much more of a challenge, mainly due to the effect of COVID 19, having to book alternative accommodation and pubs, and not everyone being as efficient at replying to requests. However, I may just be persuaded to repeat the 2018 run. Rest assured, if I do another run next year it will be based at The Midland, because the team at The Midland were there for me all through the pandemic and nothing was too much trouble.
Car Clubs Welcome
The Midland has a wealth of experience in hosting car clubs of different vintage, makes and models. As travel around the country opens up and we can all enjoy the freedom of the road once again, give us a call on 01524 424000 and speak to one of our event organisers.