Where do you go if you fancy a slap-up Mrs Miggin's breakfast in the Lake District?
Fell walkers seeking to fuel themselves before tackling a full day's hiking might want to take a little detour to The Wild Boar Inn to experience arguably the most sumptuous and varied breakfast in Windermere.
Those who have braved the night camping or glamping may decide to eschew the embers of the previous night's barbecue and head out to Crook to tuck into a big breakfast fry up at the hotel too.
And local residents, families and friends in the South Lakes may choose on a whim to pop out for a breakfast get together, working up (or walking off) an appetite with a stroll around the 72 acres of woodland in the hotel's grounds.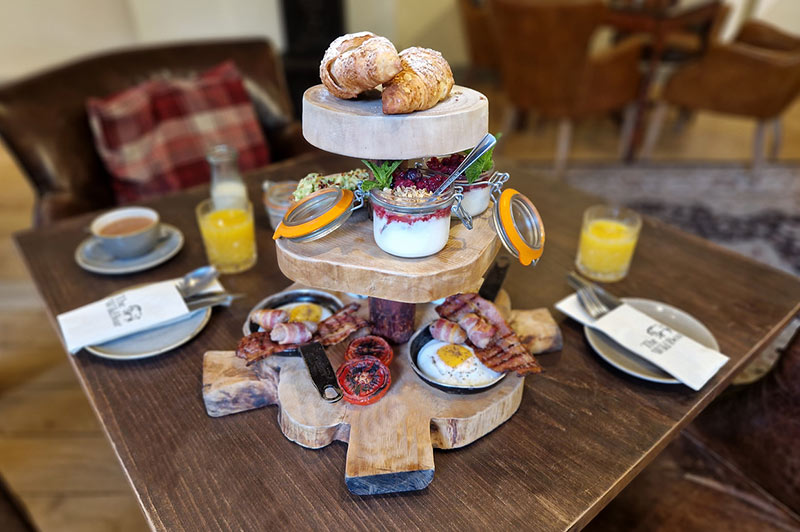 The breakfast menu at The Wild Boar caters for everyone's palate, from a traditional full English through to a varied platter offering delicious sweet and savoury mouthfuls.
From 8:00am each weekday morning, The Wild Boar Inn's culinary team is up, ready and waiting so serve not only our guests but also non-residents seeking a bit of breakfast adventure.
Could The Wild Boar Inn be your favourite breakfast stop in the Lake District?
The centrepiece of The Wild Boar Inn's popular Lake District breakfast offering includes everything you would expect: Cumberland sausage, locally sourced back bacon, slow cooked tomatoes, grilled flat cap mushrooms, Bury black pudding, baked beans and a choice of eggs, plus the option of the less than traditional hash browns – an influence perhaps from the US.
For the more adventurous looking for a meaty start to the day, there's steak and eggs featuring an in-house smoked medallion of beef fillet with duck egg and wild mushrooms and hollandaise.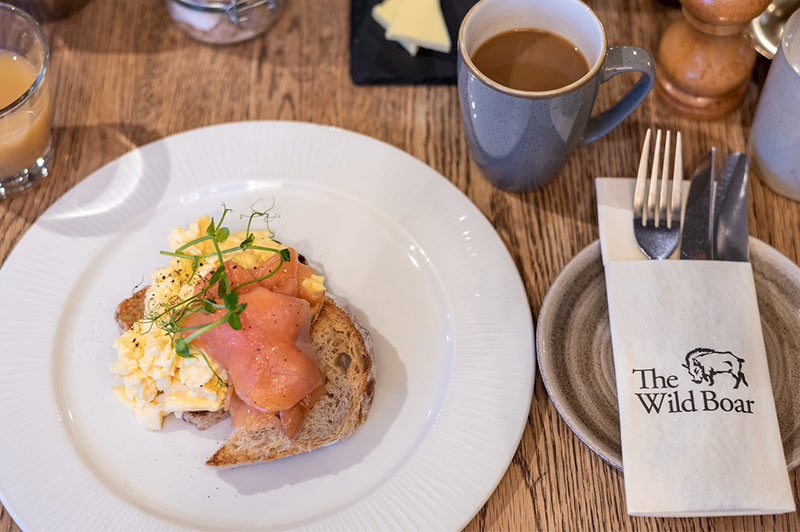 There are menu options for the more discerning eye too, such as treacle cured salmon with wholegrain rye bread and scrambled eggs or Mrs Kirkham's Lancashire Cheese Rarebit with smoked streaky bacon and fried duck egg.
From lemon curd French toast with vanilla bean mascarpone and toasted hazelnuts through to wild mushrooms, spinach and poached eggs on sourdough, there's something for everyone to savour.
Many of the hotel's breakfast servings are gluten free dishes, with vegetarian options including a Potato Rosti with wild mushrooms, baby spinach, poached egg and hollandaise sauce. There is also a delicious selection of artisan breads and croissants.
A Windermere trip out for breakfast – what will you choose?
The full English breakfast can mean slightly different variations depending on the diner and indeed the chef. To this writer, it's sausage, bacon and eggs as the staple, with the side addition of mushrooms, grilled tomato and fried bread. The coffee needs to be served hot when the breakfast arrives, but the real key is that the eggs are still warm when served.
Others will demand the inclusion of black pudding of course, and perhaps a side ramekin of baked beans to boot.
Historically, the tradition of the full English breakfast anecdotally goes as far back as the 1400s, with the country's gentry maintaining the idea of hospitable Anglo-Saxon cuisine and practices. They developed a reputation for tremendous breakfast feasts for family, friends and visitors passing through.
Those foundations were fortified on the country estates and the concept of a hearty morning meal before the landed gentry went off to hunt.  The Victorians made the idea into a more formal affair, and a chance to display their social status and wealth, before the Edwardians established the main constituents of the full English fry up.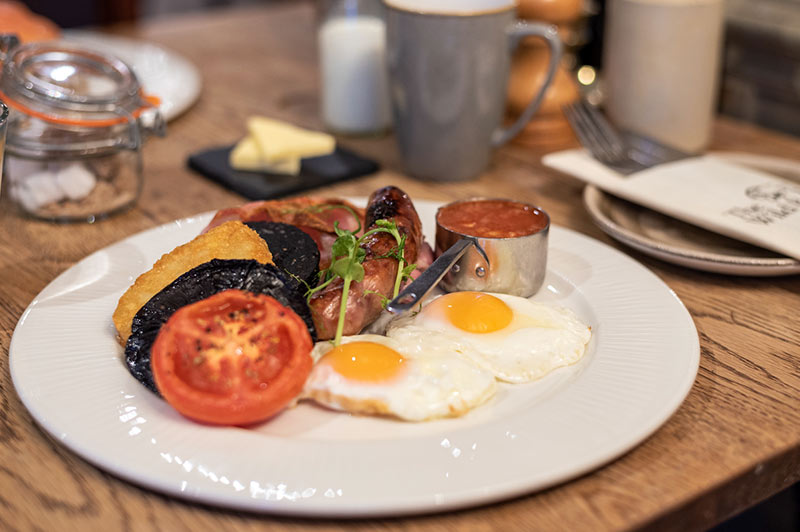 It was in the early decades of the 20th century that the nuts and bolts of the English breakfast fry up we know today started to become the standard across the country. This is around the period where the idea was no longer exclusive to the wealthier in society. Indeed the full English breakfast was rapidly embraced as a wholesome, filling way to start the working day. By the 1950s, it was commonplace across all areas and walks of life.
Today at The Wild Boar Inn, it's fell walkers, hikers, ravenous campers and glampers and local residents who seek us out on a casual weekday morning for a hearty breakfast trip out from Windermere.
And breakfast here does not always have to be a social occasion – indeed it's part of our cultural fabric to sit with family, friend or partner and perhaps not utter a single word as you scan the newspaper (or the ubiquitous mobile phone!) as you ready yourself for the serious business of the day ahead.
The Wild Boar's intimate, cosy & relaxed atmosphere ensures everyone feels an integral part of your wedding celebrations.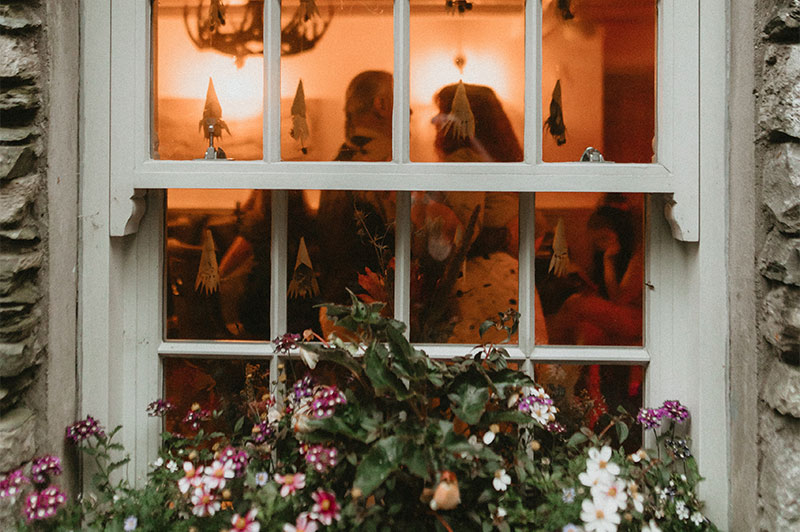 Jodie & Jesna's Wedding
As a wedding venue in the Lake District, The Wild Boar Inn near Windermere is establishing an international reputation. And why not? Set in the leafy woodlands of the Gilpin Valley with 72 acres of private grounds for newlywed couples and their guests to enjoy, the venue gives you an intimate, cosy and relaxed atmosphere to ensure everyone feels an integral part of your wedding celebrations.
Recently married couple Jodie and Jesna from Bali certainly enjoyed their nuptials at our traditional Lakeland inn.
The couple first met at a mural event in Bali. Jesna is an artist and was painting a huge mural. Jenna was on holiday and had gone along to photograph the event. Jesna spoke little English but with some charades and the help of Google Translate, they quickly overcame the language barrier and the rest, as they say, is history!
Finding the Ideal Wedding Venue
Jodie and Jesna hadn't been able to find a UK wedding venue that suited, but a chance internet search for an Easter weekend family meal alerted them to The Wild Boar's wedding offering.
We'd almost booked somewhere else, but when we looked around, it didn't really fit," explains Jodie. "I was then just looking for somewhere to go out for a meal with my family and Google brought up The Wild Boar. The food looked delectable and I was incredibly intrigued by the photos of the dining room, bar, decoration and bedrooms. And then I saw The Wild Boar did weddings!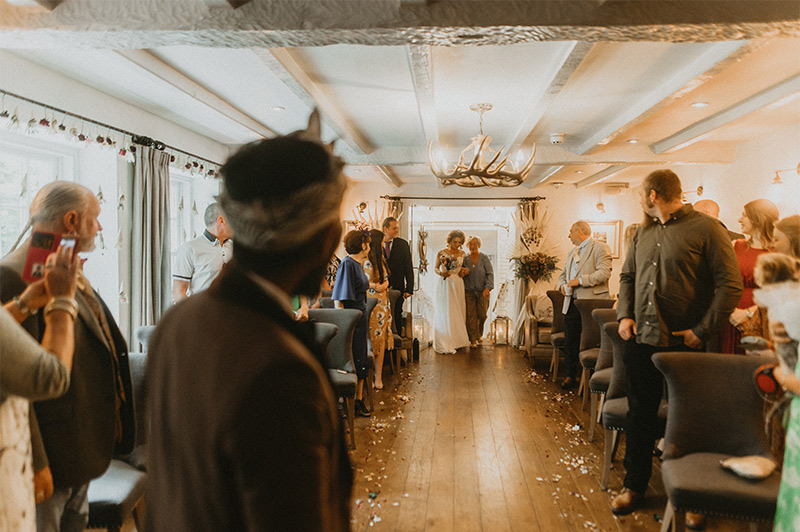 The couple quickly arranged a visit to have a look around and Jodie says that as soon as they walked through the door, they both knew it was the right place for them.
The inn's traditional soul can still be felt and the mixture of old beams, the stove, the slabs on the floor and the thick walls were perfect. We needed somewhere which could give us an intimate, relaxed, soulful environment, and also had rooms close enough to our guests. It was also really important that the venue could accommodate all our guests overnight. We wanted to prolong the time that we all had together by being able to have breakfast the next day.

Jodie
The Wedding Day
The couple put a lot of planning and hard work into their ceremony with the help of the wedding co-ordinators at The Wild Boar.
Jesna's suit was custom-made in Bali, whilst Jenna undertook the challenge of designing and embroidering her own wedding bodice and skirt. Jesna designed Jodie's shoes as per her request with a blue eye on one to match her own and a brown eye on the other to match his.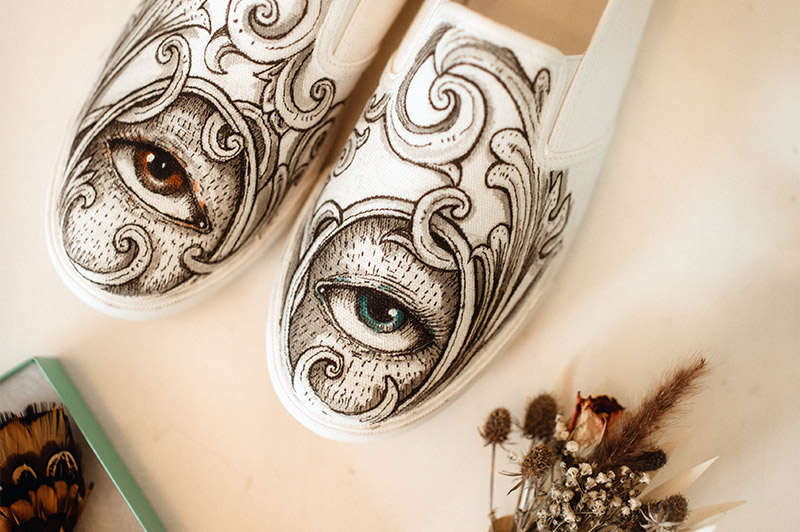 The couple also made all the decorations for the wedding themselves and have set up their own business as a result. You can see examples of their creative event decorations, murals and art installations on Instagram @ coconut_queen_x
They brought some traditional Indonesian ceremonial decorations to incorporate the Balinese culture into their wedding. Fresh flowers were used for the table centrepiece and the arrangement placed in front of the fire.
There were other special touches too. Table settings featured dried flowers wrapped in a paper bio-degradable name card with flower seeds in it so all of the guests could plant them and grow wildflowers.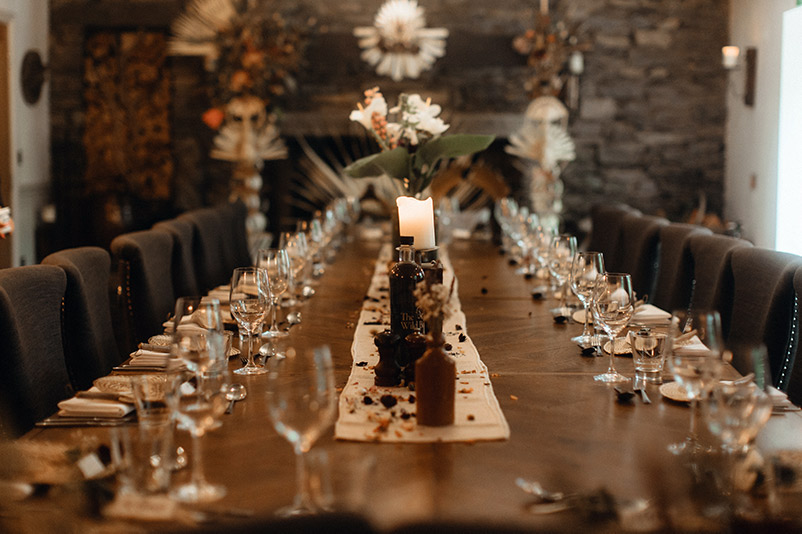 The newlyweds wanted to give everyone something from Indonesia that they could keep, presenting gifts in bamboo baskets which they had decorated with a traditional Balinese embroidery motif. Inside was an incense stick, a wooden 'bottle stopper' carved into the shape of the Balinese god Garuda, and a small wall hanging made from palm leaves and bamboo with traditional Balinese images and the date of the wedding etched on them.
Guests enjoyed a three course wedding breakfast using the most popular choices of their guests who had seen the Wild Boar's full menu. And a specially designed, delicious wedding cake was provided by the incredibly talented Derrienne at The Cat's Meow in Ulverston.
Jesna says the highlight for him was seeing everyone sitting together in the Undermill Beck room ready for the ceremony:
They were smiling and chatting before Jodie came down and it was obvious that everyone was happy to be there. It made all our decorations come to life and made me realise all of our hard work had paid off.

Jesna
Planning Your Wedding at The Wild Boar
So if you're planning your wedding and looking for a venue with a spacious bridal suite, flavoursome food, individually designed rooms, a host of outdoor activities and a cosy atmosphere, The Wild Boar fits the bill.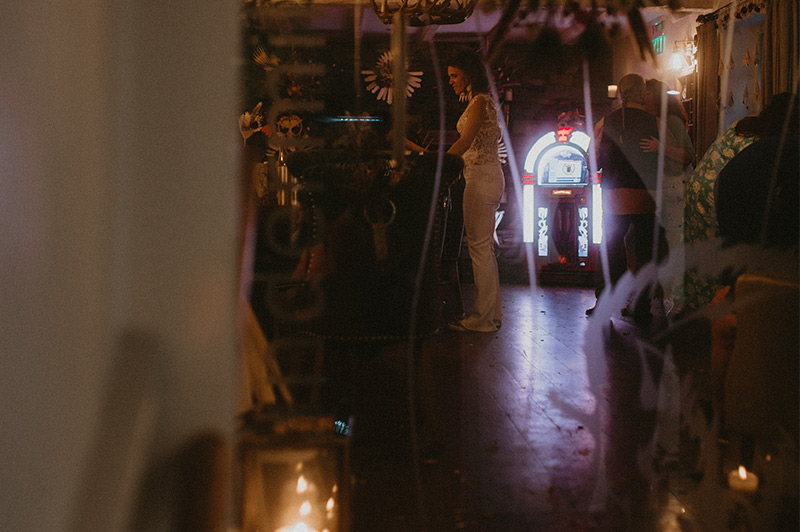 From smaller, more intimate ceremonies to larger weddings and exclusive use of the venue, we can cater for up to 90 guests for wedding breakfast and up to 130 for evening buffets.
Everything clicked into place for us at The Wild Boar. The grounds were beautiful, the energy and feeling was right, the staff were brilliant, and the Land Rover was a massive bonus!

Jodie
Corporate training days, small conferences and learning and development courses are returning as a vital part of any growing business.
A Summer Conference in The Lake District
The Wild Boar is a great place to gather teams together in a beautiful Lake District setting, with great conference facilities, comfortable and characterful 4-star accommodation, amazing food and a choice of team-building activities.


Recently, The Wild Boar welcomed CD Medical to the hotel for their Summer Conference – three days of collaboration, training, development, and fun in the Lake District.
This young, vibrant company is growing an innovative portfolio of products, expanding its team and its global reach. The participants heard valuable insights from clinicians and the patients using their products.
"After three days of early morning lakeside strolls, evening forest falconry walks, sharing ideas, insights, learning and laughter, we left as one team, with a renewed focus and excitement for what's to come. Thank you so much to English Lakes Hotels Resorts & Venues and Lake District Falconry for an incredible trip."
The Team's Evening Woodland Hawk Walk
What a fantastic way to conclude a day of learning in the conference room, and one that CD Medical chose. Outside, in the beautiful historic Wild Boar woods, the participants learn to handle these magnificent falcons and discover more about their world, their habits and habitats. Wear the falconer's glove and wait for the hawk to land on your hand.


The short Hawk Walk through the woodland with the hawks flying alongside gives a spectacular insight into these beautiful creatures. When conditions are right, there is then the opportunity to watch the hawk perform in a simulated hunt, culminating, hopefully, in the successful capture of an artificial prey.
New Corporate HQ in The North West
The year 2022 is an important milestone for CD Medical as they establish a new company headquarters in Bolton, northwest England. We wish them every success with their future plans.


Book Your Next Corporate Event in the Lake District

We have a dedicated sales team who are happy to discuss your specific conference, meeting or event requirements. As well as our bright and airy Undermillbeck Conference Room at The Wild Boar, we can offer a range of activities including Falconry, Clay Pigeon Shooting, or Alternative Afternoon Tea. Contact our friendly team on
015394 39469
(9am – 5pm Monday to Friday)
or email
sales@englishlakes.co.uk
"Arrived as two teams, left as one!"CD Medical
These days, lots of couples are considering exclusive use venues when it comes to planning their special day. When you look at it closely, there are many benefits of such a choice. Here are just 8 reasons why an exclusive use Lake District wedding at The Wild Boar Inn might be right for you.
A Place to Kick Back and Relax
There's something about arriving at your venue and knowing you can relax, kick off your shoes and truly relax. It's the knowledge that you are spending quality uninterrupted time with friends and family. The people that know you best and love you most!
Time to Explore
Exclusive use means that once your guests have checked in there's usually time to explore the stunning venue, and the grounds. At The Wild Boar that might mean a walk around the tarn or through the woodland, or an outdoor activity.
Fun Activities
You are in control when it comes to putting on entertainment for your guests. It may be a simple treasure hunt for the children, or cocktail making for the adults. Let your imagination run riot and choose something that will bring your friends and family together for a time of laughter and fun. At The Wild Boar we can offer Clay Pigeon shooting, Archery, a Hawk Walk, or even duck herding!
Wedding Suppliers Come to You
With everything under the one roof, it simplifies the arrangements. Enjoy a flurry of florists, wedding venue dressers, entertainment, beauticians, hair stylists – they are all here for you, and yours.
No Hidden Costs
Undermillbeck is perfect for a smaller wedding breakfast
Once you have decided on exclusive use and decided on your wish list, the price is set. There are no hidden costs. Your guests can contribute to the cost of their stay, and you have the choice of how to best spread the cost of your wedding.
Park and Stay
We can drive you to the woods in our Wild Boar Wedding Jeep
Staying over in your wedding venue takes the stress out of your guests having to draw straws over who is going to drive or organising taxis for everyone. You may even have arrived the day before the wedding, cars are safely parked up and the business of getting married surrounded by your loved ones begins.
Leisurely Breakfast
Getting together over breakfast at the hotel is a great way to extend the celebration. Swap stories of the day and share fond memories and photos of Grandma on the dance floor! Sometimes these informal get togethers as family and loved ones create real laugh out loud moments that you will treasure forever.
Your Specialist Team
Our team of hospitality experts become exclusively your team! From the Receptionist that greets your guests, the bar staff with a friendly smile, to your front of house hosts, you will get to know their names as they focus completely on your needs and ensuring that your and your guests have the best time ever.
Speak to our Wedding Co-ordinator
If you are interested in an exclusive use wedding at The Wild Boar, or if you would like more general information about weddings at The Wild Boar, give our friendly team a call on 015394 45225.
The Wild Boar is delighted to partner with Lake District Falconry, a fresh and exciting new experience that brings the wild things to our ancient woods.
History of Falconry
It's hard to give an exact date to the start of falconry but we do know it's been practised for well over 3000 years, with images from the time showing humans using birds of prey to obtain food. Falconry rapidly became the pastime of powerful rulers of the time.
Alexander the Great in 4th century BC is seen with a falcon on a gloved fist on historical coins, and Julius Caesar was using falcons to catch carrier pigeons to discover the plans of his enemies.
Around the year 930 AD, Athelstan, the first king of all of England, enjoyed falconry so much it was written that several birds of prey must be paid to the king on a yearly basis by the North Wales rulers! And Genghis Khan is documented to have delayed battles to instead hunt with his hundreds of raptors that were passed on to Kublai Khan and documented by Marco Polo.
It was known as a 'Sport of Kings,' however, the popularity of falconry became so intense that a law was passed so only those with titles could legally pursue it.
The list below shows who could fly what birds of prey, from Emperors and Kings, to Priests and servants.
Pecking Order
Emperor – The Eagle, Vulture, and Merloun (Merlin)
King – The Ger Falcon and the Tercel of the Ger Falcon (Male and female Gyr falcons are the largest flying falcons)
Prince: The Falcon Gentle and the Tercel Gentle (Female and Male Peregrine falcons)
Duke: The Falcon of the Loch (Osprey)
Earl: The Falcon Peregrine
Baron: The Bustard (Common Buzzard)
Knight: The Sacre and the Sacret (Modern day Saker falcons)
Esquire: The Lanere and the Laneret
Lady: The Marloun (merlin)
Young Man: The Hobby
Yeoman: The Goshawk
Poor Man: The Tercell (A male bird most probably of lower rank)
Priest: The Sparrowhawk
Holy Water Clerk: The Musket (Male sparrowhawk)
Knave or Servant: The Kestrel
Falconry Today
In more recent years, falconers helped to reverse the decline of wild peregrine falcons from a global toxin named DDT.
After the ban on using the chemical insecticide, the captive breeding techniques used by falconers helped to build the numbers of peregrines so high that they are now no longer an endangered species. Those same breeding techniques are used throughout the world to help re-establish other birds that have become endangered in the wild.
Falconry is now protected to conserve this ancient art form, and in 2016 UNESCO inscribed falconry as a Living Human Heritage. This brings with it a convention to safeguard the practices, representations, expressions, knowledge, and skills of this living cultural heritage.
It encourages the traditional craftsmanship and the passing on of this knowledge from generation to generation. Involving not only practical skills, but the conservation of birds of prey and the preservation of their natural habitats.
In 2019, the International Association for Falconry and Conservation of Birds of Prey was created being wholly dedicated to the preservation of the ancient art of falconry.
With this ringing endorsement, and rich history, it's fitting that the ancient woodland at The Wild Boar invites its guests to enjoy Falconry experiences. Now you can be immersed in the private woods whilst experiencing the thrill of a hawk swooping through the trees above you, and maybe, landing on your fist!
Book now for a walk like no other where you'll encounter the wild in all its glory.
Meet the Falconers
Stephen Lea the Director of Lake District Falconry, has been practicing the art for over thirty years and has studied wild birds of prey across the world to enhance his own birds' lives. He has used his falconry knowledge to rehabilitate injured wild birds of prey to enable them a safe passage back into the wild.
The Falconers: Stephen (top left), Alex (top right), Joe (above)
Alex Hatton has been flying birds for over ten years and has a degree in Zoology and wildlife conservation. He moved to the Lake District over six years ago to pursue his dream of living in the hills and flying birds of prey.
Joe Stansfield has been flying birds for over ten years and was an essential part of clearing nuisance birds using birds of prey from sensitive areas using natural and non-lethal methods. A local to Cumbria, Joe has now moved to Lake District Falconry full time to pursue his dream job and has also helped in the rehabilitation of injured birds.
Book your Falconry Experience
Hawk Walk Falconry Experience at The Wild Boar:
Resident price £50.00 per person.
Non Resident £85.00 per person (price includes a £25 voucher to use at any English Lakes venue)
Children are priced at £25.00 per child when accompanied by 2 or more paying adults. (*Please Note that the minimum age is 7 years old.)
To book then please call Lake District Falconry on 07826 063 782
The Wild Boar has 72 acres of woodland adjoining the Inn which offers lots of exciting activities for people of all ages. Our family enjoyed an afternoon of clay pigeon shooting with experienced instructors Steve and Michael, from Michael Coates Clay Shooting. Here's what led to our choice of afternoon out, and what the family thought of the experience.
Days Out for Teenagers
With the restrictions on travel this year, it was difficult to plan a holiday abroad. As a family of four with two teenagers, we needed to find activities and days out that we would all enjoy. In the past we've taken part in Go Karting a few times, going over the border to Lancashire. We make a decent day of it coming back home through Austwick, dining in a fantastic little gastro pub called The Game Cock. Here we enjoy a post-race meal and compare lap speeds! When you have teenagers, it's all about the competition – can brother beat sister, and vice versa, who had the fastest car, whose fault was it that when one of them went into the tyres and stopped the race for a while … and so on.
Fantastic Family Activity right on our Doorstep
It was great to discover an activity right on our doorstep along the Crook Road that ticked all the above mentioned boxes – action, adventure, competition, and fun for all the family. The Wild Boar is a traditional Lakeland Inn with its own private woodland that includes the excellent Mike Coates Clay Shooting.
Clay shooting instruction from either Steve, or Mike himself, is first class, whether you have shot before or are a complete beginner. It's pretty much a leveller for all ages and genders. To take part in the woodland activities you do have to be a guest at the Inn, either resident or eating there, or guests at English Lakes Hotels sister properties, Low Wood Bay, Lancaster House or The Midland. We booked in for The Wild Boar Alternative Afternoon Tea, but more of that later.
At the purpose-built shooting range, Steve gave us excellent clear and concise instruction. There was the obligatory safety spiel and questions about any custodial time against our names. Glad to report that we were all clean, with no previous to declare, so we could handle the 12-gauge shotguns.
A Few Family Discoveries
Steve checked whether we were right or left-handed and which was our dominant eye. Well, I am not sure that either Steve or Mike had come across a family of four like ours before, and can't say that we knew previously what we discovered about ourselves that afternoon! Three left handers, one of which had right dominant eye, two had left dominant eye, and one of those was right footed. To add another challenge to the mix, two of the left-handers couldn't close the non-dominant eye! So there was a little more thought went into our imminent shoot, and one or two suggestions to try, including a few eye patches. We were then good to go.
Here's what I remember about how to hit the target. Set up in the trap, sideways on, weight over front hip leaning forward to maintain balance, follow the line of the clay and as soon as reaches its peak, and before it starts to drop, squeeze the trigger and watch the dust and shards of clay explode in the sky…hopefully!
We spent a great hour honing our skills and aiming for the targets, with differing levels of success at different times. We all had the thrill of hitting the clays and, of course, there was the inevitable brother sister rivalry and discussion about who reigned supreme, which continued over our teatime treat at the Inn.
And Now for Tea
The Alternative Afternoon Tea is rightly called alternative! It offers brilliant sample of many of the items this Grill and Smokehouse restaurant is famous for. We checked out the recent Trip Adviser reviews and this one pretty much summed up what we had, and our sentiments about it also …
"Best afternoon tea we've ever had
Came here for their alternative afternoon tea. Every item was so tasty and well made. Pork scratchings, soup, cheese scone, salmon tart, fish and chips, burger, popcorn chicken and sweet cakes. So filling, will definitely come back".
Book Clay Pigeon Shooting at The Wild Boar
To book a session of Clay Pigeon Shooting at The Wild Boar please call Mike Coates on 07814 030249 or email him info@michael-coates.co.uk.
To reserve your Alternative Afternoon Tea at The Wild Boar call 015394 45225.
Bromance describes the unique male bonding found between 'brothers from another mother', whilst Bravado is "a show of courage, especially when unnecessary and dangerous, to make people admire you". We think a spot of bravado and bromance are just the right ingredients for a perfect day in The Wild Boar woods. Add in a few outdoor activities and hey presto, you have a match made in heaven.
Clay Pigeon Shooting
Shooting is a skilful and exciting sport which is rapidly gaining popularity in the UK. Whether you have never shot before, or you are an experienced shooter, we arrange sessions to suit your individual requirements. The guns and all necessary equipment is provided. If you have your own gun you are welcome to bring it along.
A purpose-built shooting range, situated within The Wild Boar's private 72 acre wood provides the backdrop for the day. Michael Coates, who has spent years perfecting the art of clay pigeon shooting and other outdoor pursuits, will take you through your paces – making sure your stance and technique are just right. In fact, he is so confident in his coaching skills, that if anybody completes the full clay shoot and can't hit a clay, he will give that person their shoot for free!
Michael Coates in The Wild Boar woods
The clays simulate the flight of a number of different wild creatures, including pheasant, crow, grouse and perhaps even a bolting rabbit!
Archery
Historically, archery was used for hunting and combat, but these days it's mainly a competitive sport. In The Wild Boar Woods we offer archery with a difference! Starting with a normal archery session, you will learn about stance and techniques, before moving onto field archery. This requires skill and a good eye to shoot at foam animal targets at unknown distances within the woodland. Moving up a skill level, your session will be rounded off by shooting a moving archery target – this may take more than a bit of teamwork!

Axe Throwing
From Stone Age hunter gatherers, to Middle Age foot soldiers or tomahawk-wielding American Indians, axe throwing was the stuff of life and death. Hundreds of years later, it's a thriving sport and growing in popularity. Thankfully, these days the target is just a bullseye. Axe throwing can be added to your days' shooting and archery, and Michael will once again instruct you in stance and technique to give you the best chance of hitting the target.
Victory Victuals
After a session of shooting, archery and axe throwing you will probably need to replenish your energy levels with a bite to eat at The Wild Boar Inn and Grill and Smokehouse. Perhaps even a pint of beer or ale from the Inn's Brewhouse. Choose Lunch, Dinner or the ever-popular Alternative Afternoon Tea.
Book Your Session
For more information on any of the sports mentioned call The Wild Boar on 015394 45225. To book your session call Michael directly on 07814 030249.
Winter in the Lake District is magical, tranquil lakes and snowy mountain tops make the perfect winter retreat.
The Lake District is one of the most outstandingly beautiful places in the UK, even more so in the winter. Many people visit the Lake District for spring and summer breaks and miss the true magic of winter in the national park. A winter break in the lakes may have cooler temperatures but nothing beats looking out to the snowy mountain tops, wandering around the cutesy shops in the honeypot villages and sitting by the roaring fire of a country inn, feasting on a perfectly cooked steak.
If you leave the warmth and comfort of the open fire and explore the local area we've got our top winter attractions here:
Bowness Shops, Cafes and Lake Scenery
Bowness is a picturesque village bursting with little shops. We recommend looking in Gee's for fashionable clothing before walking down the cobbled street to browse 'Love the Lakes' for local spirits, delicacies and Lakeland gifts. Right next door is Roly's fudge, for all your sweet treats. Branded shops include Joules and FatFace, Pandora and a variety of walking clothing shops. Bowness is filled with eateries but our top places are Folk Café (tucked away behind Tesco) and Bryson's. If you're a true dessert fan then try ChoccoBar for waffles, crepes, cakes and more.
Staveley Mill Yard
Staveley is an undercover favourite with locals. Less busy and less expensive, this is a great stop for eats and drinks. Stop for lunch at the Antiques & Eclec Café, this quirky place looks like a shop from the front but believe us when we say they make a wonderful Dhal special, and the hot chocolate is delicious! Another popular place to pick up a snack is the 'More? The Artisan Bakery', in the mill yard, this bakery sees local workers queue up at lunch. All that eating might need washing down with a pint or two, the relocated Hawkshead Brewery sits in the mill yard and offers a host of local ales, ciders and larger.
Orrest Head – Windermere
If you're feeling brave enough to brace the winter chill, this short walk offers stunning panoramic views of the lake. As Wainwright's first fell, this short 20 minute walk to the summit doesn't disappoint. Park in Windermere itself or in a layby just above the town. The track starts opposite the NatWest bank and has a large 'Orrest Head' sign.
Blackwell – Bowness
Blackwell is the home of arts and crafts in the Lakes. This large house was designed Baillie Scott and built in 1901 as a holiday home for Sir Edward Holt, a well-off Manchester brewer. The house is filled with extraordinary arts including a rare hessian wall-hanging, leaf-shaped door handles, ornate window catches, stained glass and carved wooden panelling.
Grill and Smokehouse Restaurant – Bowness
A winter getaway in the lakes wouldn't be complete without visiting a cosy country inn. The Wild Boar Inn is well known for its Grill and Smokehouse restaurant, with an on-site smokehouse they've created exquisite flavours in steaks, fish and ribs. Have dinner by candlelight and enjoy a romantic meal before snuggling by the fire with a drink from their extensive menu. Known for an extraordinary whisky list, the Inn has over 110 whiskies for you to choose from, or join a tasting – often for free if you're dining the same night!
Armitt Library & Museum – Ambleside
The Armitt is a museum, library and gallery combined; it's devoted to preserving and sharing the cultural heritage of the Lake District. Founded in 1912 to support exchanging ideas in the community, the Armitt has seen support from the likes of Beatrix Potter who gave some of her family's books, her personal first editions of the 'little' books and a large number of beautiful botanical watercolours. The Armitt also hosts one of the country's most important collections of artwork by Kurt Schwitters, who influenced development of twentieth-century art and lived in Ambleside during his final years.
Dove Cottage – Grasmere
This beautiful cottage was the home of the well-known poet William Wordsworth and his sister Dorothy Wordsworth. They lived here from December 1799 to May 1808 and spent much of their time "plain living, but high thinking". The museum holds over 68,000 manuscripts, books, personal belongings and art relating to the Romantic era, the Wordsworth manuscripts are the centre piece.
Brantwood House – Coniston
This stunning historic house museum was once the home of John Ruskin, a famous writer, artist and social reformer. The house has extended gardens and overlooks the peaceful Coniston water. Guests can explore the house, gardens and visit the tea room.
Chocolate Factory – Hawkshead
The chocolate factory isn't just for kids, they do a truffle making workshop with prosecco exclusively for adults. Get messy and creative whilst enjoying some bubbles.
The Lakeland Motor Museum – Newby Bridge
For any car enthusiast this is a real treat. The motor museum has over 30,000 exhibits from motorcars, motorcycles, scooters, bicycles and motor accessories. The prize piece is Donald Campbell's Bluebird replicas, dating 1935 – 1967, which are a tribute to his racing career.
Lakes Distillery – Cockermouth
An award-winning distillery which sits back from the beautiful Bassenthwaite Lake. Lakes Distillery offer several tours from whisky and tasting tours to meeting the alpacas. With an on-site bistro it's easy to make an afternoon of it.
Winter Getaways
With an abundance of winter activities in the Lake District, book your getaway break at a traditional country inn. Winter in the lakes is full of experiences and often hotel deals. This makes it a perfect winter getaway.
The Wild Boar Inn sits in the heart of the Lake District national park, a world heritage site, with individually styled rooms and a cosy grill restaurant with its own on-site smokehouse providing unique and inspirational dishes by head chef Dylan Evans. Previous
Luxury Room at The Wild Boar. Room 10
Classic Bedroom | The Wild Boar
Feature Room Bathroom at The Wild Boar. Room 10
Tomahawk Steak with Chips
Alternative Afternoon Tea at The Wild Boar Inn | English Lakes Hotels
Bar snacks and beers at The Wild Boar, near Windermere
Paddle of beers in the Brewery at The Wild Boar
Woodlands at the Wild Boar Hotel
The Wild Boar Woodland Map
The Smokehouse at The Wild BoarNext
When the morning air starts to nip a little, and summer holidays have slipped to a distant memory, it is time to plan an Autumn break. This is the season for candlelight and keeping nice 'n snug, comforting slow-cooked food with a glass of full bodied red. Surely nature is at its best when it throws out its spectacular colour and light show just before the approach of the inevitable winter greys.
The Wild Boar, our 5 Star Inn, has all the ingredients of a romantic Autumn get-away…
Roaring Fires, Rustic Beams and Traditional Hospitality
Bursting with character, The Wild Boar Inn is one of the Lake District's oldest and finest hotels. In the past it was also a farmstead, a cottage industry supplying flax for a bustling local textile industry and a training ground for WWI shooting practice.
The Inn is named after the infamous legend of Richard de Gilpin, who, in the early thirteenth century, tracked a ferocious Wild Boar through the forest to its lair. After a ferocious battle, Sir Richard slayed the beast and emerged a local hero.
Today, we've kept all the best bits of The Wild Boar history. You might see the occasional boar's head, but you will also enjoy crackling open fires, rustic beams, cosy guest bedrooms and a very warm welcome.
Alternative Afternoon Tea
Definitely not a traditional Afternoon Tea! This comes with mini savoury treats including our famous pork scratchings and a bat of beer. We have, however, kept the classic favourite, Scones with Jam & Cream – it would be just wrong not to.
There's also a Vegetarian Afternoon Tea with lots of tempting treats for those following a plant-based diet. All dietary requirements are catered for – just let us know the specifics at the time of booking.
Golden Hues
Making time to kick the leaves is so important in our busy lives. Where better than in the beautiful Wild Boar Woods. Seventy-two acres of ancient woodland to explore – perfect for bringing the family pooch along too. There are some majestic trees in the woodland – oaks, fir, alder, larch and wild cherry to name just a few. See how many of the forty species of birds you can spot, including sparrow hawks and peregrine falcon, or perhaps you will catch a glimpse of the red and roe deer that can be seen roaming in the woods.
A Wee Dram by the Fire
With a choice of over 110 whiskies from around the world, or the opportunity to bring your own, you will feel right at home. Sit by the open fire and warm the cockles of your heart. If you bring your own malt we will gladly put it on the shelf, with your name on, ready for your next visit.
With our own brew-house at the Inn, we also offer a great choice of real ales, guest beers and draft and bottled beers.
Wholesome Food with a Little Spice
Head Chef, Dylan, will certainly add a bit of warmth to your Autumn get-away. His style is very much colour, flavour and spice. Spending a few years of his career in Kuala Lumper and Saudi Arabia, he brings a Middle Eastern inspiration to several of his dishes. His unfussy, best fresh ingredient, bold flavour approach puts dishes on the table that are perfect after a stroll through The Wild Boar woods. Choices from our on-site Smokehouse also features large on the extensive menu.
Watch the theatre of our Chefs preparing your order at our open kitchen and grill – a real foodie treat.
Comfy Bed and Stylish Rooms
Thirty four individually styled rooms with Egyptian Cotton-clad beds ready to sink into. Feature or luxury rooms offer something a little bit special, from cosy fireplaces to large freestanding roll-top copper baths in your room. Sleep tight, see you for breakfast!
Two Night Autumn Saver
Check out our latest Autumn Saver for two nights between 22nd September to 30th November, with dinner on the first night and breakfast included. Your cosy Autumn break is just a telephone call away 0330 4042 690
Congratulations to Ashlea and John who tied the knot recently at The Wild Boar Inn. Ashlea explains how they met, their romantic proposal and the preparations leading up to their perfect day.
I thought he was kidding!
John and I met 10 years ago whilst we were both working at a local farm shop. I was in my first year of college and he had just come home from 3 months in Canada. We were both working on the deli and butcher's counters and got chatting during my weekend shifts. He soon asked me out, and although taking several weeks to reply due to thinking it might be a joke, I eventually said yes!
Picnic Proposal
We'd been together for such a long that that I really thought I'd see it coming if he ever decided to propose. A few days before our 8 year anniversary John organised a very cute date night, suggesting we watch the very first film we saw in the cinema. The next morning he made breakfast for me and then suggested we headed up into the Lakes for the day and have a picnic at Thirlmere – one of my favourite spots in the. I asked if we could just eat in the car, but he convinced me to head down to the water. After eating our lunch and admiring the views, I found him down on one knee, asking me to be his wife!
Relaxed and Cosy Venue
We knew we wanted somewhere fairly relaxed, cosy, with good food. We also liked the idea of getting married in the Lakes, as we spent a lot of our weekends up there exploring. We just so happened to pop into the Wild Boar for lunch a few weeks after getting engaged and just knew we'd found the right place for us. A few days later we emailed Jeanette and arranged to meet her for a look around and I left so excited. We didn't need to look anywhere else!
Bride & Groom's Outfits
My shoes were the very first thing that I bought. I noticed that a gorgeous pair of Rachel Simpson embellished, open toe, kitten heels that I'd looked at a few times had been put in the sale, so I couldn't not buy them
I got my dress from The Dressing Room in Garstang. I went in wanting something quite relaxed and flowy, – I was feeling those boho vibes. But I quickly changed my mind as the unstructured dresses made me feel a bit frumpy and the structured A-line dresses made me feel like a little girl dressing up. To my surprise, it was a lace, sequinned fit and flare dress that I fell in love with.
My hair comb was bought on Etsy from Gyspsy Rose Vintage and my jewellery and veil were my something old and borrowed.
John and his best man knew they wanted tweed suits and so got in touch with Neil at Charles Campbell Bespoke Tailoring at Ribchester about the possibility of having one made specially. Neil took the time to guide them through all the options, including tweed and lining materials. They were both very impressed with the fit and finish, receiving lots of compliments on the day.
Wedding Breakfast – 'the best'!
Food is so important to us and we wanted to make sure everyone enjoyed it. We thought every single thing we tried on the taster menu was gorgeous which meant we only had one problem – knowing what other people would like.
We opted for soup, Scotch egg and the deli board for starters, steak and chips, zesty chicken and sweet potato fries and lamb shank with mash for mains and then Sachertorte, sticky toffee pudding and profiteroles for dessert. We then had a cracking vegetarian menu for our one vegetarian guest. So many of our guests commented on how wonderful it was, with lots saying it was the best food they've had at a wedding.
Bringing the Woodland to the Table
I've always been a little on the crafty/folksy side, and so I pretty much made all the decorations myself. We spend a lot of time in the lakes and I wanted to try and find a way to incorporate the scenery into the wedding. I approached a lady I'd seen felting mice on Etsy and asked her to make lots of different animals. She made us 10 different woodland animals which we then placed inside a bell jar with moss and fairy lights, making a different woodland scene in each.
Our place cards were written in gold pen and stamped with a leaf stem. I also glued pressed leaves onto old coffee jars and tied ribbon around the top to make leafy candle holders/Ianterns.
Gin made with Love
Being massive fans of homemade liqueurs, especially Sloe Gin, we just knew this had to be our wedding favour. We picked the Sloe berries from some of our favourite walking spots, leaving them to soak in the gin for a good 18 months before bottling them up in little glass bottles.
Our Thirlmere Cake
Our cake was from the Bakery at No4 in Kendal Melissa and Marianne designed the most gorgeous 3 tier cake for us (vanilla, lemon drizzle, choc guinness), with a base that was made to look like a log, a hand painted scene of Thirlmere on the middle tier and sugar flowers scattered around. It was absolutely amazing.
You are the Best Thing
John found a really sweet song by Ray Lamontagne called 'You are the best thing'. We then got into the full party spirit with the help of The Seals and the Dollz glitter bar, which we and our guests absolutely loved!
I think it was pretty special sharing the day with my Grandma who turned 80 that same day. We finished the speeches by bringing out her birthday cake and Emilie, our photographer, captured the most beautiful picture of her blowing the candles out.
Top Wedding Planning Tip
Do not fall into the trap of feeling you have to buy everything brand new. I bought quite a few things second hand – candle holders for the tables, faux flowers for my bouquet and tables, and made lots of it myself. I started planning early which gave me time. It was so unbelievably rewarding to see it all come together. So if you have time and the patience, make as much as you can as it's so worth it.