Where do you go if you fancy a slap-up Mrs Miggin's breakfast in the Lake District?
Fell walkers seeking to fuel themselves before tackling a full day's hiking might want to take a little detour to The Wild Boar Inn to experience arguably the most sumptuous and varied breakfast in Windermere.
Those who have braved the night camping or glamping may decide to eschew the embers of the previous night's barbecue and head out to Crook to tuck into a big breakfast fry up at the hotel too.
And local residents, families and friends in the South Lakes may choose on a whim to pop out for a breakfast get together, working up (or walking off) an appetite with a stroll around the 72 acres of woodland in the hotel's grounds.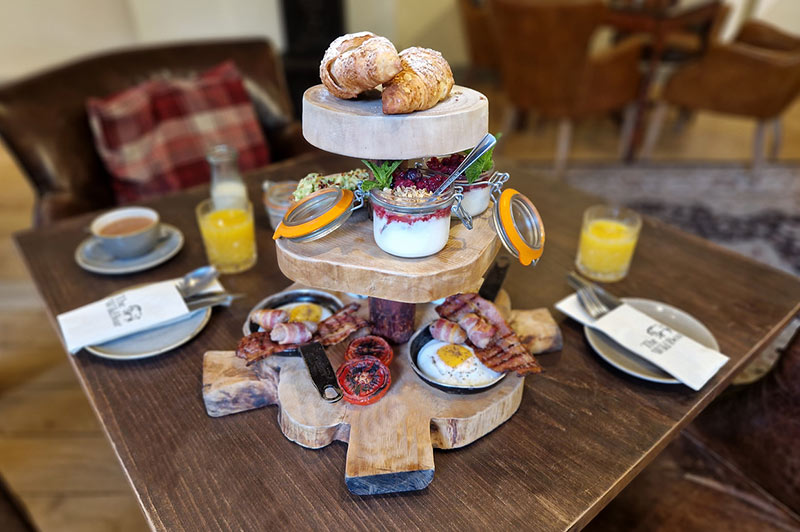 The breakfast menu at The Wild Boar caters for everyone's palate, from a traditional full English through to a varied platter offering delicious sweet and savoury mouthfuls.
From 8:00am each weekday morning, The Wild Boar Inn's culinary team is up, ready and waiting so serve not only our guests but also non-residents seeking a bit of breakfast adventure.
Could The Wild Boar Inn be your favourite breakfast stop in the Lake District?
The centrepiece of The Wild Boar Inn's popular Lake District breakfast offering includes everything you would expect: Cumberland sausage, locally sourced back bacon, slow cooked tomatoes, grilled flat cap mushrooms, Bury black pudding, baked beans and a choice of eggs, plus the option of the less than traditional hash browns – an influence perhaps from the US.
For the more adventurous looking for a meaty start to the day, there's steak and eggs featuring an in-house smoked medallion of beef fillet with duck egg and wild mushrooms and hollandaise.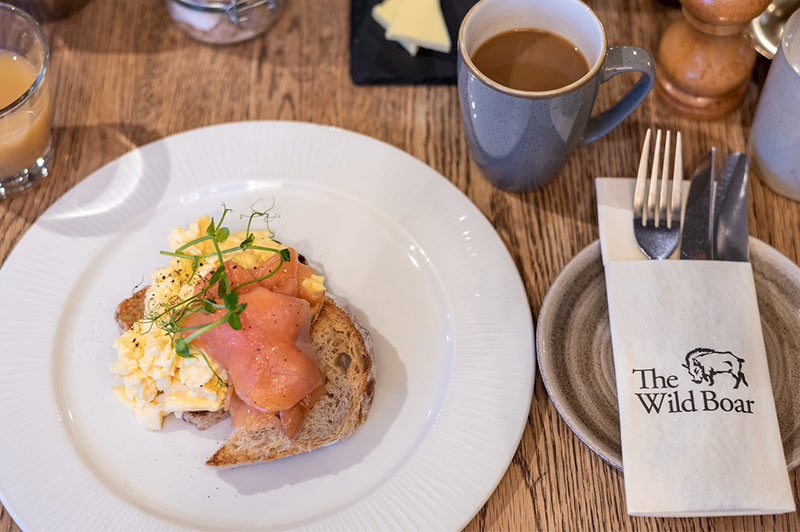 There are menu options for the more discerning eye too, such as treacle cured salmon with wholegrain rye bread and scrambled eggs or Mrs Kirkham's Lancashire Cheese Rarebit with smoked streaky bacon and fried duck egg.
From lemon curd French toast with vanilla bean mascarpone and toasted hazelnuts through to wild mushrooms, spinach and poached eggs on sourdough, there's something for everyone to savour.
Many of the hotel's breakfast servings are gluten free dishes, with vegetarian options including a Potato Rosti with wild mushrooms, baby spinach, poached egg and hollandaise sauce. There is also a delicious selection of artisan breads and croissants.
A Windermere trip out for breakfast – what will you choose?
The full English breakfast can mean slightly different variations depending on the diner and indeed the chef. To this writer, it's sausage, bacon and eggs as the staple, with the side addition of mushrooms, grilled tomato and fried bread. The coffee needs to be served hot when the breakfast arrives, but the real key is that the eggs are still warm when served.
Others will demand the inclusion of black pudding of course, and perhaps a side ramekin of baked beans to boot.
Historically, the tradition of the full English breakfast anecdotally goes as far back as the 1400s, with the country's gentry maintaining the idea of hospitable Anglo-Saxon cuisine and practices. They developed a reputation for tremendous breakfast feasts for family, friends and visitors passing through.
Those foundations were fortified on the country estates and the concept of a hearty morning meal before the landed gentry went off to hunt.  The Victorians made the idea into a more formal affair, and a chance to display their social status and wealth, before the Edwardians established the main constituents of the full English fry up.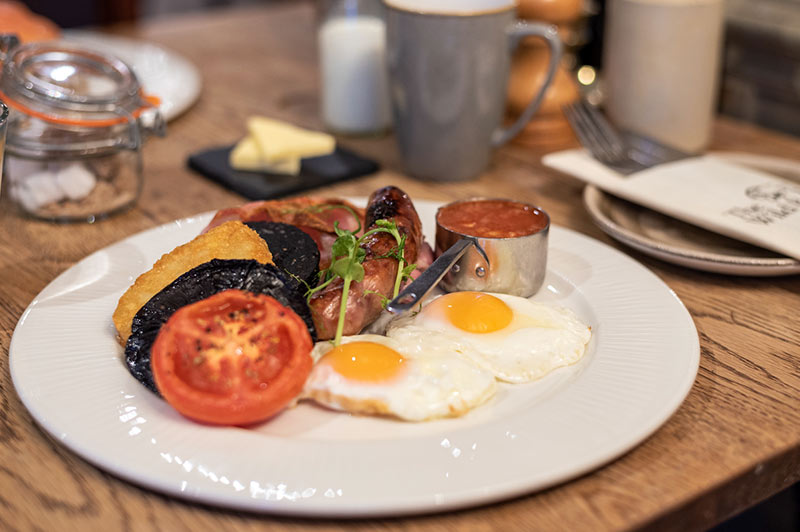 It was in the early decades of the 20th century that the nuts and bolts of the English breakfast fry up we know today started to become the standard across the country. This is around the period where the idea was no longer exclusive to the wealthier in society. Indeed the full English breakfast was rapidly embraced as a wholesome, filling way to start the working day. By the 1950s, it was commonplace across all areas and walks of life.
Today at The Wild Boar Inn, it's fell walkers, hikers, ravenous campers and glampers and local residents who seek us out on a casual weekday morning for a hearty breakfast trip out from Windermere.
And breakfast here does not always have to be a social occasion – indeed it's part of our cultural fabric to sit with family, friend or partner and perhaps not utter a single word as you scan the newspaper (or the ubiquitous mobile phone!) as you ready yourself for the serious business of the day ahead.
We all know that there are some wonderful things to do in the Lake District National Park. It is after all, an exceptional example of nature's playground, with the fells to hike, valleys to explore and the shores of the lakes inviting you to take to the water for a swim or boating trip.
At Low Wood Bay, you'll find that we've gone that extra mile in terms of outdoor activities. As well as the outdoor spa facilities for those who want a bit of R&R whilst taking in the spectacular views of the Langdales, there's also the Watersports Centre which offers pretty much all you can think of in terms of boating, paddleboarding or even wake surfing.
Many of our guests yearn for something more to bring them closer to the natural world, and that's why we've teamed up with Lake District Falconry to offer intimate hawk walks in the Lake District, allowing participants to get up close to birds of prey and even have them fly to their outstretched gloved hand.
How to get into Hawk Walks in the Lake District
We first started working with the falconers and their birds at The Wild Boar Inn, where our 72 acres of woodlands make the perfect tree canopy cover to see the raptors fly, swoop and dive in a natural environment.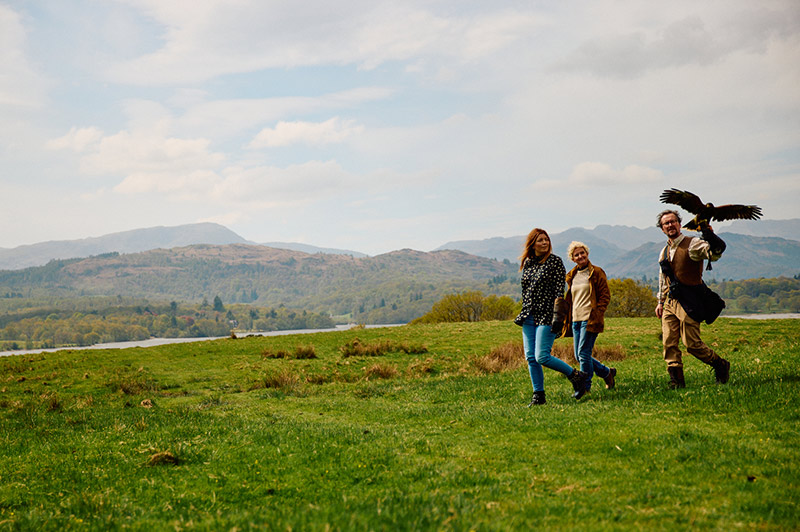 And so we decided to help create a falconry centre here on the shores of Windermere, using Low Wood Bay's extensive grounds and the backdrop of spectacular Lake District scenery to offer 'hawk walks' for guests and visitors.
What is a Hawk Walk?
Sessions start with the experienced falconers introducing one of the raptors, allowing participants to wear a falconry glove and have the bird of prey perch on their fist. This is followed by the opportunity to fly the hawk to and from the glove with expert guidance from an experienced falconer.
A bird's eye view of Windermere and the fells
General manager at the spa Mark Needham says: "We're very lucky to be able to offer our guests some of the best views across Windermere here at Low Wood Bay. So what better place to allow them an even closer step to nature by trying their hand at falconry.
"During the hawk walks, there's a chance to take on the role of the falconer, donning the gauntlet and calling the birds to you. It's a great way to experience the unique bond between these birds and humans. We have a number of hawk walk packages to choose from, including options to make a day of it with spa usage and a two-course lunch or afternoon tea."
As an integral part of the sessions, participants also learn about the behavioural habits of the birds and watch one of the hawks perform a simulated hunt using artificial prey.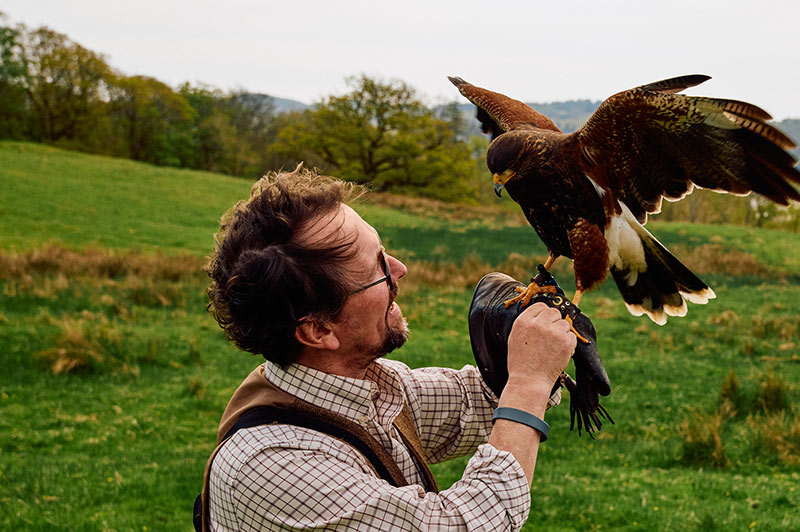 Stephen Lea from Lake District Falconry says: "It's great to add such a spectacular venue for our exclusive hawk walk experiences. Low Wood Bay guests can get to know our beautiful hawks and immerse themselves in their world against the spectacular backdrop of Windermere and the Lakeland Fells." Find out more book your falconry experience.
Take to the water to immerse yourself in Windermere's scenery.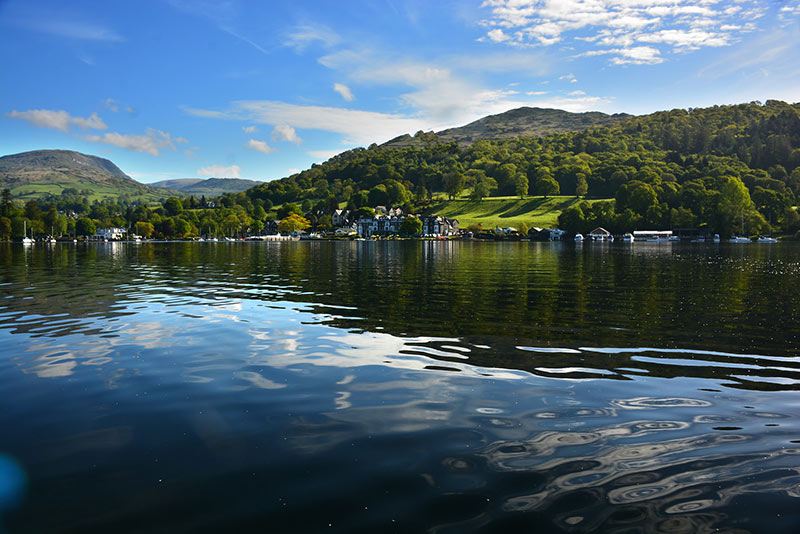 Aboard Windermere Lake Cruises
Your hotel stay in the Lake District may not be complete without a leisurely cruise out on the water and Windermere is perhaps the most convenient in offering you some of the best scenery the national park has to offer.
With pick up and drop off points just a stone's throw away from Low Wood Bay Resort & Spa, jumping aboard one of Windermere Lake Cruises' famous vessels allows you to get a different perspective and drink in the spectacular surrounding landscapes of the fells.
And feel free to be selective about the vessel of your choice: a modern launch may be your thing or perhaps the chance to step back in time on a lake steamer from a bygone age.
A Grand Day Out On Lake Windermere
Here we join Fern for her big day out as she took to the water on a solo adventure to enjoy everything the Windermere shoreline has to offer:
"Setting sail from the bustling pier at Bowness, I hopped on the steamer heading down to the Waterhead Pier at Ambleside. Bagging a seat on the upper deck, I was able to enjoy the glorious August sunshine and uninterrupted views across the lake and beyond.
"As we pulled away from the pier, I watched as a couple attempted to launch themselves from the adjacent pier in a small motorboat. They were zig-zagging towards the centre of the lake, perhaps unaware that they had the eyes of the whole lake on them!
"As we leisurely sailed towards Waterhead Pier, I watched people paddle-boarding, kayaking and swimming from the brimming shoreline of Windermere. The view was inspiring and watching them all enjoying the cool waters, I made a mental note to book myself in for a holiday paddle-board session the next day.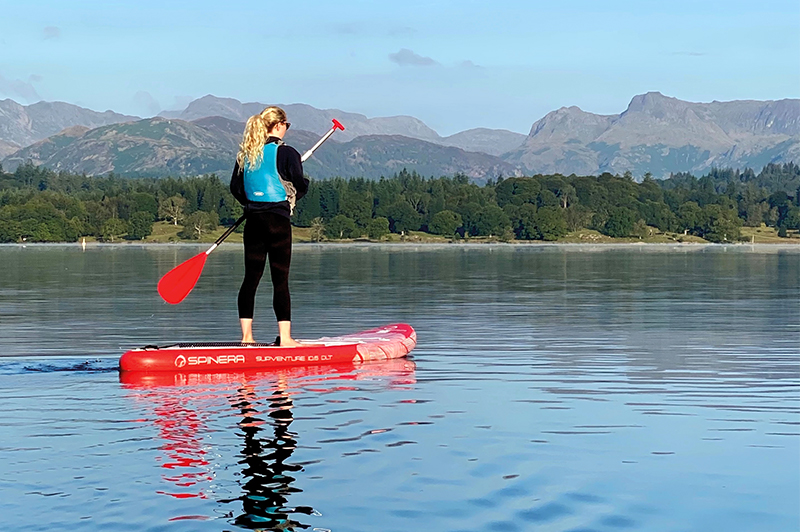 "Throughout the cruise, the captain offered up a series of interesting facts about the lake and surroundign area, including how Lillie Island got its name, tourism in the national park and how the founders of Lake Windermere Cruises were once fisherman. Who knew that not so long ago, you would have seen fishermen out on the lake rather than pleasure cruisers and paddleboarders?!

"The highlight of my day had to be as we slowly pulled into the Waterhead Pier, three RAF jets made their presence known with a low level fly-past low across the lake into the heart of the national park. It was a delight to watch tourists and locals alike rummaging for their phones to get a photo. I've been trying for two years and have only ever managed a blur!"
Where To Board A Windermere Lakes Cruise?
If you are a guest with English Lakes Hotels Resorts & Venues, you can pre-book your discounted or special offer tickets before heading off to the piers at Ambleside or Bowness.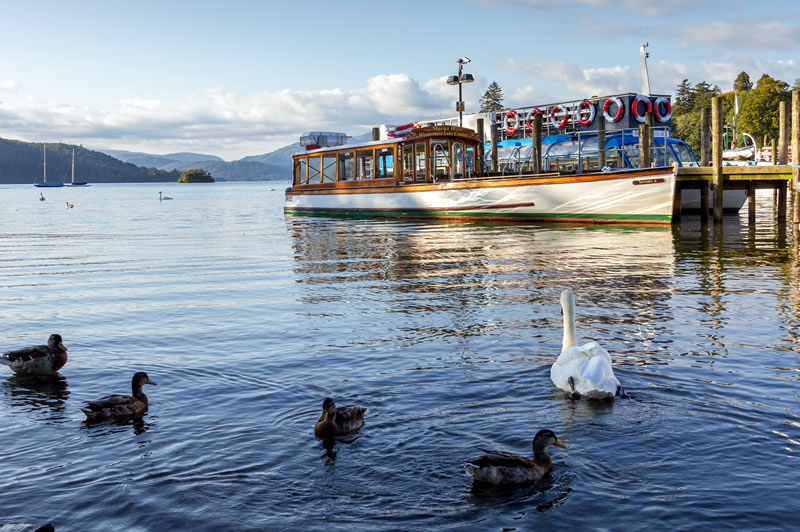 Ticket Types
Windermere Lake Cruises has a range of ticket options from which to choose:
The 'Red Cruise' will take you from Ambleside jetty to Bowness and back.
The 'Yellow Cruise' from Bowness covers the south of the lake with fantastic scenery to match.
These two circular tours introduce you to some to the most secluded inlets and isolated islands, as well as the panoramic views of the fellsides rising up from the waters of Windermere.
The Freedom Of The Lake option allows you to spend a bit more time on the water and go a bit further giving you unlimited cruising on all routes for 24 hours.
When you take a hotel break in the Lake District, have you ever considered who might have visited or even stayed at the venue before you? Would you know if any historic figures or famous faces from the past have been in the very same room as you?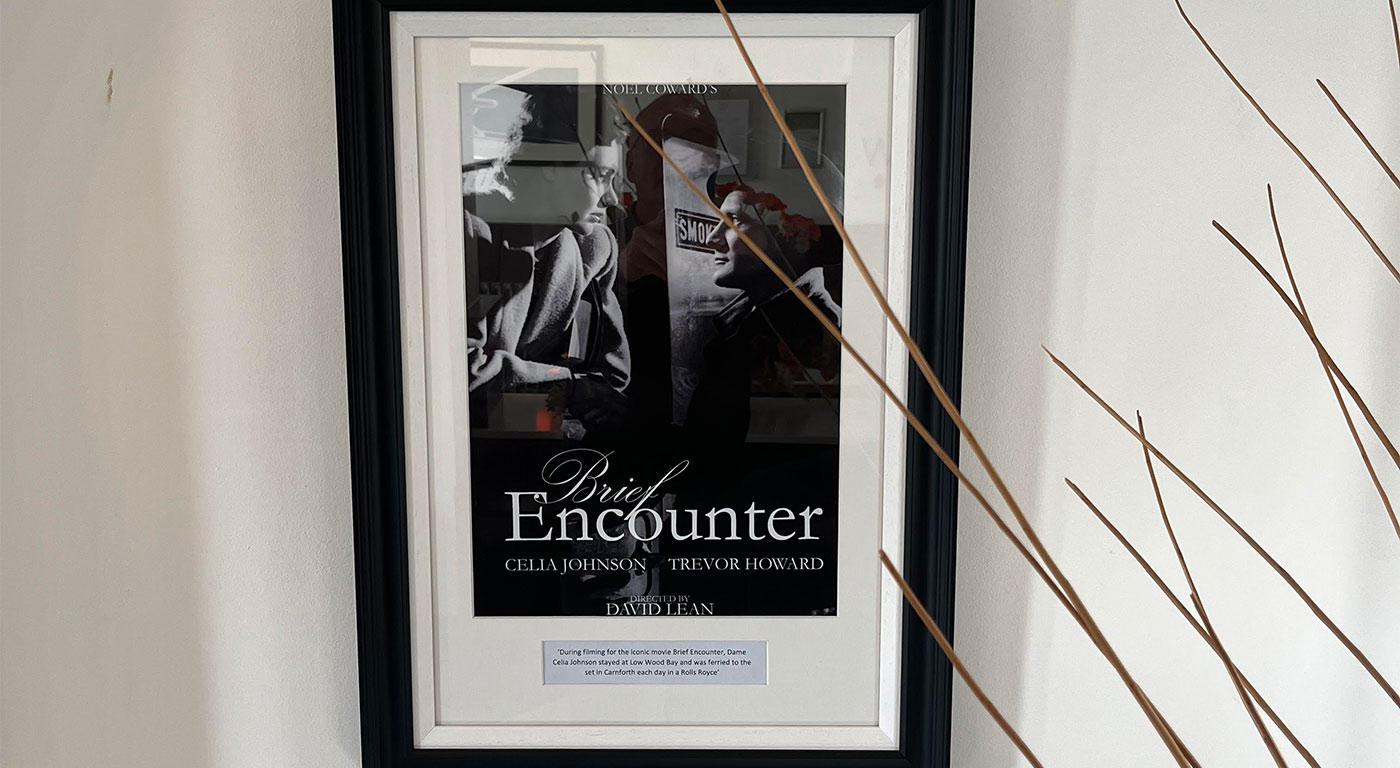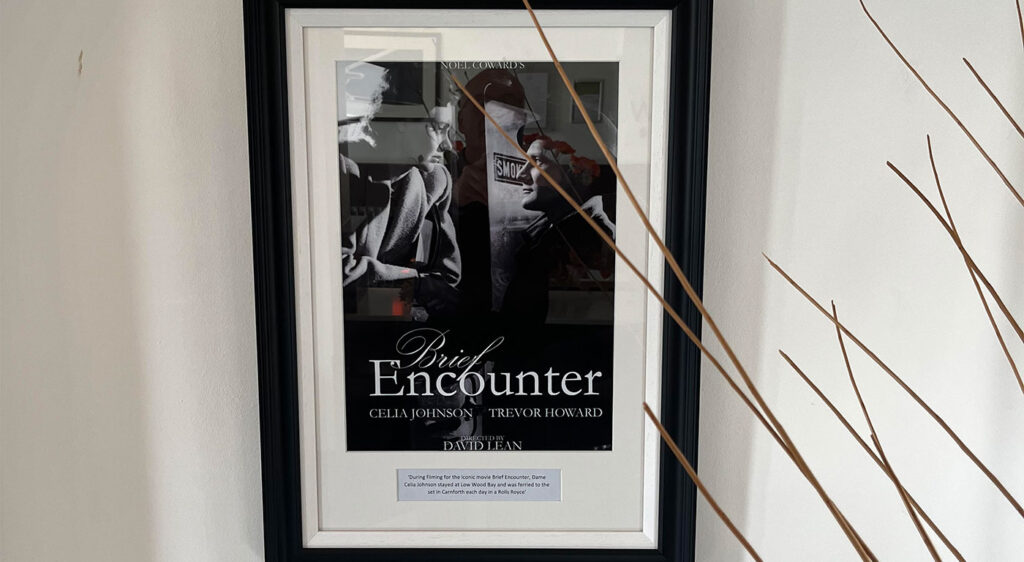 Lake District Stays With Celebrities Past & Present
From royal visitors to filmstars, our venues have hosted a number of illustrious names over the years, including Her Royal Highness The Princess Royal, the late King Hussein of Jordan, The Earl of Wessex and the current King Charles III when he was Prince of Wales.
And Hollywood royalty amongst our guests include household names such as Tom Cruise, Nicole Kidman, Joan Collins and Henry Cavill.
Further back, renowned poets, writers and artists including William Wordsworth, JMW Turner, John Ruskin and John Constable were regulars at Low Wood Bay.
Celebrating Low Wood Bay's Movie Connections
So, the recent stay of Lucy Fleming was an opportunity to celebrate the venue's historic movie connections, notably with that truly iconic film from the 1940s, Brief Encounter.
Lucy is the daughter of Dame Celia Johnson, who was resident at Low Wood Bay Resort & Spa during the filming of Brief Encounter in 1945. We were thrilled to host Lucy and her husband Simon Williams, with the hotel as a staging post for their play, 'Posting Letters to the Moon', which was shown at The Theatre by the Lake in Keswick.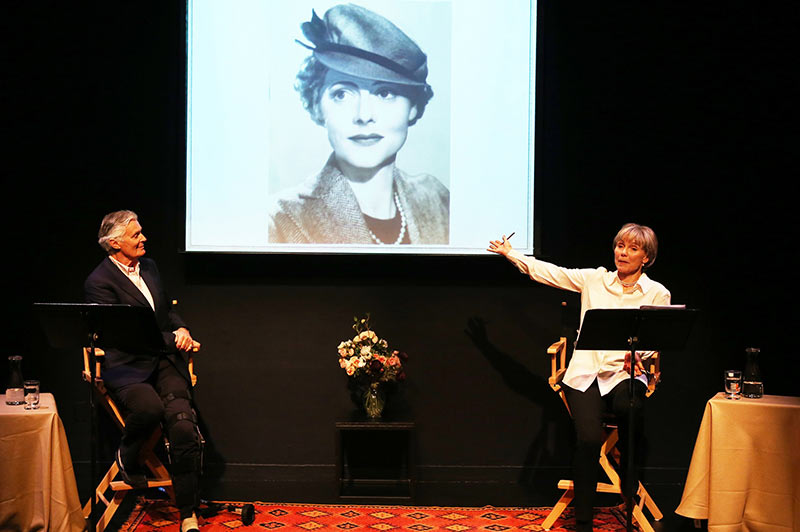 The play is a touching portrayal of life during the Second World War through the correspondence between the Oscar-nominated actress and her explorer and writer husband Peter Fleming, the brother of James Bond creator Ian.
It includes Celia's experiences of working with Noël Coward which led to her starring role in the film. Peter Fleming was away for most of the war, and in his letters, he writes about his adventures working on deception in India and the Far East.
To mark Lucy's stay over 75 years later, a framed and inscribed copy of a Brief Encounter movie poster was presented to her, and the picture has been mounted in the hotel as a permanent reminder of her mother's residence here.
Brief Encounter Filming At Carnforth & The Langdale Valley
Celia Johnson was rumoured to have stayed in room 19 but to this day, no-one can quite be sure. She described the hotel and recalls a warming fire being made up in her room and the provision of a late breakfast after filming throughout the night.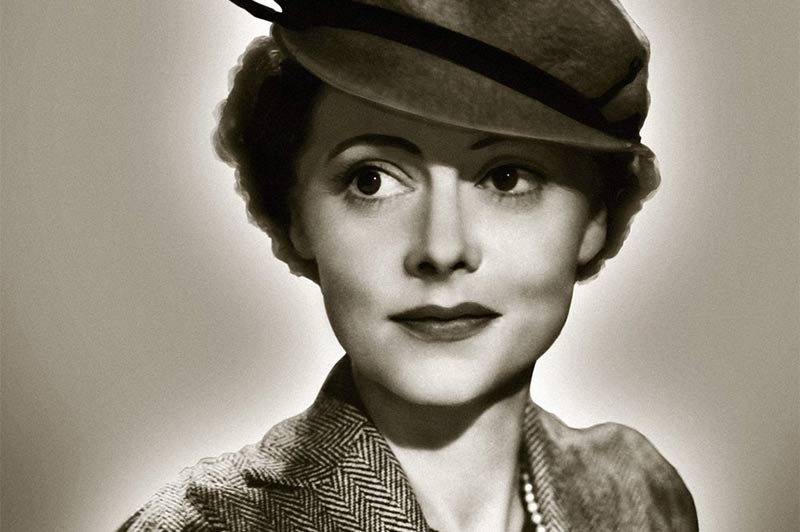 In an excerpt of a letter written by Celia to her husband during filming, she writes:
"We are living out at Windermere in a frightfully comfortable hotel where we have fires in our bedroom, breakfast in bed, in fact every mod con."

Celia Johnson
She was chauffeur driven each day by Rolls Royce to Carnforth station and also for a day's filming up in the Langdale Valley for one of the most famous scenes in the movie at Middle Fell Bridge, Dungeon Ghyll.
In her letter, Celia explains:
"Today being Sunday we went out to look for little bridges for the little scene on the bridge and went all round the lakes and up and down the hills and it was simply lovely. I didn't know this part of the country was so beautiful."

Celia Johnson
Hosting Film Crews at Low Wood Bay Resort & Spa
Our former chairman Michael Berry mentions the film crew's stay in his book on Lakeland history thus:
"Brief Encounter is one of Britain's best loved films. Film crews bring an added buzz to all directly involved and indeed bring additional business to the hotel from the locals who are curious to know what is going on."

Michael Berry
Other films with which our venues have been involved include The French Lieutenant's Woman from 1981 starring Meryl Streep and Jeremy Irons, Killing Me Softly, the 2002 thriller starring Heather Graham and Joseph Fiennes, and Snow White and the Huntsman which starred Kristen Stewart, Chris Hemsworth and Charlize Theron.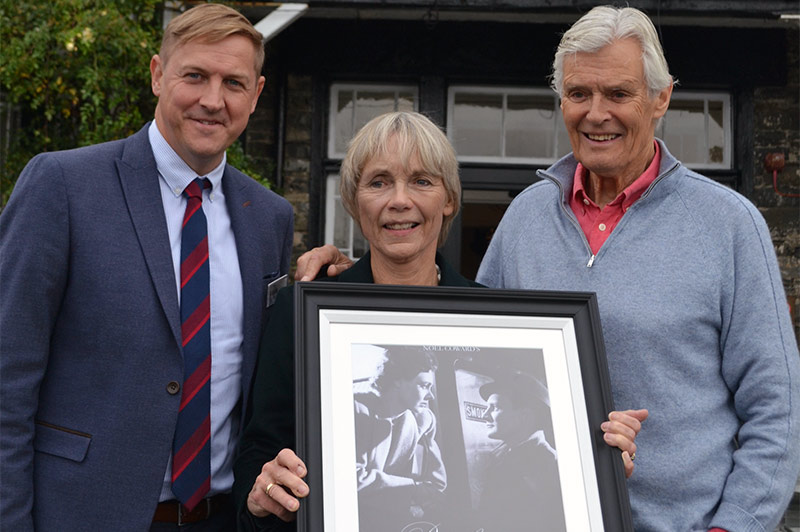 Lucy Fleming said:
"It's been lovely for Low Wood Bay to be involved in our plans to bring our production, 'Posting Letters to the Moon', to Cumbria, and to explore the venue's connections with Brief Encounter.

My mother, Celia Johnson, very much enjoyed staying at the hotel during the filming of the movie and travelling to Carnforth each day in a Rolls Royce, so it's a joy to follow in her footsteps."

Lucy Fleming
In his book, Michael Berry adds:
"These brief encounters are all great fun and add an extra dimension to the life and work of the hotel team."

Michael Berry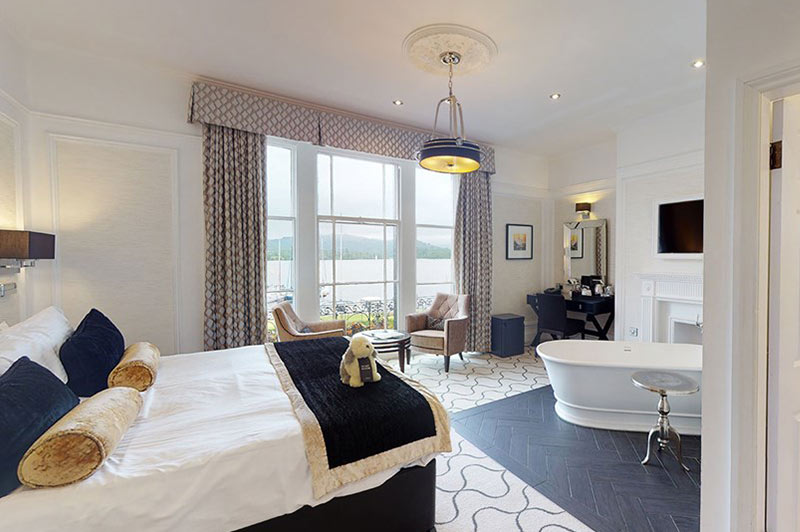 So, if you're settling in for your stay here at Low Wood Bay, especially if it happens that you're booked into room 19, take a moment to seek out the picture on the wall in the reception lounge and think about life as a film star in residence back in an altogether different time.
"We are living out at Windermere in a frightfully comfortable hotel where we have fires in our bedroom, breakfast in bed, in fact every mod con"

Celia Johnson
While you're enjoying your hotel stay in the Lake District or North Lancashire, have you ever thought of helping out with some tree planting?
Celebrate National Tree Week with English Lakes Hotels
National Tree Week, an initiative spearheaded by The Tree Council, is celebrated in the UK every year at the end of November.
It's a key time for trees as this time of year marks the beginning of the planting season.
Supporting The Local Environment
At English Lakes Hotels Resorts & Venues, we're always looking for new ways to do our bit for conservation, the environment and to reduce our carbon footprint.
Whether it's using natural, renewable resources through our hydro-electric turbine at Low Wood Bay Resort & Spa, or making the most of the sun's energy with solar panels at Lancaster House Hotel, we want to help make a difference.
Tree planting in the Lake District and North Lancashire represents one of our core environmental commitments – our aim is to help breathe new life into those areas which have much less tree cover than they have in the past.
Planting new trees to create more future woodland cover is vital in terms of mitigating the effects of climate change, maintaining habitats and protecting land from flooding, as well as helping to preserve the beautiful scenes of the rural countryside for everyone to enjoy for generations to come.
It's why we recently donated £5,000 from the English Lakes Hotels Sustainability Fund to The Lune Rivers Trust to create new areas of woodland.
As part of an overall initiative to plant over 1,800 new trees, the funding will cover 0.33 hectares of the project along a section of Ellergill Beck, to the North of the Forest of Bowland.
Why Are Trees So Important In Your Hotel Stay?
Too often we take trees and woodlands for granted, despite the huge popularity in the tranquillity of rural, nature-based hotel stays.
It is often said that the UK has one of the highest concentrations of ancient trees in Europe.
Our guests always marvel at the peace and beauty of the 72 acres of ancient woodland we look after around The Wild Boar Inn. These so called 'Cathedrals of the countryside' have been around much longer than anything we have built and are a life-giving feature of the landscapes across the Lake District and North Lancashire.
According to The Woodland Trust, the UK's native tree species and woodlands are not in great ecological shape and are showing declines in wildlife. But there is good news in that tree planting projects across the country are starting to bear fruit and to address these challenges.
Get Involved In Tree Planting During Your Lake District Hotel Break
At English Lakes Hotels, we're determined to contribute to the national target quoted by the Committee on Climate Change for the UK to plant 1.5 billion trees – at least 30,000 hectares per year – and achieve net zero emissions by 2050.
You can get more involved and help make this happen with a simple decision. When you check out after your stay with us, you automatically make a £1 optional donation to our local tree planting and sustainability projects administered through Cumbria Community Foundation.
Since establishing our sustainability fund in the late 1990s, we have raised over £250,000 for local conservation projects.
In 2019, we partnered up with Cumbria Community Foundation to target more of our fund raising towards tree planting projects. Thus far we have committed over £30,000 for a range of initiatives.
Make A Difference For A Greener Planet
You can also get involved through The Tree Council itself, especially during the winter planting season. Why not plant a few trees or a hedge yourself in the garden, or get involved with a community project or tree planting event by connecting with your local Tree Warden Network.
And if you cannot do some hands-on planting yourself, you can make a donation to The Tree Council for them to plant a tree or a line of hedgerow on your behalf. In this way we can all make a contribution towards a more sustainable future.
The team at The Health Club at Low Wood Bay are, as we know, super fit, full of energy and raring to go. They needed no encouragement to join Ian Penney for an early morning Lake District run. Ian, creator of Project3.65, which raises money for St John's Hospice, tells us a bit more about how it all began. (more…)
The Lake District is one step closer to World Heritage Site recognition after receiving an important UNESCO delegation that had the opportunity to see first-hand the magnificent cultural landscape in which we live and work.
(more…)
We are delighted to introduce you to Dr and Mrs Eagle, regular guests to Waterhead. They share with us their top 5 car-free days out from the hotels in Ambleside, which adds to a relaxing stay in the Lake District. 

Having tried lots of places over the years Waterhead remains our favourite. It's a luxurious break without the guess work of whether the bed will be comfy or the quality of food and wine or if the staff are friendly.  I'm quite fussy and like a quiet room, thick curtains and a powerful shower. Add to this a stunning view, fluffy towels and bathrobes, a library of DVDs, gingerbread and freshly roasted coffee! All of this adds up to a really relaxing break and that is why we keep coming back.
We love just parking the car when we arrive and then ignoring it for the duration of our stay. Here are out top five picks for car-free outings from Waterhead:
It was with a sense of excitement and, I confess, trepidation that I arrived at
Waterhead
for a weekend of Lake District Watercolour Painting. Signing up for something like this can feel a little like putting your creative neck on the line!
Testing the water over dinner on the Friday evening, I tentatively threw out a line about having not ever really done anything like this before. I was pleasantly surprised, and not a little relieved, to discover that we were all novices, and all nervous about our impending foray into the world of paint, colour, tone, perspectives and vanishing points.  Having established our common fragility, we relaxed and enjoyed a sumptuous
three-course
meal
 whilst
Dawn Pretty
, our artist in residence, outlined what the weekend might hold, promising us that we would all have a work of art to hang on our wall by the end of the weekend.
(more…)
Whether your ideal day out in the Lake District is a gentle stroll by a meandering stream, a more strenuous hike up a mountain or a heritage rail journey, it would appear that there is something for everyone.  Here's one for the more adventurous. (more…)