Friday, November 25, 2022
by
Tim Ingle
The Wild Boar's intimate, cosy & relaxed atmosphere ensures everyone feels an integral part of your wedding celebrations.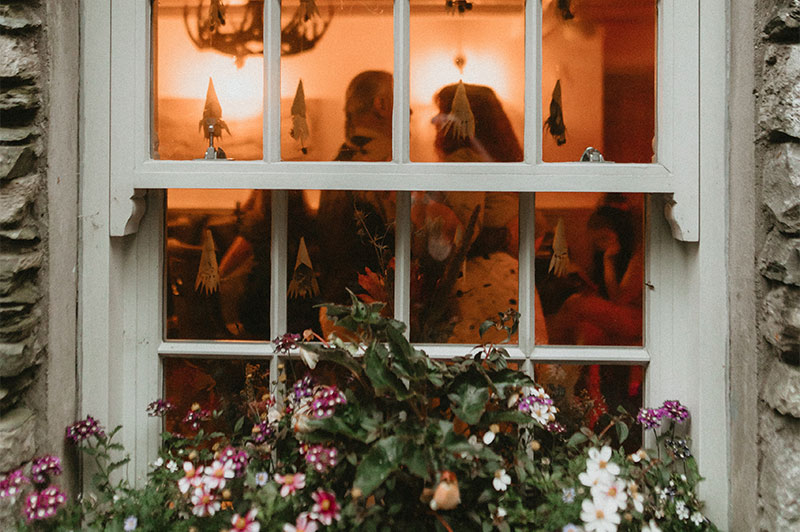 Jodie & Jesna's Wedding
As a wedding venue in the Lake District, The Wild Boar Inn near Windermere is establishing an international reputation. And why not? Set in the leafy woodlands of the Gilpin Valley with 72 acres of private grounds for newlywed couples and their guests to enjoy, the venue gives you an intimate, cosy and relaxed atmosphere to ensure everyone feels an integral part of your wedding celebrations.
Recently married couple Jodie and Jesna from Bali certainly enjoyed their nuptials at our traditional Lakeland inn.
The couple first met at a mural event in Bali. Jesna is an artist and was painting a huge mural. Jenna was on holiday and had gone along to photograph the event. Jesna spoke little English but with some charades and the help of Google Translate, they quickly overcame the language barrier and the rest, as they say, is history!
Finding the Ideal Wedding Venue
Jodie and Jesna hadn't been able to find a UK wedding venue that suited, but a chance internet search for an Easter weekend family meal alerted them to The Wild Boar's wedding offering.
We'd almost booked somewhere else, but when we looked around, it didn't really fit," explains Jodie. "I was then just looking for somewhere to go out for a meal with my family and Google brought up The Wild Boar. The food looked delectable and I was incredibly intrigued by the photos of the dining room, bar, decoration and bedrooms. And then I saw The Wild Boar did weddings!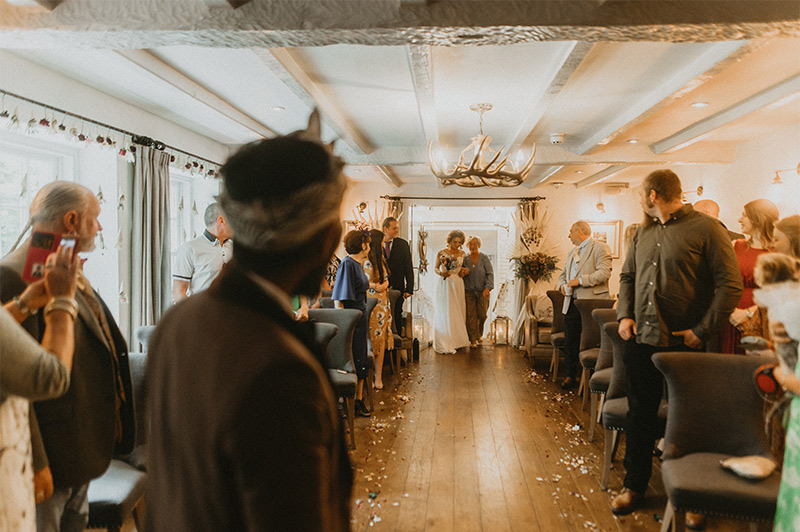 The couple quickly arranged a visit to have a look around and Jodie says that as soon as they walked through the door, they both knew it was the right place for them.
The inn's traditional soul can still be felt and the mixture of old beams, the stove, the slabs on the floor and the thick walls were perfect. We needed somewhere which could give us an intimate, relaxed, soulful environment, and also had rooms close enough to our guests. It was also really important that the venue could accommodate all our guests overnight. We wanted to prolong the time that we all had together by being able to have breakfast the next day.

Jodie
The Wedding Day
The couple put a lot of planning and hard work into their ceremony with the help of the wedding co-ordinators at The Wild Boar.
Jesna's suit was custom-made in Bali, whilst Jenna undertook the challenge of designing and embroidering her own wedding bodice and skirt. Jesna designed Jodie's shoes as per her request with a blue eye on one to match her own and a brown eye on the other to match his.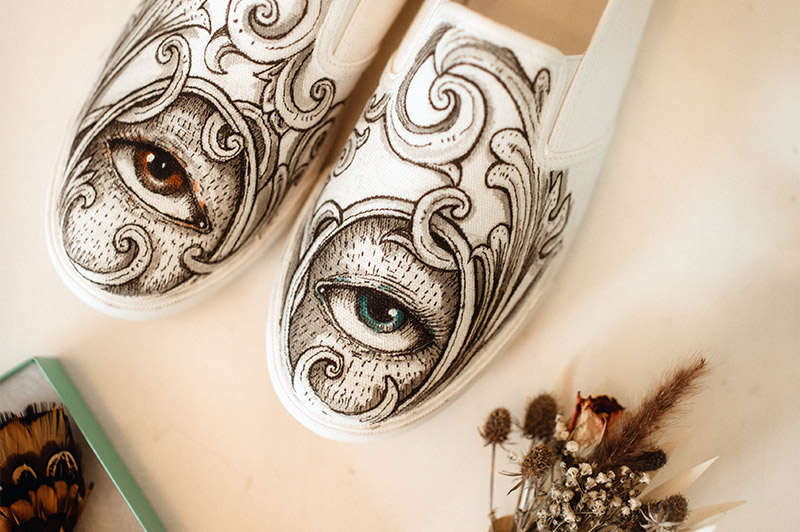 The couple also made all the decorations for the wedding themselves and have set up their own business as a result. You can see examples of their creative event decorations, murals and art installations on Instagram @ coconut_queen_x
They brought some traditional Indonesian ceremonial decorations to incorporate the Balinese culture into their wedding. Fresh flowers were used for the table centrepiece and the arrangement placed in front of the fire.
There were other special touches too. Table settings featured dried flowers wrapped in a paper bio-degradable name card with flower seeds in it so all of the guests could plant them and grow wildflowers.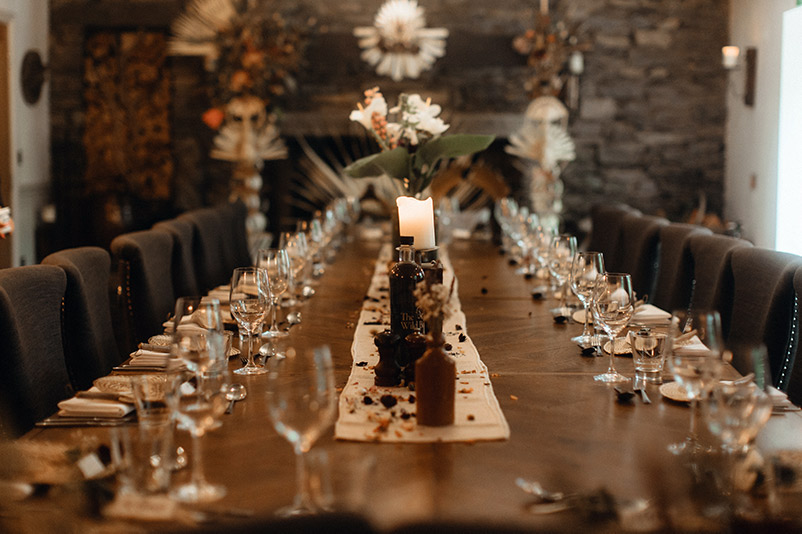 The newlyweds wanted to give everyone something from Indonesia that they could keep, presenting gifts in bamboo baskets which they had decorated with a traditional Balinese embroidery motif. Inside was an incense stick, a wooden 'bottle stopper' carved into the shape of the Balinese god Garuda, and a small wall hanging made from palm leaves and bamboo with traditional Balinese images and the date of the wedding etched on them.
Guests enjoyed a three course wedding breakfast using the most popular choices of their guests who had seen the Wild Boar's full menu. And a specially designed, delicious wedding cake was provided by the incredibly talented Derrienne at The Cat's Meow in Ulverston.
Jesna says the highlight for him was seeing everyone sitting together in the Undermill Beck room ready for the ceremony:
They were smiling and chatting before Jodie came down and it was obvious that everyone was happy to be there. It made all our decorations come to life and made me realise all of our hard work had paid off.

Jesna
Planning Your Wedding at The Wild Boar
So if you're planning your wedding and looking for a venue with a spacious bridal suite, flavoursome food, individually designed rooms, a host of outdoor activities and a cosy atmosphere, The Wild Boar fits the bill.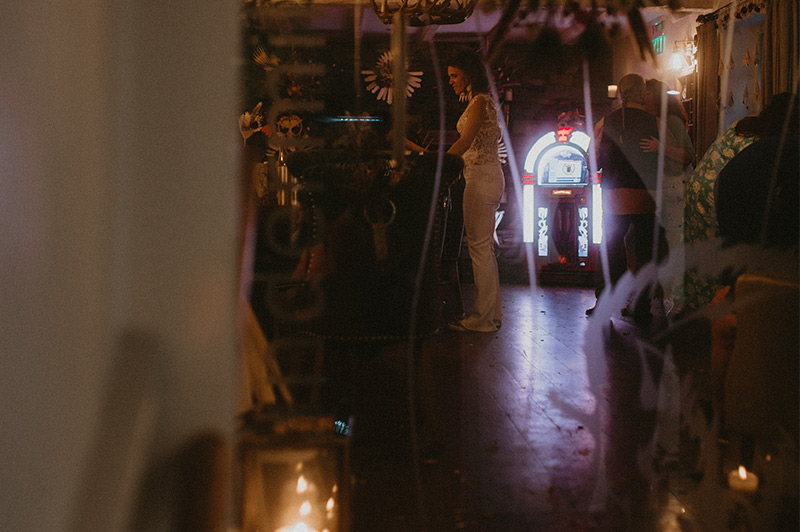 From smaller, more intimate ceremonies to larger weddings and exclusive use of the venue, we can cater for up to 90 guests for wedding breakfast and up to 130 for evening buffets.
Everything clicked into place for us at The Wild Boar. The grounds were beautiful, the energy and feeling was right, the staff were brilliant, and the Land Rover was a massive bonus!

Jodie