James and Emma held their wedding at Lancaster House. We are thrilled that they shared with us details of their wedding planning along with photos of their wedding celebrations.
(more…)
Everybody notices a beautiful, bridal bouquet. It is what draws the eye to the wedding dress and can say so much about the style of the wedding and the personality of the bride. Lauren, Wedding and Events Co-ordinator at Lancaster House, has put together a few of her favourites and given you a selection of seasonal blooms as well. (more…)
Did you know today is Lancashire Day? With so much history, things to see and explore Lancashire has lots to offer. Here are just five reasons Lancashire is worth celebrating. (more…)
This summer there are plenty of twists and turns at Williamson Park in Lancaster as The Dukes returns with another spectacular outdoor walkabout theatre production – Oliver Twist – from 3rd July until 15th August 2015.
(more…)
There is so much to see and do in and around Lancaster. If you are planning on visiting this beautiful part of North Lancashire this summer, check out our top picks that the whole family will enjoy and a special family offer for Lancaster House Hotel.

(more…)
Tim Bell, General Manager of Lancaster House discovers a family-friendly day-out with a difference close to the hotel.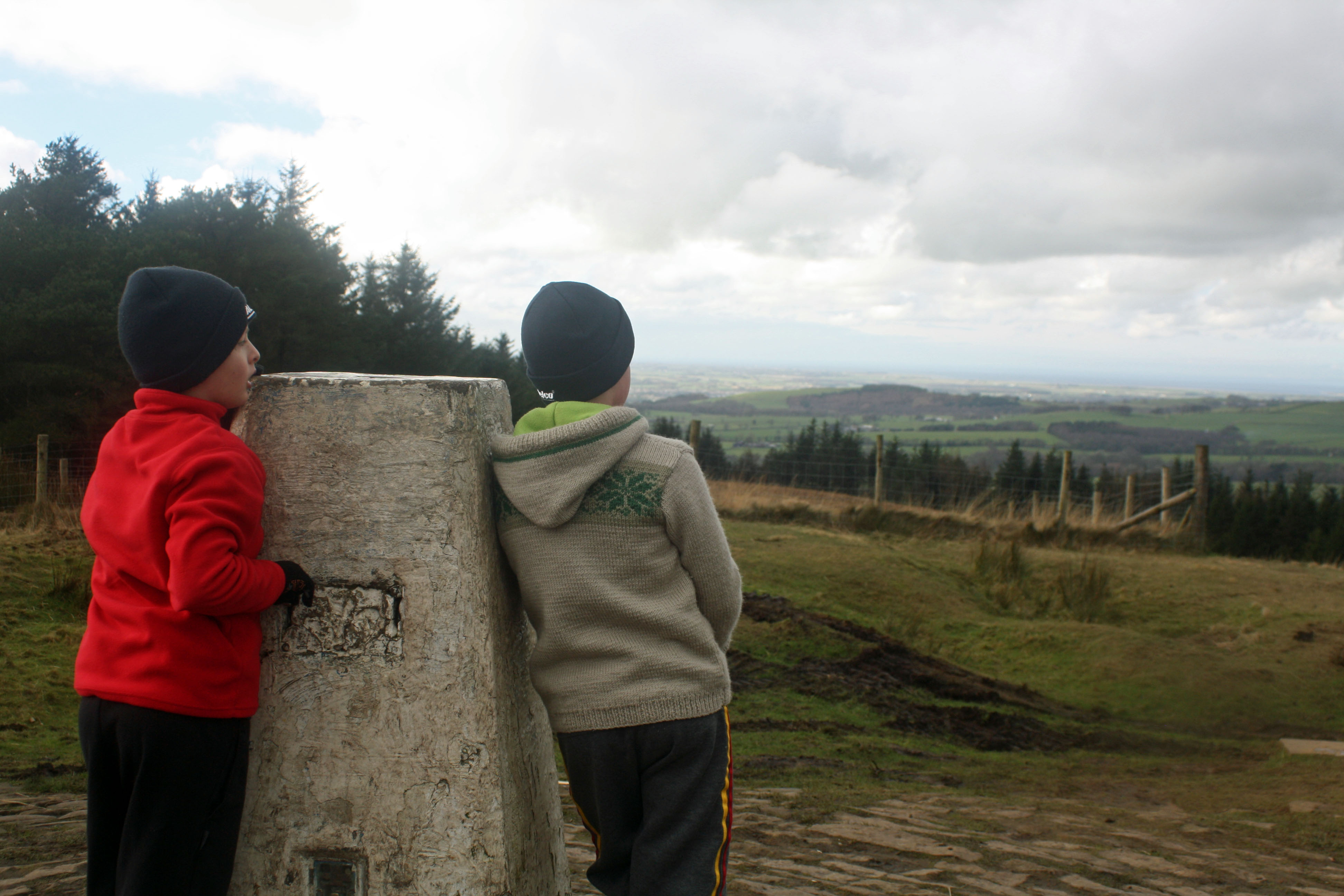 By its very reputation, The Lake District will always lend itself naturally to the great pastime of walking.
But just down the road in North Lancashire, the walking culture is just as vibrant. The Trough of Bowland in particular offers stunning scenery and a plethora of accessible walking routes to rival many of Lakeland's classic rambles here on the doorstep of Lancaster House. (more…)
Tim Bell, General Manager at Lancaster House has been enjoying the spirit of the festive season in Lancaster.
In the ten years I've been here in Lancaster, I've watched with keen interest and excitement as the cultural scene and identity of our historic city has flourished. From a noticeable and admirable level of the arts back in 2003, it's accelerated to a thriving music and theatre scene here in 2013 gaining national recognition and well-deserved accolades.

Without doubt, one of the catalysts and leading lights of this cultural surge has been
The Dukes Playhouse
. Established in 1971, the converted old church now has 3 unique theatres under its roof all complemented by the popular Gallery and bustling Café Bar. The Dukes has of course gained much of their national recognition for their annual Play in the Park which has been running for over 25 years and is now the UK's biggest walkabout theatre show. We've been proud to co-sponsor this production over the last few years and even more proud that we've helped introduce some new fans to this national institution through our theatre breaks. 
(more…)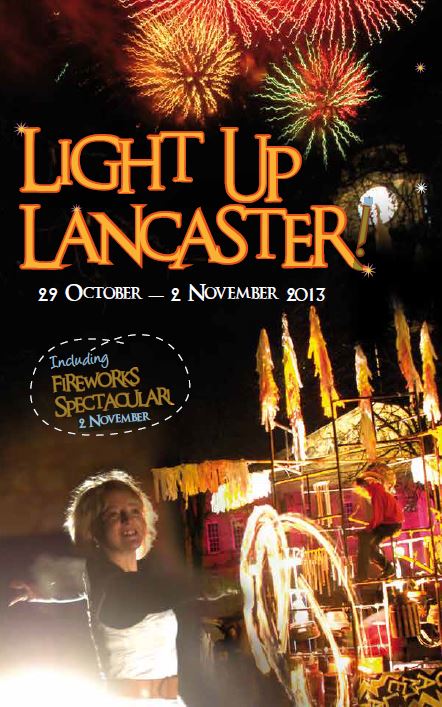 Visitors from the whole of Lancashire and further afield flock to Lancaster for the city's annual firework extravaganza at Lancaster Castle. The event which grows in popularity each year returns in 2013 with a full week of FREE 'Light Up Lancaster' events around the city. It is the perfect time to explore Lancaster both day and night.
To make the most of some of these fantastic events, consider booking a short break at Lancaster House hotel, just a short drive away from the city centre with prices from £88.00 Bed and Breakfast for two people (available at the time of publishing) with family rooms also available.
Light Up The Waterways
Tuesday 29 and Wednesday 30 October 2013
Times: 7.15pm, 8.00pm, 8.45pm
Commissioned by the Canal & River Trust, this is a free event for all the family to enjoy. Discover the stories and heritage of our waterways and their often overlooked ecology, with a series of acts by aerial artists, magicians, dancers, musicians and other exciting performance artists, alongside the Grade 1 Listed Lune Aqueduct. Although this is a free event it must be booked in advance on 01524 598500 as there are limited places.
Drawing Workshops
Tuesday 29 and Wednesday 30 October 2013
Times: 10am – 5pm
During the day there will be family-friendly drawing workshops taking place at St Nics – creating pieces of artwork to be exhibited at Light Up The Streets. No need to book – just bring the family and join in!
Light Up The Streets
Friday 1 November 2013
Performances from 6pm onwards
Take a stroll through the city centre for a unique evening art experience animating our beautiful buildings and squares. Discover new stories along the trail, with a string of music,
dance, theatre and film events. This is a self-guided evening; performances begin at 6pm, but you can arrive at any time and pick up a guide to the evening's performances and installations from one of the stewards.
Light Up The Skies – The Fireworks Spectacular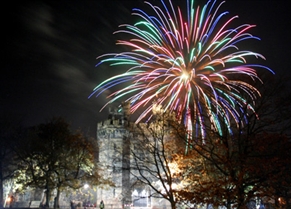 Saturday 2 November 2013
Activities from 10am, Fireworks at 8pm
Lancaster's magical extravaganza of fireworks, which lights up the historic landscape and skyline of the city, is one of the finest displays in the north. This year the fireworks will again be fired from the roof of Lancaster's medieval castle.
Although the main viewing areas are now fully booked, there are also many other excellent viewing areas throughout the district which do not require wristbands. Recommended areas include the Millennium Bridge, Williamson Park and Salt Ayre Sports and Leisure Centre. Salt Ayre will have a host of family-friendly activities including a fun-fair from 4pm onwards.
There will also be activities including workshops, guided walks and storytelling taking place throughout the day on Saturday.
Growing in notoriety and popularity, the Lancaster Music Festival has just been named among the winners in the 2013 Lancaster Tourism Awards. The 5th annual Lancaster Music Festival takes place this weekend, 11th – 13th October.  With over 100 performances at over 30 venues, there's something to meet every taste, whether your passion is blue grass, punk, rock, indie and pretty much everything in between. Most of the shows are free, as are the brochures. The city will indeed be alive with the sound of music.

One of the featured artists is local singer/songwriter Jay Diggins from Scorton, Lancashire – tipped to be an artist on the verge of his big break. Jay's debut album, 'Searching', was recorded at his own purpose built studio in Scorton and launched on 23rd September at Lancaster's Grand Theatre to co-incide with the start of an international tour which will round off in New York in January next year. 
(more…)
In a quest to find food that children love and want to eat, whilst at the same time being healthy and nutritious, Lancaster House enlisted the
help of a team of school children
from Scotforth Church of England Primary School in Lancaster. The creativity and the passion for food that they expressed proved inspirational and helped shaped the new Sam's Menu at
The Foodworks Restaurant, Lancaster House
. On 4th June the children were invited to the hotel where Chef had prepared a taster menu, transforming their creative ideas to an edible reality.
(more…)