Our toy dog, Sam found world wide fame when we sent him up to space from The Midland as part of a science project for children from Morecambe Bay Primary School. Before his space mission Sam has been capturing the imagination of Children as English Lakes mascot and founder of our Sam's Club for many years. Here are 10 facts you may not know about Sam the dog.
(more…)
In a quest to find food that children love and want to eat, whilst at the same time being healthy and nutritious, Lancaster House enlisted the
help of a team of school children
from Scotforth Church of England Primary School in Lancaster. The creativity and the passion for food that they expressed proved inspirational and helped shaped the new Sam's Menu at
The Foodworks Restaurant, Lancaster House
. On 4th June the children were invited to the hotel where Chef had prepared a taster menu, transforming their creative ideas to an edible reality.
(more…)
Sam the dog is our children's club mascot, and he has taken a few minutes out of his busy schedule to write to all our Easter holiday little guests…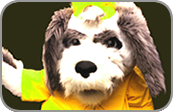 Are you ready for some eggcitement , well let's get cracking shell we ? Ok, that's it no more yolks.!!!
Where to start?! One of my favourite activities has to be The Easter Egg Eggstravaganza on Saturday 30th March at 1 pm, organised by The Low Wood Bay Leisure Club. We set off on our Easter Egg Hunt – the walk to my favourite woody spot is impressive, but let's keep focused , its the eggs we are after!!  Lots and lots and lots of red and blue painted eggs have been hidden. But that's not all …  there is also a golden egg waiting to be found.  (more…)
The planning of a new children's menu can be fairly long, drawn-out affair. Quality local suppliers must be sought, analysis of what children are favouring from our current menu, ensuring that we are keeping up with the ever-changing high street trends, and even, as we have done in the past, consulting to underline our commitment to healthy eating.
But for the next
Lancaster House Sam's menu
, the team wanted to know what Kids
Really
want. So, we have gone 'back to school' to find out from the children themselves.
(more…)
In the days leading up to Children's Hospice Week, 18th – 25th May, it was a privilege to visit two of our local Children's Hospices. Derian House in Chorley and Eden Valley near Carlisle.
(more…)