This is a whisky that George, our Wild Boar Master of Malt has featured previously, but with the festive season upon us, we bring you once again, Balvenie DoubleWood 12 year old which is dubbed 'Christmas in a glass'. (more…)
George, our Wild Boar Inn Master of Malt, has chosen Edradour 10 Year old for his September Malt of the Month. Although officially the smallest traditional farm distillery in Scotland, Edradour has a big history and is an extremely popular destination for visitors from around the world.

A Model Village or a Distillery?
There seem to be two translations of Edradour to choose from, 'the land between two rivers' or 'Edred Dobhar' meaning the stream of King Edred. Whichever you choose, the distillery is perfectly placed beside a fast paced fresh water supply not far from the central Highlands town of Pitlochry. The site of the distillery itself is quite unique with whitewashed farm buildings and picket fences, more like a model village than a commercial production facility.  On your approach, the site offers a feeling of 'coming home' in a 'Little House on the Prairie' type of way.
Mafia Connections
Established in 1825 as a local farmers co-operative, the distillery has exchanged hands a fair few times over the years and has included at least one shareholder with dubious credentials. Frank Costello, New York mafia Godfather invested heavily in the distillery in 1938 before handing it on to various international consortiums.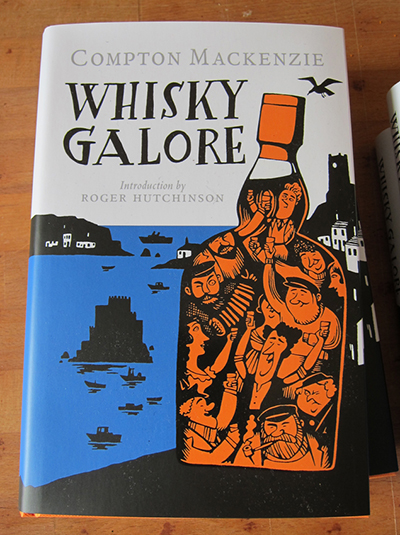 I wonder if the mafia had anything to do with the sinking of a ship off the island of Eriskay in 1941. This was the famous story of 20,000 cases of whisky, including blends from Edradour, that were lost overboard, several finding their way into the hands of the locals 'entrepreneurs'. Compton McKenzie went on to immortalise this story in 'Whisky Galore' and I hope we have all seen the hilarious film of the same title.
Keeping it Traditional



Little has changed in the production process at Edradour since 1825. The distillery is in the original farm buildings and mash tun, washbacks and a pair of stills (the smallest permissible for commercial distilling) all snugly fit into one room. There's no automation and much of the equipment is made from wood.  Incredibly they manage to produce 90,000 litres of whisky annually expressed through no less than 25 different and distinct flavours of single malt including Ballechin, a range of heavily peated malts and a range matured solely in wine casks with a depth of flavour and character emerging from the barley and sweet fruits of the wine.
Whisky Tasting at The Wild Boar
Here at The Wild Boar, we host regular Whisky Tasting Evenings to enable you to learn more about this classic age-old spirit. Take a look at  The Wild Boar Events page and join George at our next whisky tasting event.

Deviating from our normal Malt of the Month post, our Master of Malt, George, tells us about his trip up north to his homeland to visit two distilleries and see first hand how the amber liquid is produced.
(more…)
George, our very own Master of Malt, once again presents his Malt of the Month at The Wild Boar. It comes from the same home as the Johnnie Walker portfolio and is their most popular single malt, with a huge following in France and Spain. As with many of these now world-class distilleries, it had a fairly humble beginning…
(more…)
For our Malt of the Month this month we are crossing the Irish Sea to pay homage to St Patrick, who as legend has it drove all the snakes out of Ireland.
Interesting Facts
Bushmills distillery in County Antrim was granted a license to distil whiskey in 1608 and has been producing some fine malt whiskies ever since with only a couple of small breaks due to barley shortages during both World Wars. This makes it the oldest licensed whiskey distillery in the world! (more…)
Introducing George Hutton, Receptionist at The Wild Boar and our new Master of Malt…

I have been part of
The Wild Boar
family for almost 9 Years now. Having a real interest in whisky, it now falls my responsibility, and a task that I relish, to write a monthly whisky blog for our guests, our Whisky Club members and all those out there who have an interest in, or taste for, the amber liquid. So, with my new title Master of Malt, affectionately bestowed upon me, lets begin…
In 2010 The Wild Boar was treated to an extensive refurbishment. At that time we introduced the relatively new concept for the
Lake District
– a Whisky Bar. Our
Wild Boar Whisky Club
developed very naturally as a result.
(more…)