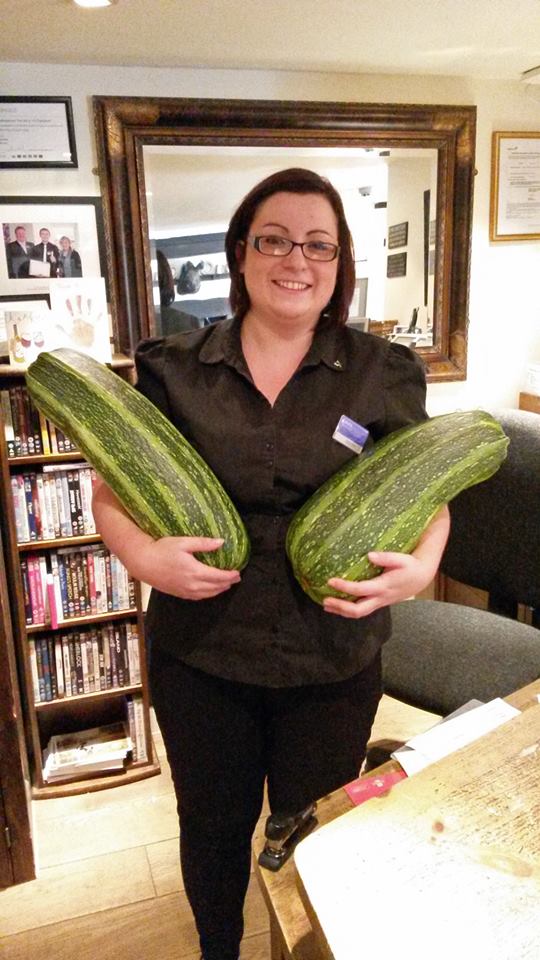 Laura Ticehurst, Receptionist at The Wild Boar found herself donning wellies and taking to the Inn's new and freshly dug vegetable patch earlier this year. A novice gardener, Laura shares her successes, failures and one or two tips for getting rid of those pesky slugs …
At the beginning of spring 2013 I knew nothing about gardening and had no particular desire to know anything about it either……..that was until it was suggested that as a Green Champion it would be great if I could become involved and "help out" with the vegetable patch at The Wild Boar. Little did I know that the word "help" would be interpreted as "be solely responsible for".  So being thrown head first into the world of home grown vegetables has made for an interesting year with many successes and one or two failures. I've learnt what to do and what not to do and have also created and refined my own gardening tips!
At the start of spring I eagerly planted peas, carrots, beetroot, different varieties of lettuce and rocket, courgettes, French beans, shallots, red onions, spring onions and radishes as well as sweet potatoes and marrows. The radishes were first to grow and after I had completed the back breaking work of thinning them out once they had grown into seedlings; they soon grew to be big juicy tasty accompaniments to the salads chef put on the specials menu. This success though was met by a failure with the beetroot crop. After I had thinned the beetroot out they didn't take too kindly to the extremely hot weather we had over the summer and therefore didn't grow much bigger than the size of a marble. The rocket was growing by the bucketful and we had so much that chef dreaded my daily visits to the kitchen with the days harvest so the staff ended up taking some of it home too!

My biggest battle this year though has been with the gardeners arch nemesis; The Common Garden Slug! Not wanting to use the toxic slug pellets in the garden for fear a poor dog might eat one I was left with nothing but the more alternative methods of deterring these pesky creatures. I used tubs of beer in the hope the slugs would be happily distracted as well as wool on the soil which they are supposed to dislike crawling across. My dear mother also shared one of her old wives tips with me, which was to put slices of cucumber on a tray of aluminium foil and dot these about the vegetable patch. Surprisingly I think it worked as they weren't too much trouble after this. Although it may also have been the combined effort of all my strange slug repelling methods including mixing used coffee granules in amongst the soil and strips of copper along the bottom of plants which is supposed to give off an electrical charge when the slugs crawl across it!
My biggest success of the year; of which I am quite proud has to be my Marrows. I have tenderly cared for them through out the year, feeding them according to a strict timescale, watering them at a particular time of day, on certain days of the week and gently placing straw under the growing marrows to stop them rotting upon contact with the soil. (This is no easy feat, the leaves and stalks of marrows are covered in thick sharp thistles which cut and scratch you) My dedication was rewarded with a plentiful bounty of the biggest marrows I have ever seen. For several weeks I would have a generous harvest of marrows to provide the kitchen with and chef created several delightful dishes from them which featured on our daily specials.
Overall I would say this years crop has been a success and we hope to be a bit more adventurous with what we grow next year as well as planting vegetables that are ready at different times of year so that the kitchen are not overwhelmed with vegetables. I'm also determined to continue my marrow success and grow one bigger and better than this year's 90 lb marrow winner at the Hawkshead Show. Green Fingers Crossed!