There is so much to see and do in and around Lancaster. If you are planning on visiting this beautiful part of North Lancashire this summer, check out our top picks that the whole family will enjoy and a special family offer for Lancaster House Hotel.

(more…)
Calling all junior travellers, Charlie and Alfie our new children's hotel inspectors are planning trips and adventures around Lancashire and the Lake District over the coming months. They will be reviewing all things English Lakes Hotels and checking out many of the local attractions and experiences. First on the list... (more…)
English Lakes is proud of its pets welcome policy and guests have been bringing their pets to our hotels in the Lake District and Lancashire for many years. We welcome back our special four legged blogger, Max, who has been to the seaside and just couldn't wait to tell us about his visit to The Midland, Morecambe.

(more…)
If you thought that 'going on holiday' was a relatively new invention, albeit now an inspired and cherished British tradition, you will discover below that people have travelled for recreation, leisure and health going back centuries.
We love the below vibrant infographic, packed with interesting insights to the changing fashions in choice of holidays. Currently trending is the high percentage of us Brits holidaying in the UK or taking a 'staycation'. We'd love to hear your holiday stories - perhaps you drank one of the twenty million cups of tea a year served up by Butlins in the 1960s? Do you remember when the average holiday cost £157 in the not-so-long ago good ol' days of the 1980s? Or do you have nostalgic memories of the happy band that flooded to our beloved seaside towns to walk arm in arm along the prom and dip in the lido?
We'd love to hear some of your stories, funny or nostalgic and in the coming weeks we will publish some of the best ...

(more…)
Sam the dog is our children's club mascot, and he has taken a few minutes out of his busy schedule to write to all our Easter holiday little guests...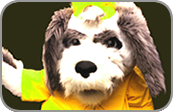 Are you ready for some eggcitement , well let's get cracking shell we ? Ok, that's it no more yolks.!!!
Where to start?! One of my favourite activities has to be The Easter Egg Eggstravaganza on Saturday 30th March at 1 pm, organised by The Low Wood Bay Leisure Club. We set off on our Easter Egg Hunt - the walk to my favourite woody spot is impressive, but let's keep focused , its the eggs we are after!!  Lots and lots and lots of red and blue painted eggs have been hidden. But that's not all ...  there is also a golden egg waiting to be found.  (more…)