The UK is a premium wine-producing region, with around 500 vineyards in England and Wales with vineyards covering over 4,500 acres and producing many prestigious sparkling and still wines. With English Wine Week fast approaching, Saturday 28th May - Sunday 5th June 2016 we take a look at the history behind English Wine.
Making Wine in England since 1066
There's some evidence to suggest we were making wine before the Roman conquest in AD43, but certainly after their invasion our soil worked hard to fulfil the Italian garrisons' appetite for wine a plenty. In 1066 William the Conqueror brought with him monks experienced in wine making, and Britain enjoyed a flourishing industry, matched only by the revival in English wine that we are currently experiencing. The Domesday Book records 42 wine producing locations in Britain.
English Vineyards growing to meet demand
In relatively recent history it was a very brave, or foolhardy, investor that poured money into the English wine industry, but that is a rapidly changing scenario. With climate warming, the south east of England now has as many warm, sunny days as the Champagne region did in the 1970s. Huge advancements in technology also favours the burgeoning demand for our home grown vintage.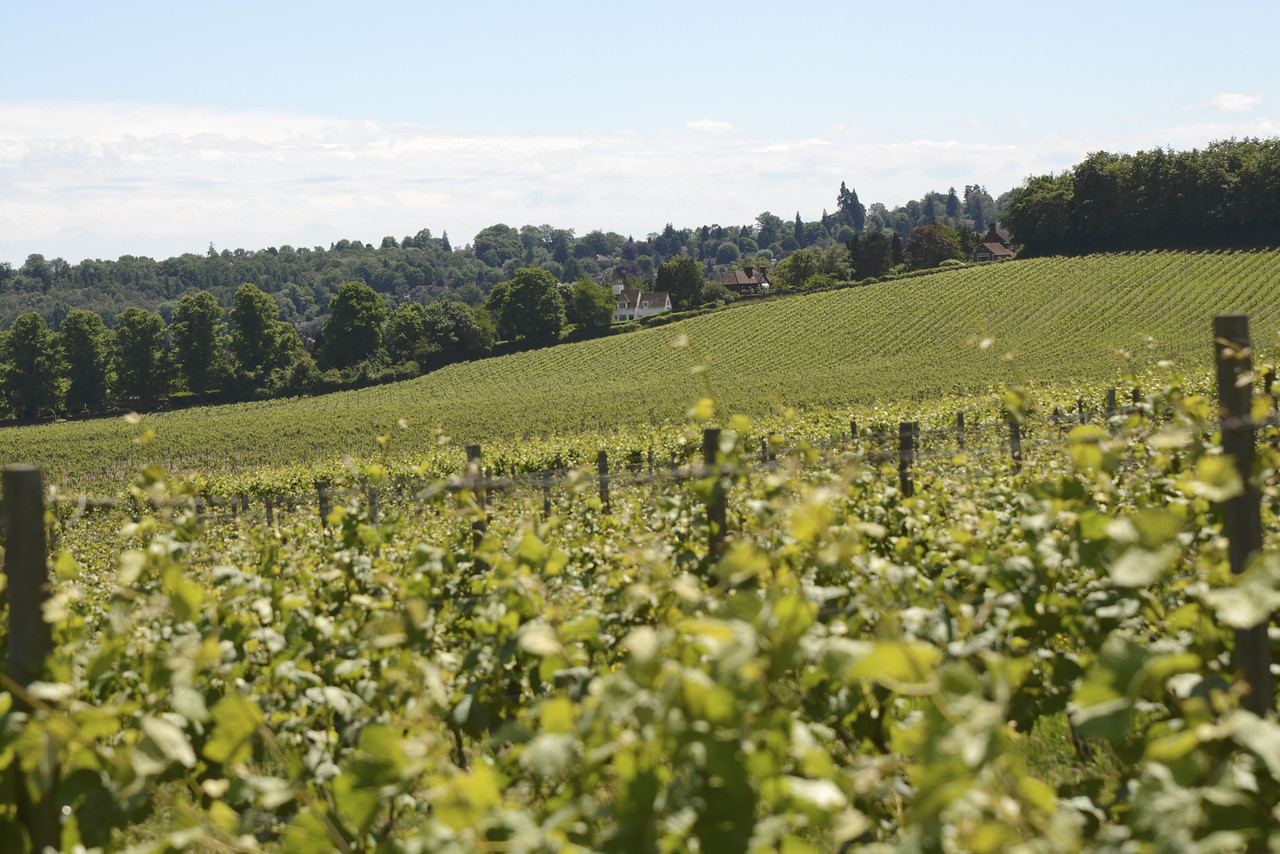 Vineyard in Surrey. England
Once the domain of enthusiasts and hobbyists, this is no longer a national whim, but a serious business. English vineyards produced and bottled 6.3 million bottles of wine in 2014 and expect to reach 12 million bottles a year by 2020. One leading supermarket reports sales of English wine up by 95%.
As consumers are making a conscious choice to uncork and pour our local wines, investors are opening their wallets and pouring cash into the long-term investment - from purchase of land to selling your bottled wine can take about 10 years - and applications for licences to produce wine in the UK are up 40% on last year.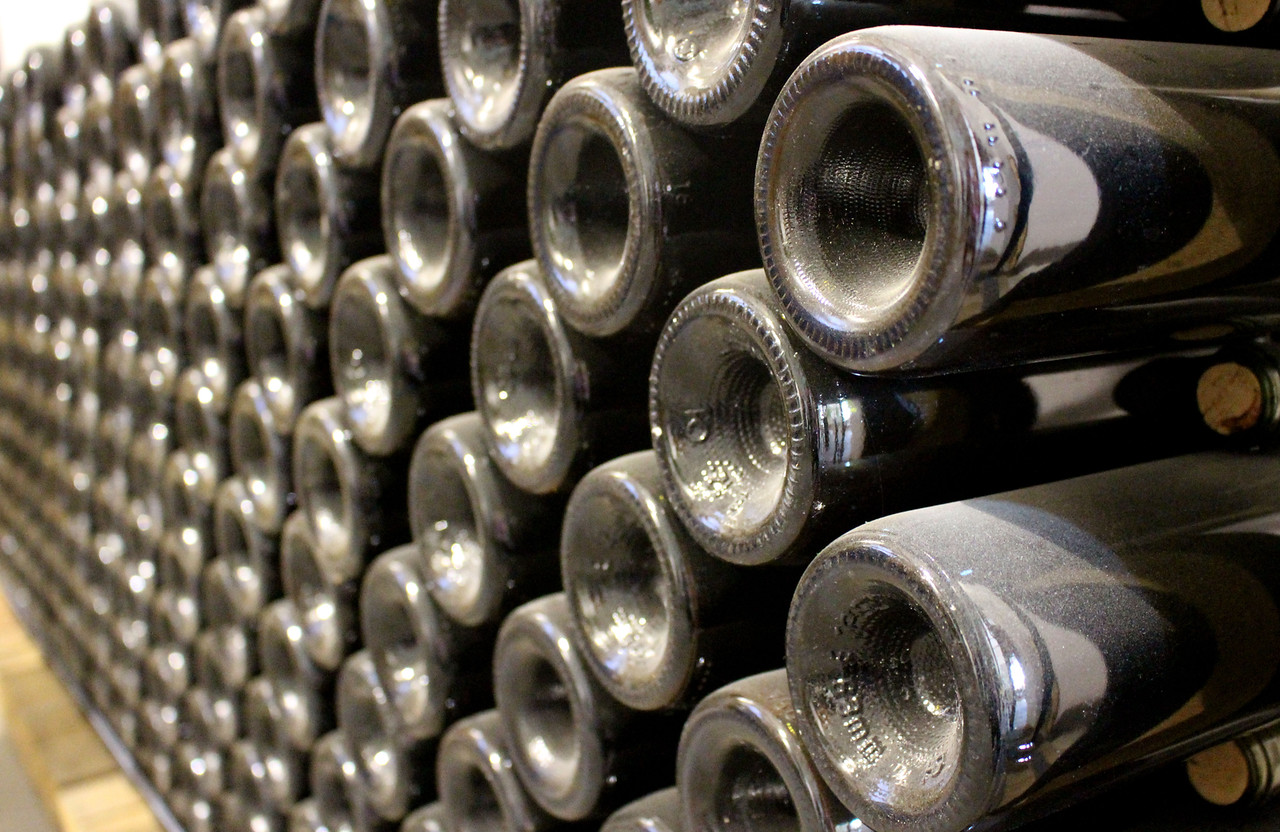 Storage of bottles of sparkling wine in it's seasoning period
A Popular and Sustainable Choice
English Wine was headlined in culinary news in 2015 when Buckingham Palace chose to feature Ridgeway Brut as an aperitif for the state visit of Chinese President Xi Jinping hosted by the Queen. With the highly commendable use of local produce, Chefs up and down the country are looking to pair their dishes with local wines. Once scoffed at, particularly by French producers, English wine producers scooped fourteen gold medals in the prestigious International Wine Challenge.
With quantity, quality and popularity on the rise, expect to be hearing and seeing much more of English vintages in the months to come. Why not do the taste test for yourself? During English Wine Week, Saturday 28th May - Sunday 5th June 2016, Lancaster House will be featuring two quality English wines available to purchase by the glass or the bottle.
Try English Wine at Lancaster House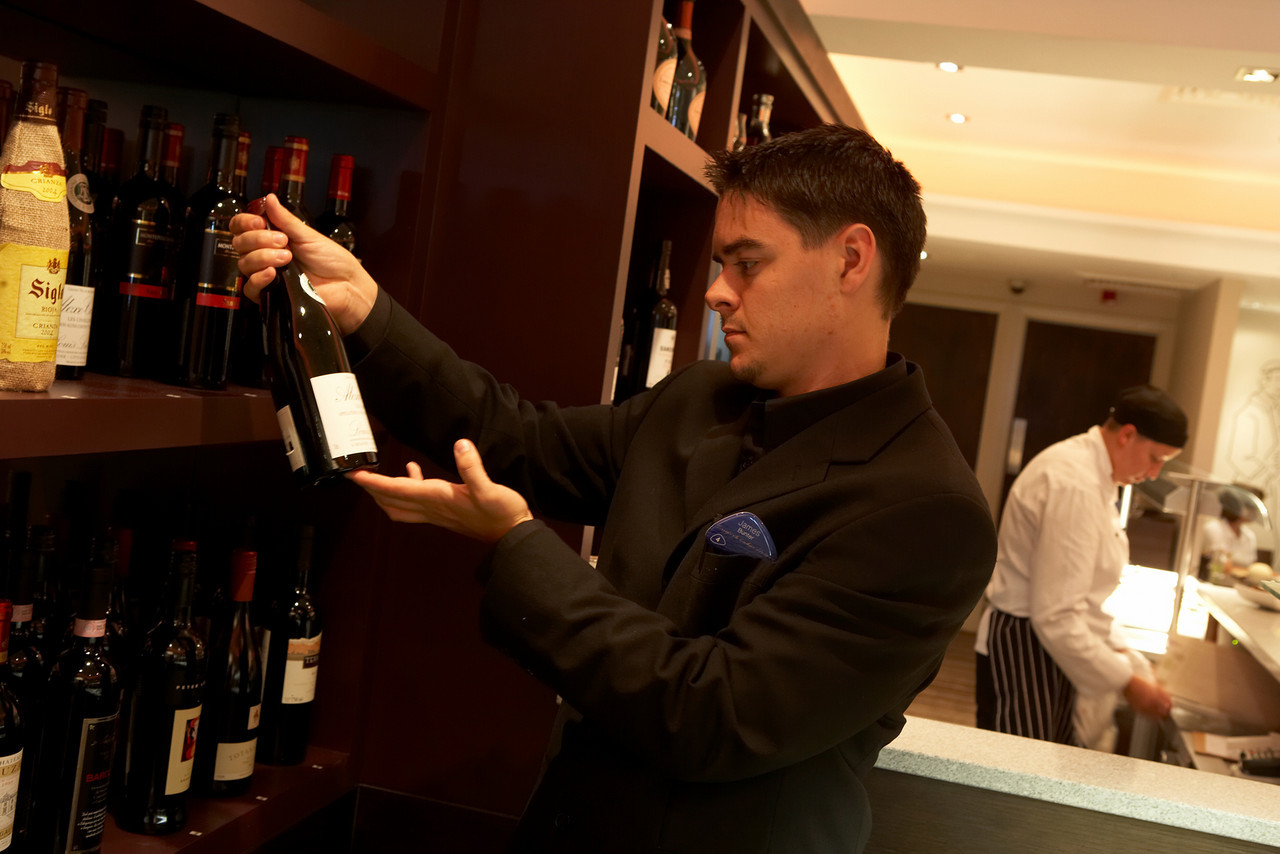 Extensive wine collection at Lancaster House
Lancaster House has an extensive wine list in The Foodworks restaurant which features many wines from around the world. Two of our favourite English Wines we recommend you try on your next visit are:
Chapel Down Brut
Made by C D Rose Tenterden, One of England's best selling sparkling wines and a great example of a classic English fizz. A light, crisp, dry sparkling wine competing with Prosecco or Champagne
Surrey Gold
The wine is made with a blend of Muller-Thurgau and Reichensteiner from the Denbies Estate Vineyard. Located on flat land with sandy limestone which is perfect for fresh and light wines. This wine is rich in fruit and floral aromas with subtle hints of spice.