Our Wild Boar Malt of the Month is Glenfarclas 10 Year Old, another Speyside spectacular. In the words of one of Glenfarclas' competitors…
Of all the whiskies malt is king – of all the kings Glenfarclas reigns supreme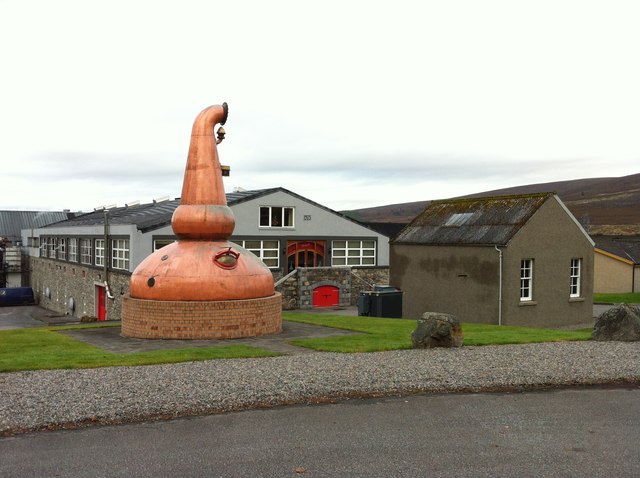 Copper Still at Glenfarclas Distillery Andrew Abbott/CC 2.0
Family Legacy Over Six Generations
John Grant 1805-1889/Glenfarclas
The story of the Glenfarclas Grant family spans six generations which very much ties in with our own family values and traditions. John Grant, the present Chairman's great-great grandfather was an experienced farmer breeding champion Aberdeen Angus cattle. Expanding his business to a neighbouring farm, he found himself the proprietor of the locally renowned distillery within its grounds. Handing over the princely sum of £511.19s.0d for this purchase secured a legacy which is appreciated and enjoyed in over fifty markets worldwide including Germany, France, Japan, Spain, USA and Taiwan.
Although the distillery has been passed down the family line over the ensuing 150 years, the vision of creating the best quality single malt whisky in the traditional Speyside style remains as clear and focused as the day they began. It is one of the very few distilleries in Scotland to retain family ownership. Situated in the heart of Speyside – malt whisky country – Glenfarclas, translated from the Gaelic as "Glen of the green grassland", nestles at the foot of Ben Rinnes.
Old Beyond its Years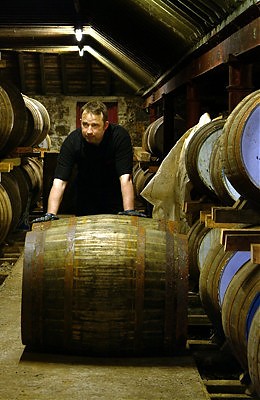 Sherry casks contribute to the full bodied taste/Glenfarclas
The secret of Glenfarclas success and characteristic taste is attributed to a combination of the unique size and shape of the copper pot stills, traditional distillation methods, specially selected oak casks and the style and location of the warehouses. At any one time there are at least 50,000 casks maturing in the distillery warehouses, the majority of which are former sherry casks. The taste is full bodied and well sherried, and is only ever released at natural colour.
Glenfarclas 10 Year Old
Gloriously smooth, yet with the depth and finish you would normally only expect of a much older dram. A wonderfully sherried whisky, and an excellent aperitif.
Colour: Vibrant straw-gold
Nose: Tempting sherry-sweet malty tones combine with delicate smokiness, releasing subtle spices. Warming the glass reveals honey, vanilla and pear drops.
Flavour: Delicately light, with a mouth-watering combination of maltiness, smokiness and sherry sweetness. Hints of dried fruit, vanilla, cinnamon and cloves tempt the taste buds further.
Finish: Long, smooth and spicy, with a delicious, yet delicate, lingering smokiness.
Whisky Tasting at The Wild Boar
Here at The Wild Boar, we host regular Whisky Tasting Evenings to enable
George Hutton, Master of Malt
you to learn more about this classic age-old spirit. Take a look at The Wild Boar Events page and join George at our next whisky tasting event.