Friday, November 16, 2018
by
admin
Another winter wedding tale from Low Wood Bay. Craig and Helen Smart tied the knot in December, but we will let them introduce themselves and tell us about their romantic proposal and sparkly Christmas wedding.
Craig and Helen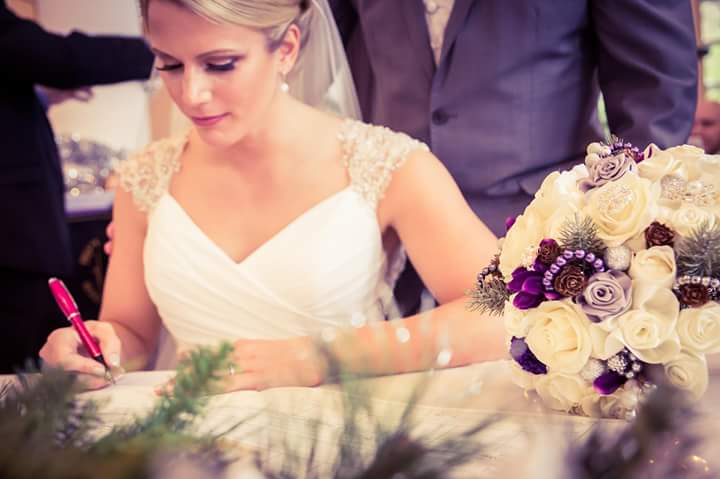 Helen: When I was younger I was a swimmer, and have travelled to competitions all over the world. My main achievements include winning a bronze medal in the 1998 Commonwealth Games in Kuala Lumpur; a World Silver medal at Hong Kong in 1999 and reaching the semi-final in the Sydney 2000 Olympics! I went on to do a degree in Sport Science and I'm now Deputy Headteacher at a school in Wigan. I've also been a member of Pemberton Brass Band since I was 7 years old.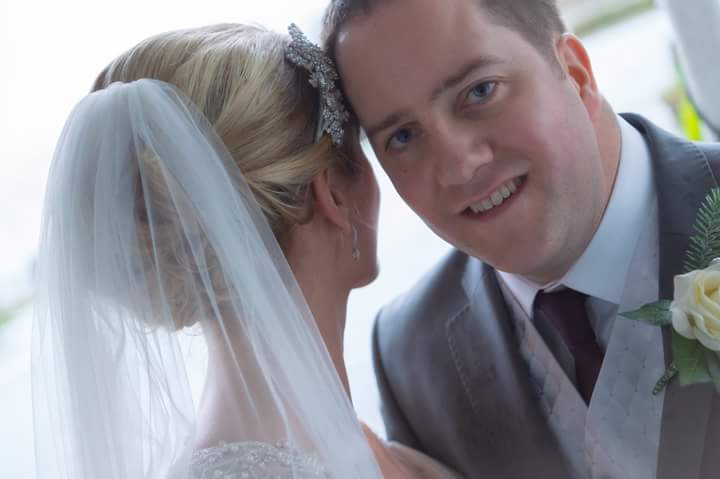 Craig: I am Deputy Manager for the Royal Bank of Scotland; I'm afraid I haven't got any achievements as exciting as swimming at the Olympics; however having undergone two open heart operations in 1983 and 2010, I am thankful that I am able to enjoy leisurely sport and outdoor activities, including walking our dogs in the Lake District.
The Proposal
We have a picture at home of a jetty on Ullswater and Craig kept saying that he wanted to find it so we could have our picture taken on it! In July we came up to the Lake District with our dogs (Nick Nack and Fudge) and 'found' the jetty. I was taking pictures and heard "Helen?" and turned around to see Craig on one knee with the most beautiful engagement ring!
Helen, Craig, Nick Nack and Fudge at Ullswater in the Lake District
Craig was amazing and beforehand had arranged for my Mum and Dad to meet us and bring overnight bags and take the dogs home. He'd been shopping and had bought me new clothes, pyjamas, slippers and shoes, in 2 sizes in case they didn't fit! He had even taken pictures of all my make-up and cosmetics and bought new stuff so that I didn't notice he'd taken anything– he'd thought of everything and had been making trips to my mum and dads for weeks to make sure the plan was kept a secret!
A Comfortable and Relaxed Wedding Venue
Craig and I come up to the Lake District as often as we can and often passed Low Wood Bay and wondered what it was like inside as it is such a stunning location. We did look around another venue but there was just no contest – we felt comfortable and relaxed at Low Wood Bay, two things that were important to us and that's how we wanted our guests to feel. We were wowed by the Gallery. It is so grand and I could just imagine walking down the aisle in there. I was so excited when we were told that 20th December 2015 was available! I always wanted a Christmas wedding; everything was slotting into place for us!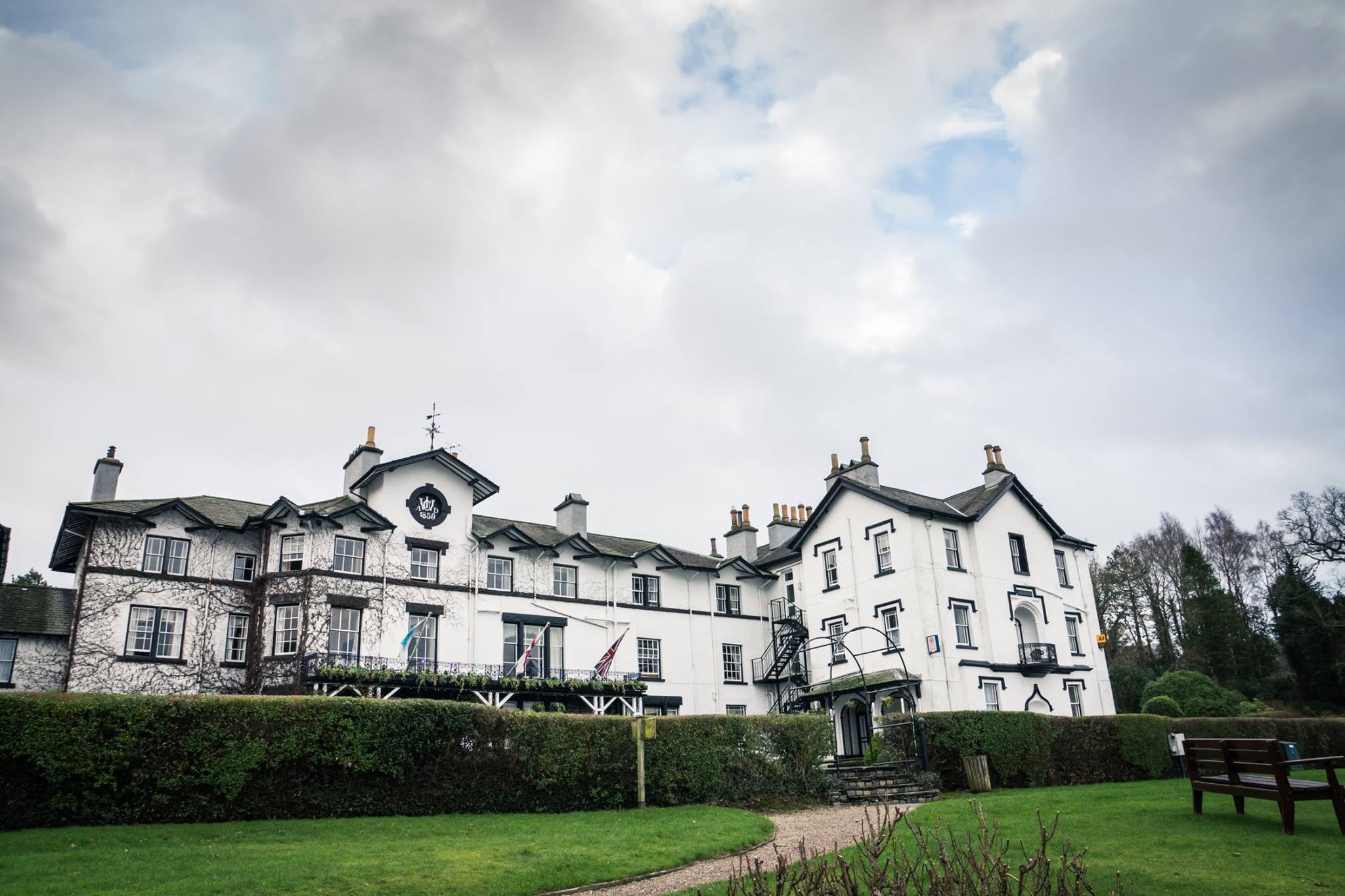 Wedding Day at Low Wood Bay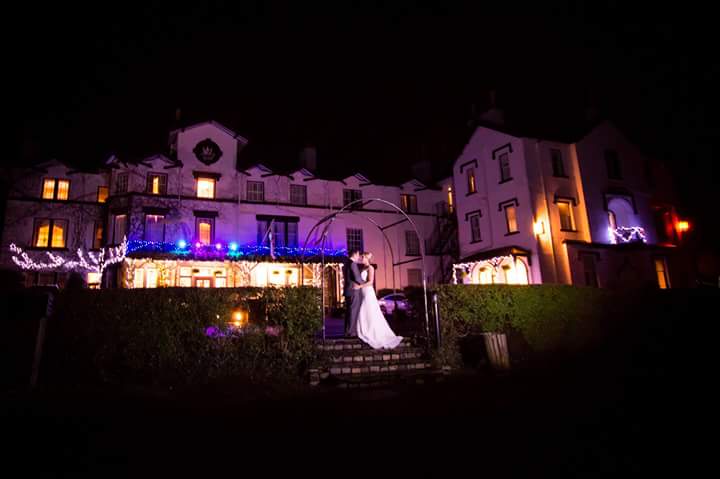 Craig and Helen outside Low Wood Bay
Dressed to Sparkle
I always joked with Craig that I would have a purple wedding dress, as that's my favourite colour. He wasn't sure if I was serious or not until he saw me walking down the aisle! My dress is a Lillian West backless fishtail gown. I had diamanté buttons added to it for a bit of extra Christmas sparkle! I absolutely love the dress and I'd love to wear it again and again!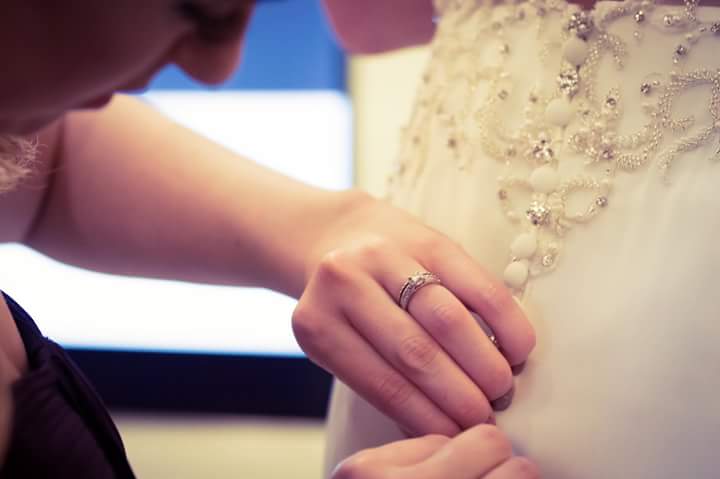 Diamanté detail on Helen's Lillian West dress
We shopped around for the bridesmaids' dresses – dark purple of course! Our niece Alice was 10 months old at the wedding, so I got her a beautiful ivory dress with little sparkles on it to match mine; she looked so adorable!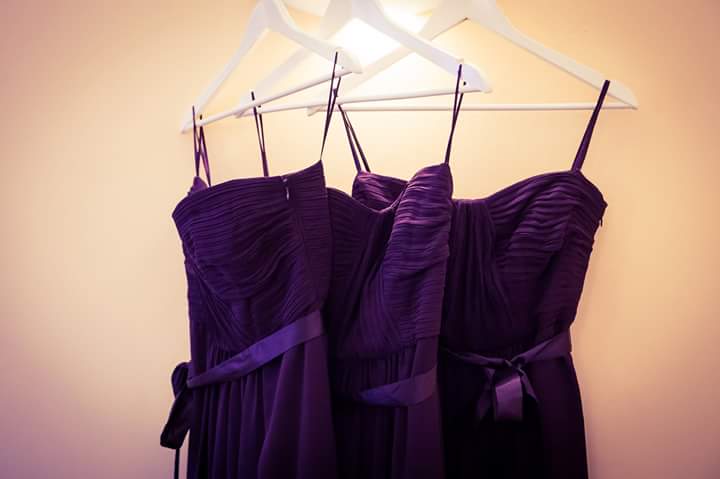 Purple bridesmaid dresses
The men in the wedding party wore grey with ties and handkerchiefs in the same colour purple as the bridesmaid dresses. Our nephews Jack and Owen (3 and 1 years old) had waistcoat suits in the same grey as the men and their grandma altered an adult sized tie so that they were matching the men!
Complimented on the Pies!
Low Wood Bay offered our guests a choice for the Wedding Breakfast which is unusual and worked really well. Craig and I had thoroughly enjoyed the 'tasting meal'. It was Craig's birthday, so we decided to stay over and make a weekend of it! The staff had gone the extra mile to make us feel special and when they realised it was Craig's birthday, one of the waiters who played the violin came over and played Happy Birthday for him! The whole restaurant clapped!
Being from Wigan and having the choice of pies for the evening buffet couldn't have made us feel more at home! We even got comments in our guest book thanking us for the pies!
Setting a Christmas Scene
Our table settings had a Christmas / Festive theme with hurricane jars, mini pine cones and a large pillar candle on mirror plates and scattered with snow. The top table had conifer garlands placed either side of a log that we had made especially for us by one of our friends.
Kathleen, our close family friend, my mum, Danielle (chief bridesmaid and sister-in-law), and I made the wedding stationery and favours - very time consuming, but looked gorgeous on the tables.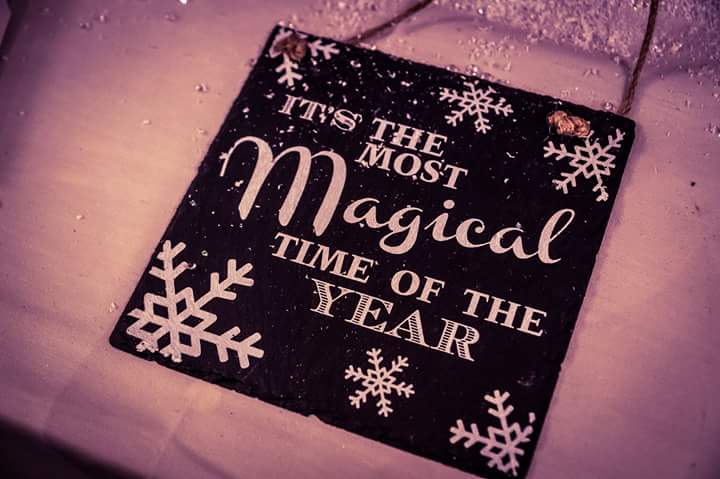 Our stunning winter bouquets were created by Amaryllis Floral Designs and Katie from Made in Flowers did a fantastic job with flowers for the table centres in the evening. She used the pictures that I had sent of our colour scheme: the bridal and bridesmaid bouquets to find flowers that would fit in.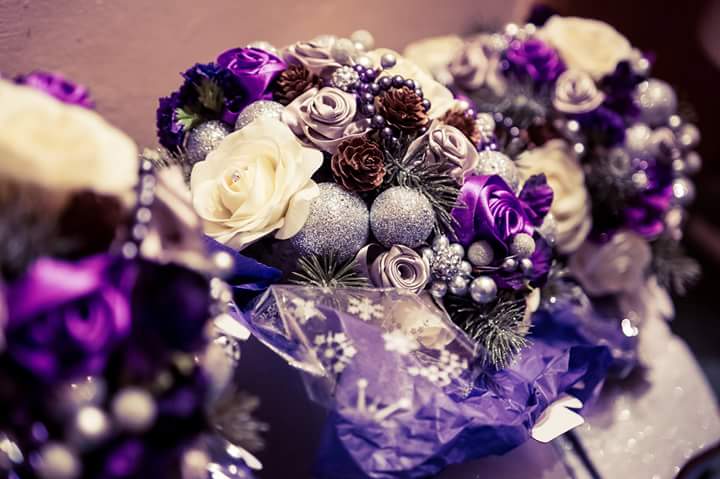 Festive Bridal Bouquets
Our cake was AMAZING and was made by our friend, Nicola. It was 4 tiers on a round log base with garland, purple and silver baubles in between each tier – and it had lights! We ordered a Swarovski crystal Christmas tree topper that she screwed into the top tier.
All I Want for Christmas is You!
Music plays an important part of my life; I play in the Pemberton Old Brass Band alongside most of my family and my dad is the conductor of the youth band. When we were planning the wedding Craig knew that a brass band would need to feature! My dad took on the task of selecting music to play before the ceremony and he arranged all the music himself.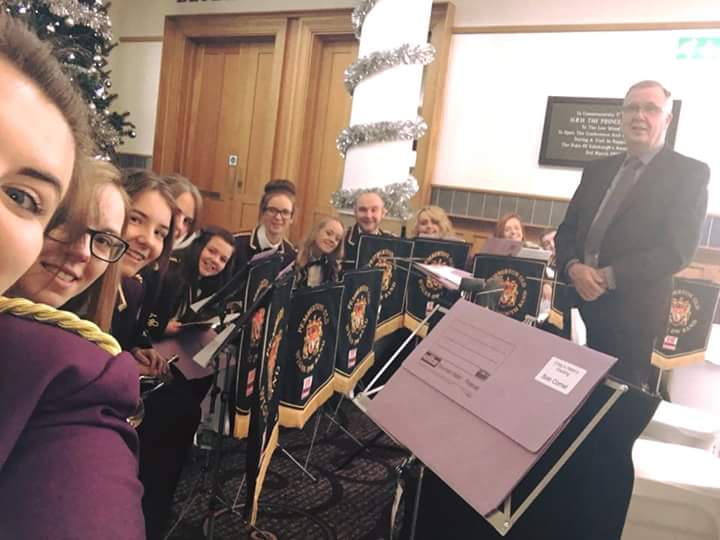 Brass Band Selfie
During the ceremony I walked in to the Olympic fanfare and theme by John Williams, which my dad also arranged and which reminds me of my swimming career.
Most people choose slow love songs for their first dance, but as we 'practised' some of them at home, we couldn't stop giggling, so we knew we had to do something different, something fun and upbeat! So I suggested we did Mariah Carey, All I Want For Christmas Is You! This is my favourite Christmas song and I'm always singing it at top note whenever I listen to it – who doesn't pretend they're Mariah when this comes on?! We knew we'd need to have a simple routine with it being a quicker song. We had dance lessons and practised at home so that we knew exactly what we were doing.
We kept our first dance a secret from everyone so when the music started we got a cheer as they weren't expecting us to choose a Christmas song! We did the typical first dance 'shuffle' at the start of the song, but then surprised everyone with our routine.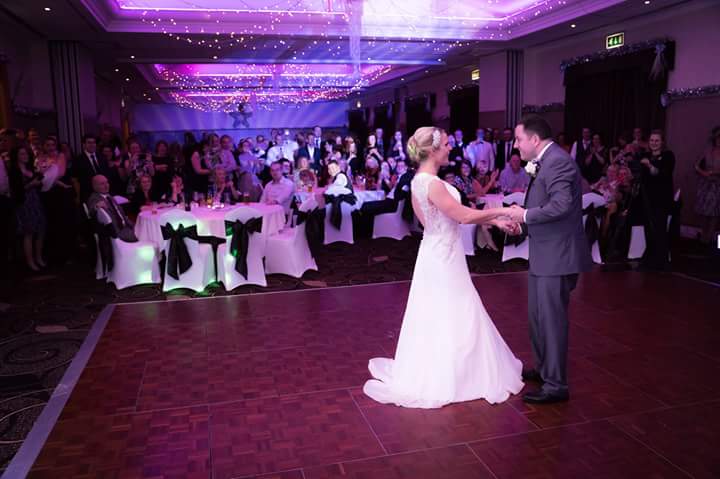 First dance to Mariah Carey, All I Want For Christmas Is You
Memorable Moments
My memorable moment was when my dad's face lit up as he saw me in my dress for the first time; I'll never forget his smile, he was so proud.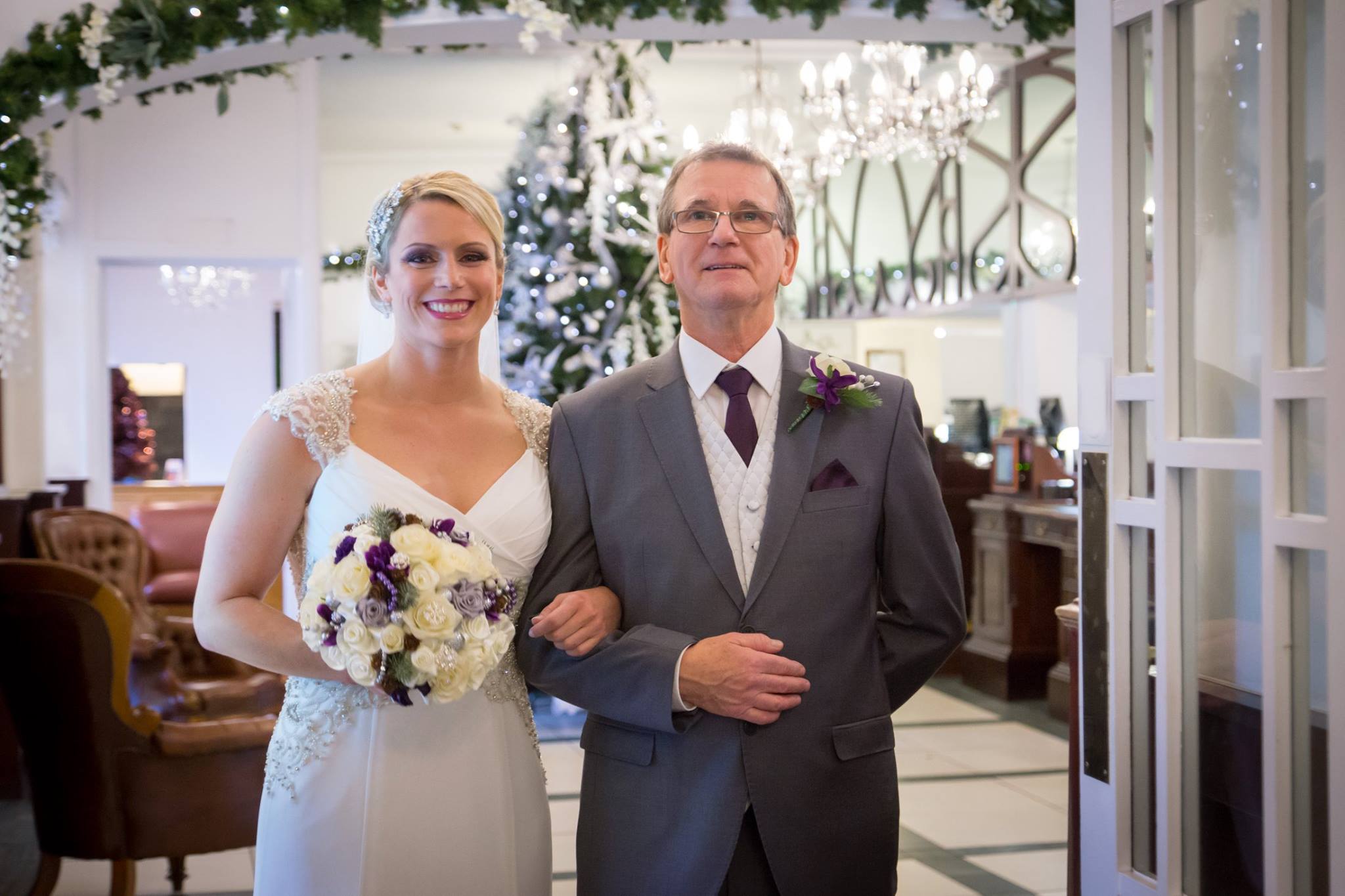 Helen and her Father at Low Wood Bay Reception
Walking down the aisle in the Gallery was amazing, the room was so beautiful and I felt overwhelmed that so many of our family and friends were there to celebrate with us. Our dogs, Nick Nack and Fudge are very much part of the family and so of course were the ring bearers!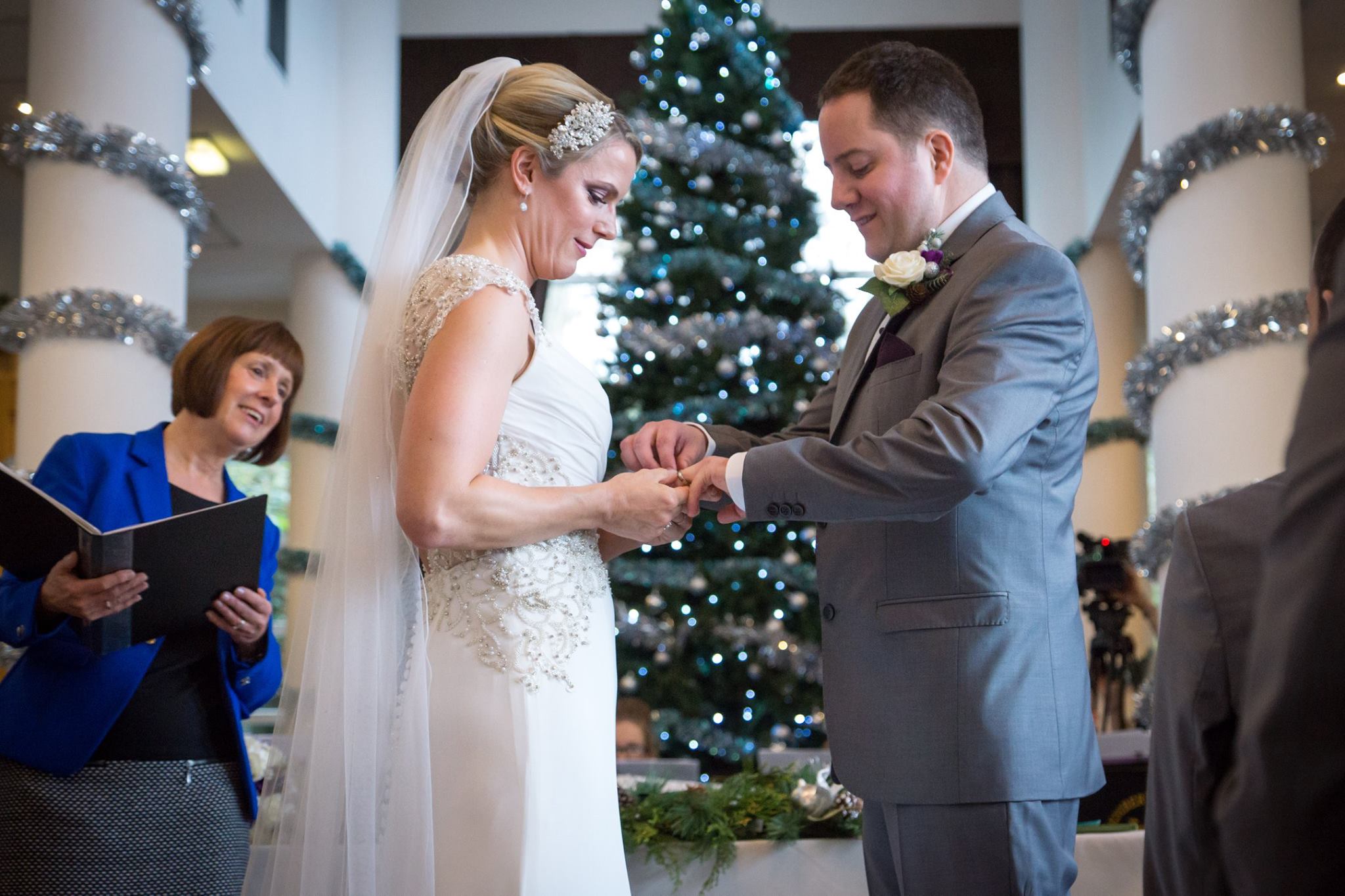 Helen and Craig in the Gallery at Low Wood Bay
The wedding breakfast was perfect and the Lakeside suite looked absolutely gorgeous; the speeches were heartfelt and funny; and the food was out of this world. We had a brilliant night, Aldini, the DJ, was fantastic; the photo booth was excellent – I would definitely recommend Bubbly Booths, it brought lots of fun to the evening. But for us our most memorable parts of the evening were seeing our guests fill the dance floor and having fun!
Craig's speech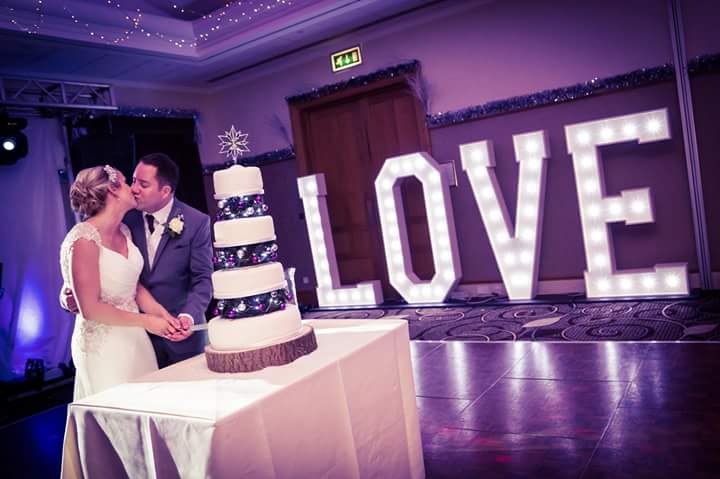 Cutting the cake
A day we'll remember for the rest of our lives!
Thank you to Gemma , Rea , Amy and all the staff at Low Wood Bay for everything; a stunning venue and the most friendly and helpful people we could wish to meet – we are eternally grateful!
Helen, Craig, Nick Nack and Fudge!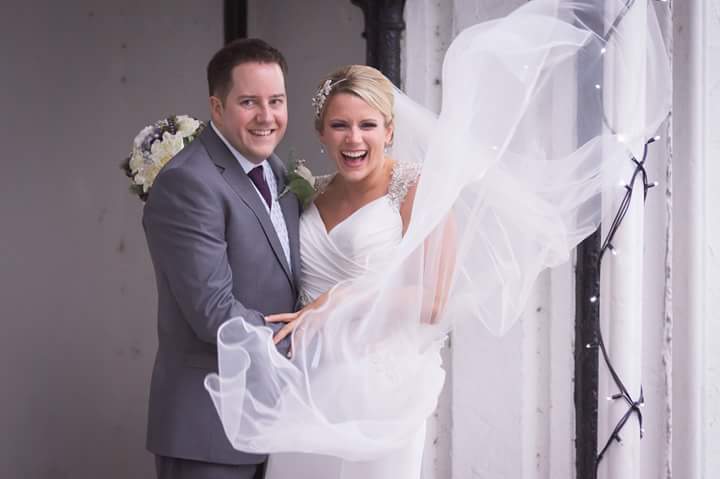 Craig and Helen's Christmas Wedding at Low Wood Bay
Thank you to Wedding Photography by Kris Clarke
Low Wood Bay Wedding Fayre
If you are planning your wedding, join the team at the Low Wood Bay Wedding Fayre on 24th January and together with a whole host of wedding experts, we will help you design your perfect day.