Tuesday, October 23, 2018
by
admin
The impressive collection of whiskies from around the world continues to grow in breadth at The Wild Boar and this month we feature Glenmorangie Nectar D'Or distilled in Tain, Ross-shire, in the highlands of Scotland.
The History of Glenmorangie distillery
Whether fact or fiction, there have been accounts of alcohol production around Tain since the Middle Ages. What is more certain is that there was a brewery on the site of Morangie Farm in 1738 and in 1843 the farm was acquired by William Matheson and converted to a distillery which was later renamed Glenmorangie Distiller
The Glenmorangie distillery in Tain, Scotland / Glenmorangie
With setbacks during Prohibition and again in the aftermath of WWII, it wasn't until 1948 that the Distillery was once again running at full capacity. Business has grown steadily since then and in 2009 and a further programme of expansion, Glenmorangie was operating 12 stills. These stills are the tallest in Scotland at 8 metres tall, with necks just over 5 metres. The distillation process is undertaken by a staff of 16, known as The Sixteen Men of Tain, who work year round, with the exceptions of Christmas and periods of maintenance.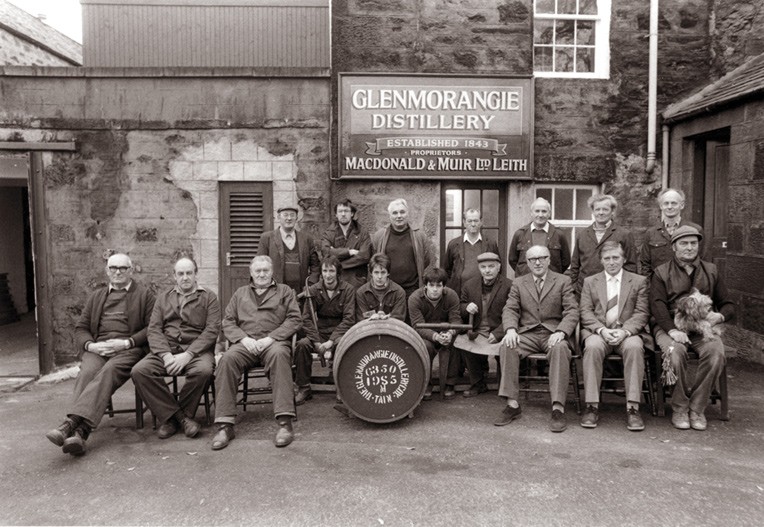 The men of Tain 1985 / Glenmorangie
The Best-Selling Single Malt in Scotland

Glenmorangie Nectar D'Or Bottle / Glenmorangie
The curvaceous bottle that we know today was born out of a brand overhaul in the early 2000s, a redesign which has positioned Glenmorangie as an international luxury brand. Glenmorangie has been the best-selling single malt in Scotland almost continuously since 1983, and produces around 10 million bottles per annum, of which 6 to 6.5 million are sold in the UK. Globally, Glenmorangie has a 6% share of the single malt market.
Glenmorangie uses a number of different cask types, with all products being matured in white oak casks which are manufactured from trees growing in Glenmorangie's own forest in the Ozark Mountains of Missouri, United States. However, Nectar D'OR is matured in hand selected wine barriques from Sauternes, the most famous and ancient sweet wine growing region of France, that this whisky develops its rich, spicy and dessert-like flavours. Non chill-filtered for additional aroma and mouthfeel.
Jim Murray, Whisky writer said:
Great to see French casks that actually complement a whisky – so rare! An exercise in outrageously good sweet-dry balancing.
Tasting Notes
NOSE: Lime and orange rind, sultanas and dates give a rich fruity flavour laced with tantalising spices of coconut and nutmeg.
PALATE: Ginger, nutmeg and toasted almonds bring a deep, warming taste interwoven with a syrupy lemon meringue and honeycomb middle.
FINISH: Long and lusciously sweet finish with lemon zest, white chocolate, vanilla and traces of ginger and nutmeg.
Whisky Tasting Evenings
George Hutton, Master of Malt
Join George at our regular Whisky Tasting Evenings at The Wild Boar.
Take a look at The Wild Boar Events page to find our more about the next whisky event.