Thursday, September 27, 2018
by
admin
English Lakes is extremely proud to be a key supporter of Calvert Trust, and to be involved in a fundraising project to mark their 40th anniversary. With Outdoor Centres in Kielder, Exmoor and The Lake District, Calvert Trust exists to enable people with disabilities to benefit from outdoor activities in the countryside.
Sheep – Objects of Art
James Rebanks, Lake District hill farmer and author, launched Go Herdwick last autumn. The project is the brainchild of Bill Bell, Trustee of Calvert Trust, but the idea certainly echoes a few lines from James' book, A Shepherd's Life
Among the survival characteristics that an inspector of Herdwick tups looks for when he drives from farm to farm around the Lake District are alertness, mobility and strong legs. To these he adds style and character "because sheep are cultural objects, almost like art.
Flamboyant Flock
Go Herwick is an inspirational project which combines art, community generosity, tourist attraction and valuable funds to assist a local charity. It's simple really, companies from around Cumbria have sponsored 60 life-sized fibreglass models of a Herdwick ewe. The business then teamed up with artists from near and far who have transformed the sheep and prepared them for a catwalk of design. The flamboyant flock is now dispersed to safe pasture all along the 555 Bus Route from Kendal to Keswick, and sitting pretty for people to hunt them out from April to September. Great photo opportunities!
English Lakes role will be to adopt two not-so-woolly wanderers over the next few months, proudly displaying them at our Low Wood Bay Resort Hotel. Have you spotted them yet?
Wanda sits proudly at the front of Low Wood Bay. Designed by Marty Strutt and sponsored by Stagecoach
Burly greets hotel guests at the back of Low Wood Bay. He was designed by Lionel Playford and sponsored by Burlington Slate Ltd.
On 8th October 2016 Low Wood Bay will also host the grand auction where the sheep will be sold off individually to the highest bidders. The proceeds from the sale will go towards the £1.3 million renovation of a Calvert Trust site in Keswick and will provide essential rehabilitation for patients recovering from acquired brain injury and stroke.
Lynn Healey, Business Manager, The Lake District Calvert Trust commented,
We have enjoyed a close working relationship with English Lakes for several years. It's a partnership that has opened up many other opportunities for us in South Lakes, amongst others, the annual Low Wood No Wood Cardboard Boat Race, a fun for all the family event which greatly benefits the work of Calvert Trust.
Join the Go Herdwick Trail
There are over 60 Herdwick sheep in the Lake District trail, all along the along the 555 bus route. Low Wood Bay has a bus stop right outside the hotel. If you are passing – stop off, explore the resort and find the sheep and hop on the next bus. Find out more on the Go Herdwick website.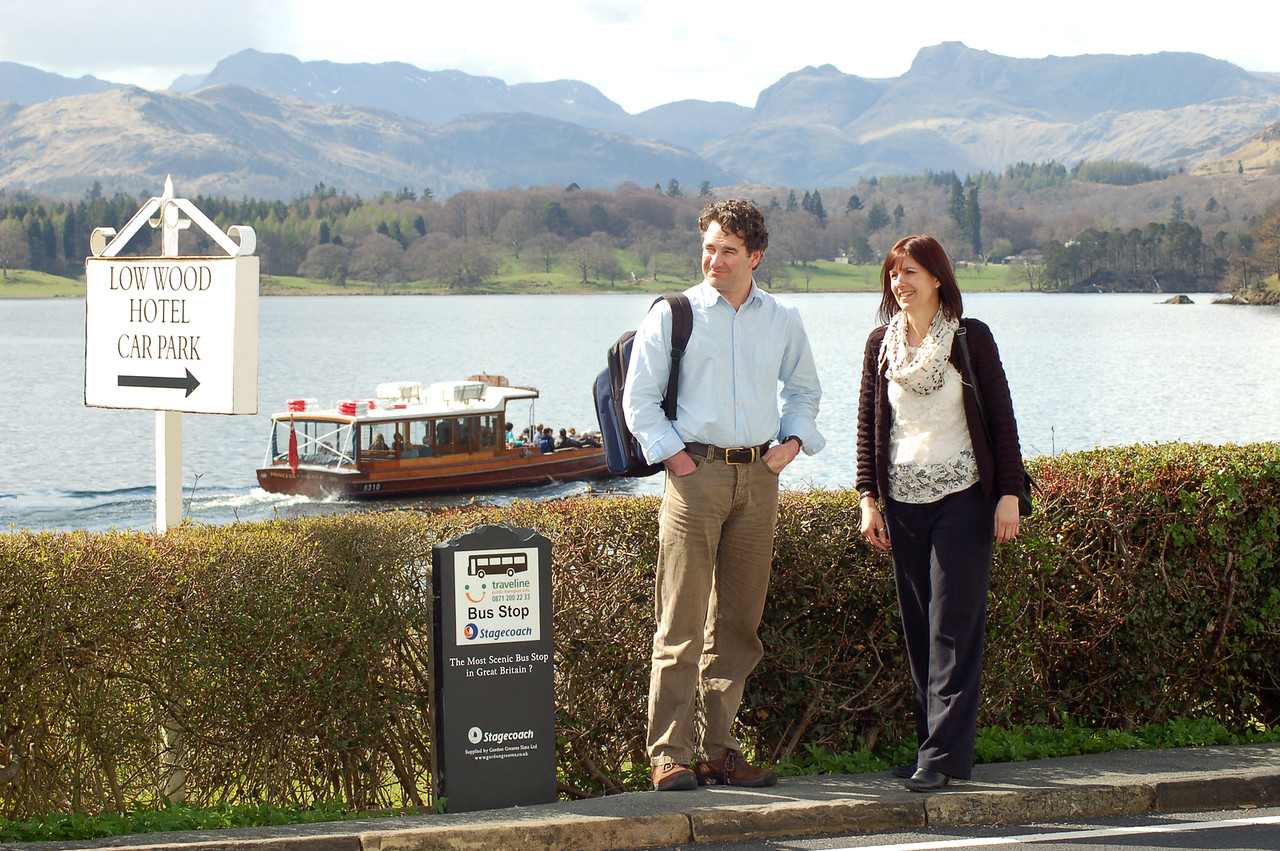 The 555 bus stop outside Low Wood Bay Lake District Hotels.