Thursday, November 15, 2018
by
admin
Round One of the RBS Six Nations Championship kicked off last weekend with England, Scotland, Wales, Ireland, France and Italy locking horns and battling it out for glory
Rugby on the Agenda
This has caused no small stir in the Board Room of English Lakes between Chairman & Managing Director, and staunch England Supporter, Simon Berry, and Commercial Director, David Neale, whose family roots are firmly in Welsh soil.
Simon:
England certainly did not cover themselves in glory last year at their home world cup. This was double whammy for an English man and a proud Cumbrian, as Stuart Lancaster is from round here. But I am very optimistic for this year's 6 nations. We have a brilliant new coach in Eddie Jones and new captain in Dylan Hartley, both with a lot to prove. My only hesitation is that both of them sound, from their names, like they have some Welsh blood in them!
David:
As a proud Welshman and lifelong rugby fan, I always look forward to this time of year and the excitement of the Six Nations. This year I will be going to Twickenham for the England vs Wales game and will hopefully see a repeat of the result when the two teams met at the World Cup.

Defeat against the English is hard to take – especially as I have to spend most of the following days surrounded by my many English work colleagues!
More than ever this year, English Lakes has reason to follow the progress of the Six Nations Championship as they prepare to host Welsh Coach, Shaun Edwards, as celebrity guest at Lancaster House Sportsman's Dinner on 9th April.
Most Decorated Player in Rugby League History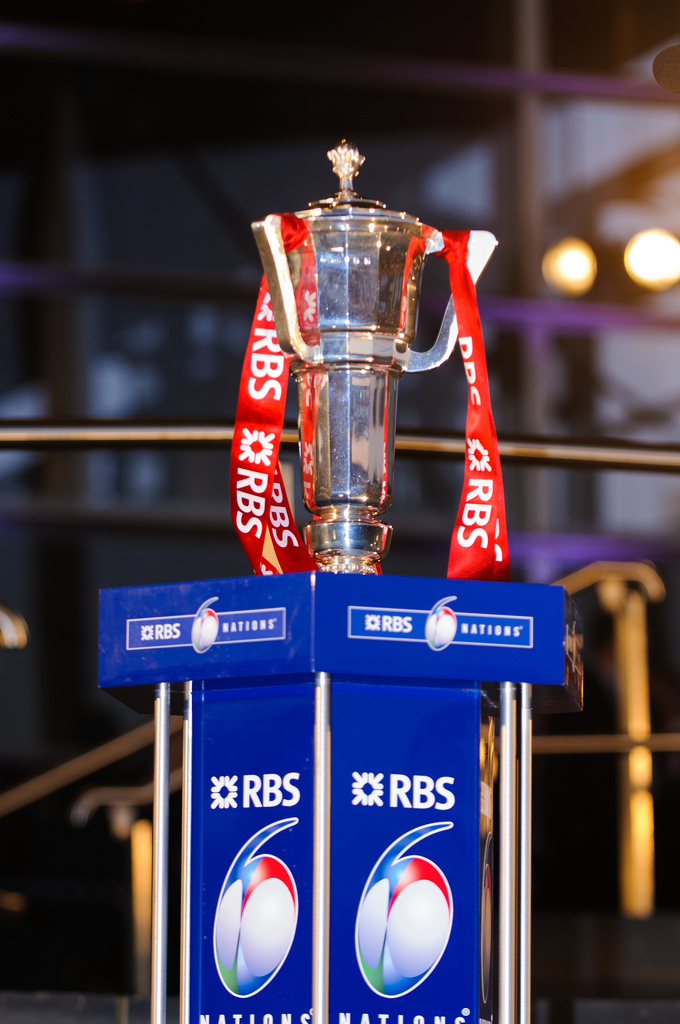 The RBS Six Nations Trophy. Wales Grand Slam Celebration, Senedd 19 March 2012 / CC nationalassemblyforwales
Perhaps we can call a truce in Board Room banter when we consider that Shaun, in some ways, has a boot in both camps. After all, he is a Lancashire lad, born just a few miles down the road from Lancaster House. Indeed, his earlier playing career boasts some impressive credentials including 467 appearances for Wigan, scoring 1,140 points and winning the Challenge Cup eight seasons in a row. He also won eight championship titles and played 36 times for Great Britain, scoring 16 tries.
As a rugby coach, he notched up two Heineken cups, four English Premiership crowns, one European Challenge Cup and an Anglo-Welsh Powergen Cup! Joining the Welsh Rugby Union as assistant coach (defence) on 14 January 2008, the team went on to win the Six Nations Championship that year. In 2013/2014 Six Nations, Wales set a new defence record by not conceding a try for 400 minutes.
Robert Howley, Mark Davies and Shaun Edwards arrive. Wales Grand Slam Celebration, Senedd 19 March 2012 / CC 2.0 Kafuffle
The Major Reason for Success
There is no greater accolade than the affirmation of our team mates and colleagues and, on hearing the news in December 2015 that Shaun had signed up for another four year stint as Coach, Welsh outside-half star and recently crowned Welsh Sports Personality of the Year, Dan Biggar, honoured him by saying:
He's been, for me, the biggest influence on the Welsh team in the last few years in terms of his determination to win, attention to detail and his motivational skills. He's superb and he's a major reason why we have had so much success over the last few years.
Who is Your Money On?
England and Wales are the joint record holders for outright wins of the Home Nations, Five Nations and Six Nations tournaments, with 26 titles each. Who's your money on this year?
Lancaster House Sportsman's Dinner
Whatever the outcome, prepared to be thoroughly entertained by Shaun at an evening of great food, drink and Sport at our Lancaster House Sportsman's Dinner. He will be joined by the dry humour and uncanny impressions of Mark Langley. Find out more about the evening on the Sportsman's Dinner Facebook Event.

Lancaster House Sportsman's Dinner
To book this special event, telephone: 01524 844 822
This event is proudly sponsored at our Lake District Hotels: The Wild Boar Brewhouse