Wednesday, October 24, 2018
by
admin
Congratulations are certainly in order for the longest serving member of staff at English Lakes, Maria Walker, who celebrates thirty years in the company this month. Here, she shares a little of her English Lakes journey.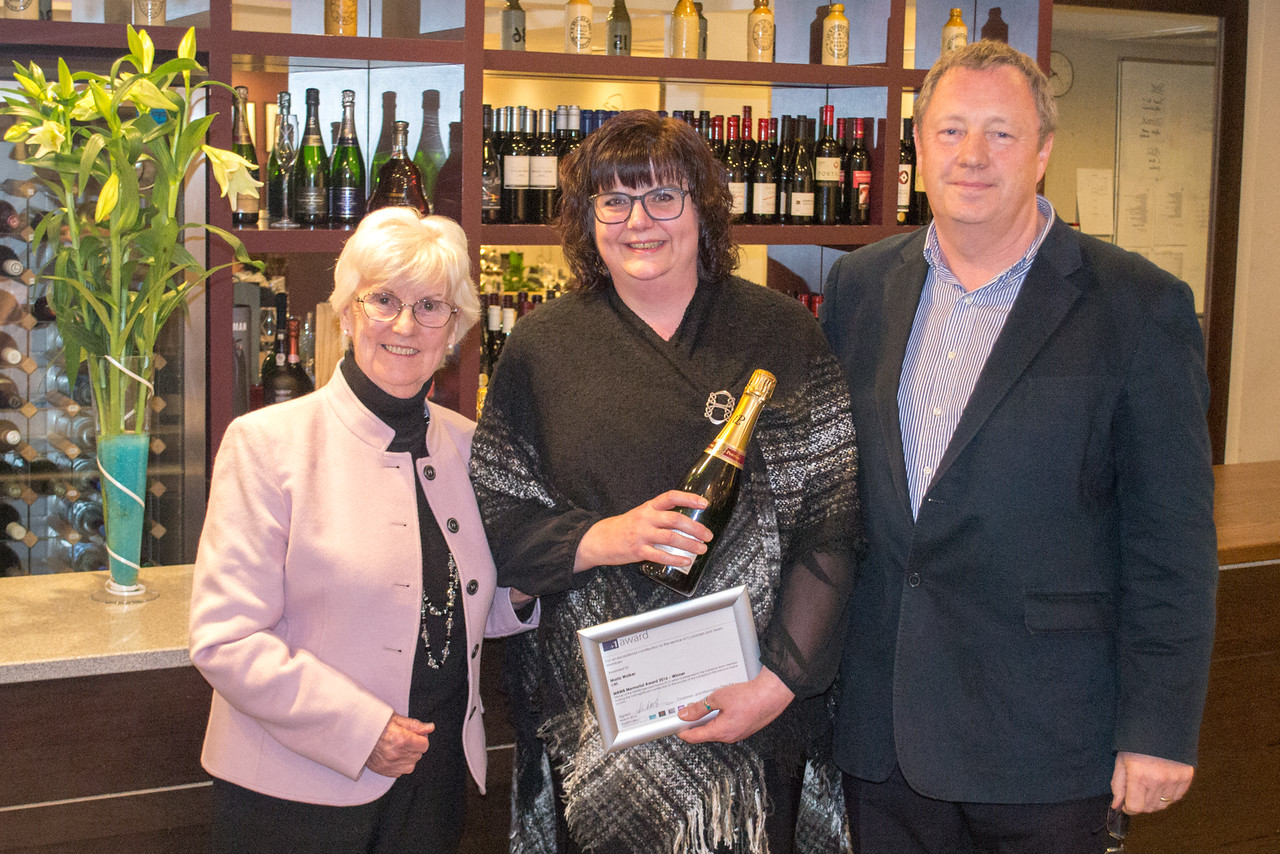 Maria Walker, winner of the 2016 MRWB Award and celebrating 30 years at English Lakes with Jean Berry and Simon Berry
30 Years, really?
At the age of 17, I was a student of Tamworth College of Further Education, studying Catering. I was given three possible 6-week work placements in the industry to choose from. Low Wood Bay in Windermere was one of the choices with the other two being nearer home. I had never been further that Blackpool! So, myself and one other student decided to be adventurous. Living in staff accommodation in the 80's was a shock to the system and my eyes were opened to a whole new culture - but I loved it! After the 6 weeks I was asked if I wanted to stay on and work for a further 2 weeks over the Easter Holidays, whic I was happy to do.

After 8 weeks I went back to College to finish my exams but soon returned to the Lake District hotels to work at Low Wood Bay full-time. I packed up all my worldly possessions and jumped on a National Express coach that took five and a half hours to get from Birmingham to Windermere!

Oh my goodness, 30 years! It is true, I have spent my entire working life in one company. At the age of 48, I look back and think 'where have the years gone?'
Many Different Hats!
1986 to 1989
Low Wood Bay, Windermere: Waitress, Barmaid, Bistro supervisor.
Fresh faced with wild hair! I was trained and worked in both restaurants within the hotel. I was a dab hand at silver service - a dying art now-a-days! Oh.. I feel so old writing this!! I also worked in the cocktail bar.
1989 to 2004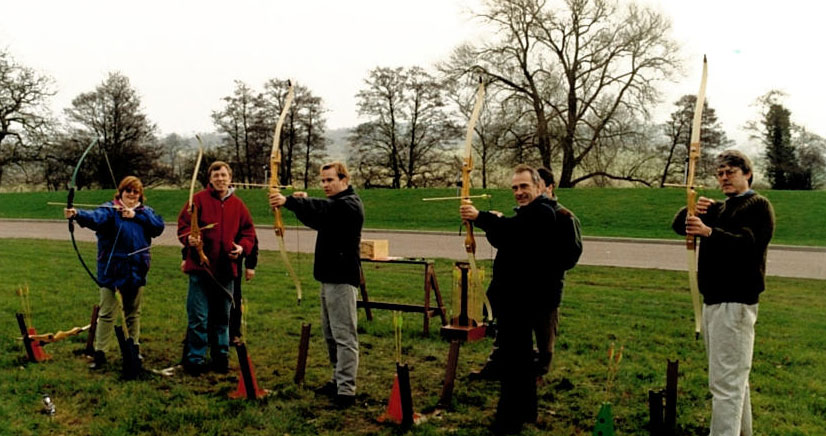 Left to right: Maria Walker, Tim Berry, Colin Fox, Douglas Dale and Mike Doyle at ta managers away day
The Royal Hotel, Bowness: Bistro supervisor, Receptionist, Head Receptionist, Hotel Manager and Licensee.
The Royal Hotel used to sit in the centre of Bowness and it had two very busy bars on either side. The Royal was a big part of my life and I have many fond memories of working there. As the General Manager and Licensee for 11 years I could tell many a story, but simply do not have space here! The Royal was sold in 2004.
2004 To Date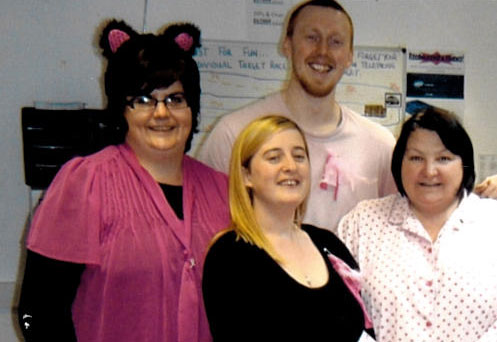 Maria and some of the CRS team dressed up for a Wear it Pink Charity Day
English Lakes, Reservations Manager.
After the Royal closed I was asked if I would set up CRS (Central Reservations). We are not a call centre! Starting from scratch, I led a team of four in a porta cabin taking reservations for the whole group. Prior to that, the hotel receptionists took the reservations.

I'm glad to report that we no longer work from a porta cabin and I now have a team of 7 lovely ladies all of whom love cake! - mainly because Denise, one of our team is passionate about baking. Bookings and enquiries are made and received via the telephone, email and booking agents. My role is to run the office, also dealing with the revenue/rates and a hundred other things!
No Regrets
Why have you worked for English Lakes for this long?
Good question, and one I have asked myself on many an occasion! When I first started working for the company, the culture was very different, head office staff, including directors, came for lunch every day to the bistro where I was working. As a result I got to know the Berry family and soon became very much a part of the English Lakes Family.

Michael Berry, Simon and Tim Berry's father, was a lovely man who had a vision and a passion for the company that has been embraced by the whole Berry Family. Although the company culture has changed down through the years and it now has almost 400 employees - it continues to be a family run business with Simon Berry as Managing Director. As such, there's always been a clear vision with traditional values underpinned by good ethics and staff benefits. I am now one of the longest working member of staff, but I'm not the only one. There are quite a few other colleagues who have worked for the company 20+ years, so if my job-for-life choice is just a little unusual these days, I'm in good company!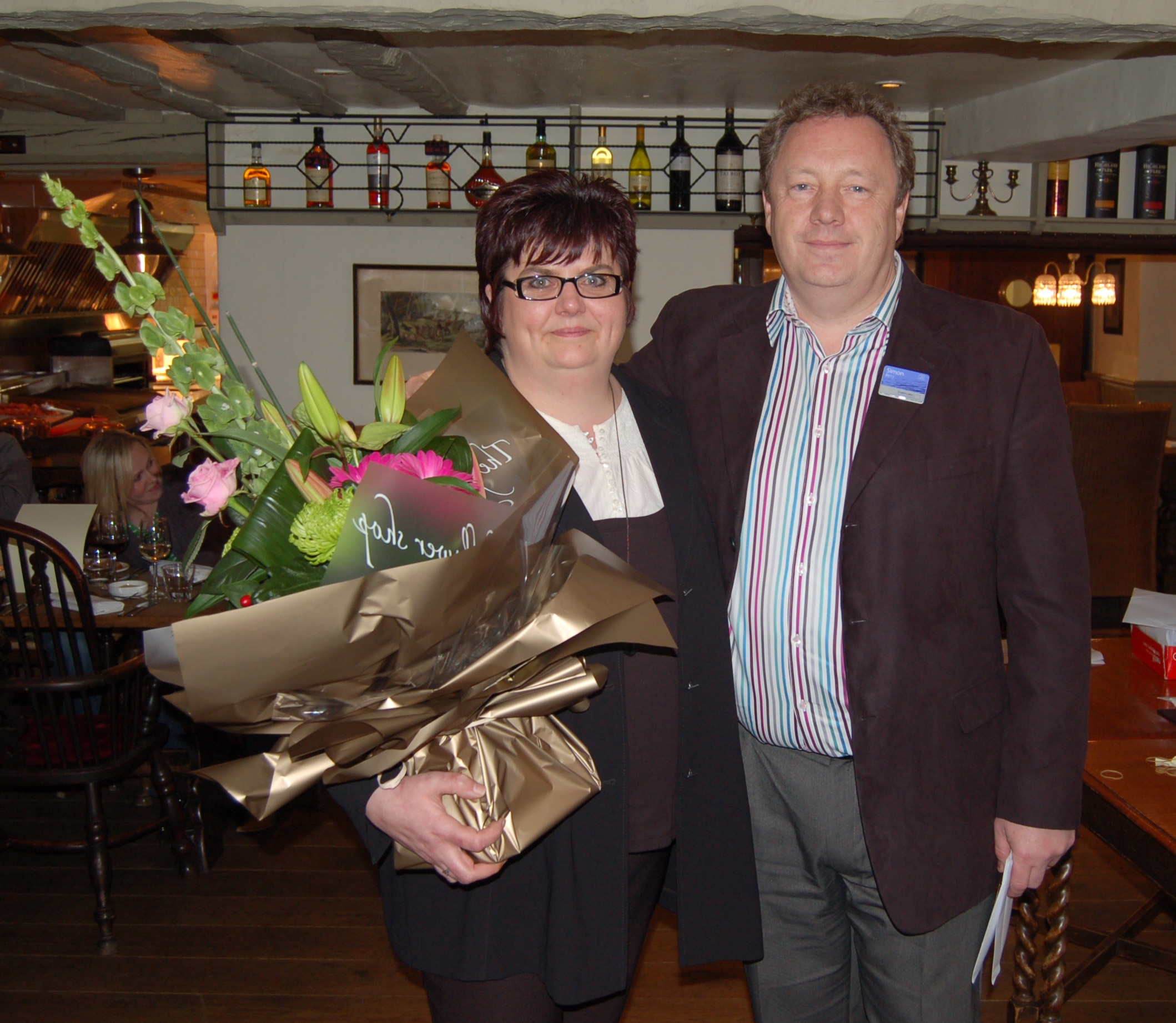 Maria and Simon Berry celebrating 25 years of service at The Wild Boar
A Touching Footnote
Anne Cook, sister of the late Michael Berry, Chairman and Managing Director writes:
So it was 30 years ago that I sat at a lunch table with my brother Michael Berry.

He usually aroused a sort of awe and trepidation among the younger staff, but on this occasion he twinkled away at the tall, bonny 17 year old "Well, Maria, and how are you today?" And she, in her unforced, naturally self confident, if also a little twinkly way replied that she was in good form. So from early on I noticed her and quite soon after in the staff newsletter there was an account of a jaunt down the lake written by none other than the lively youngster.

Years went by and the Royal needed a particular person to turn it around - Maria was elevated to the post of manager, and very successful she was! Eventually the Royal had an offer it couldn't refuse and down came the historic building. Maria was so respected that she was offered the position of CRS Manager, a role she fills admirably. I am proud and happy to call her friend.
Maria and the late Michael Berry.